When you enjoy a well-roasting duck breast, your taste will be treated to a very enticing blend of flavors and textures. The meat is darkish, lean, and tasty, while the golden skin gives a complementary texture. However, it is crispier and more opulent.
The moulard is a cross between two domestic duck species. A great number of individuals are interested in learning the proper way to cook a duck breast.
Because of this, we've created step-by-step instructions for them. Goose, pigeon, sharp-tailed grouse, and other dark-meat bird breasts may all be prepared using the same method.
If you are looking for the best possible recipe for duck breast, then this is it!
---
Estimated reading time: 6 minutes
---
How to Cook a Duck Breast
Once you get the technique down, cooking duck breasts is a small task. This dish works just as well with wild duck breast as it does with store-bought duck or Moulard duck breast.
Ingredients: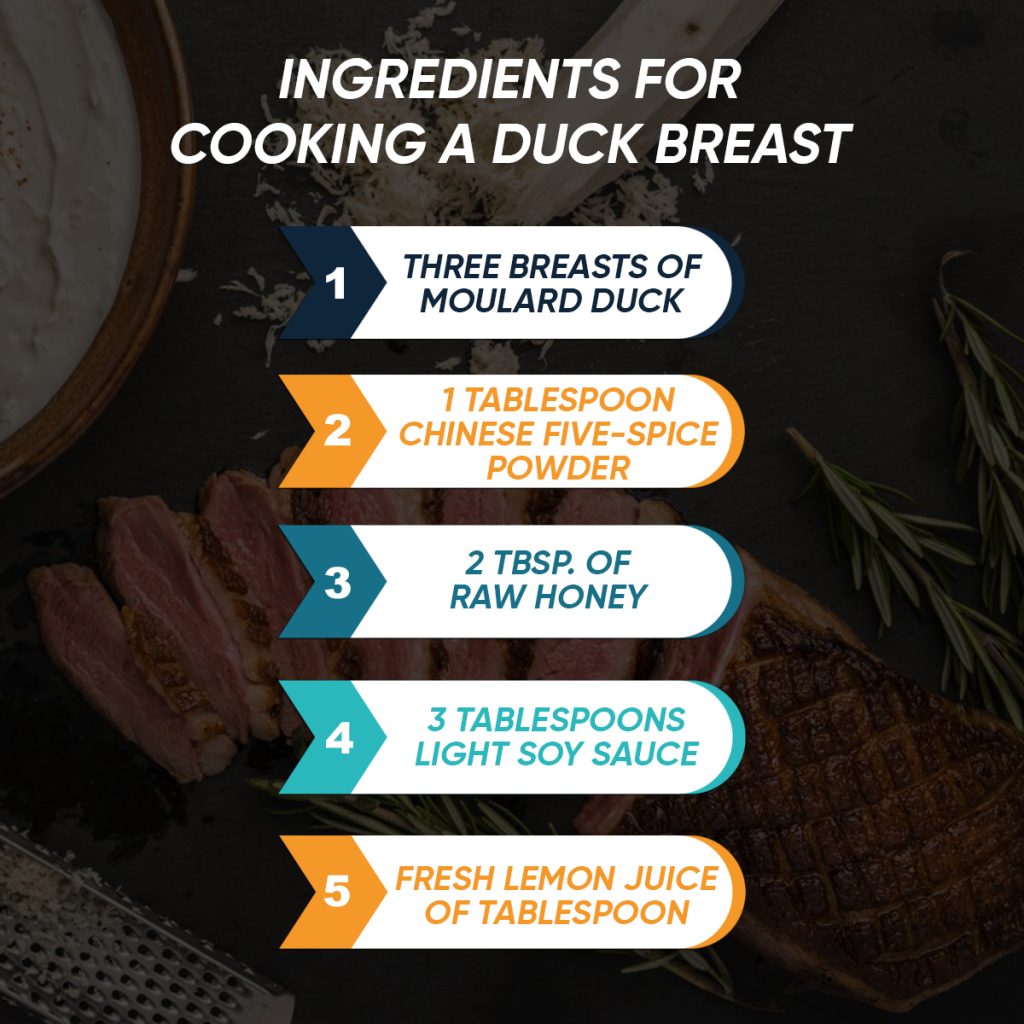 Three breasts of moulard duck (magret de canard).
1 tablespoon Chinese five-spice powder.
2 tbsp. Of raw honey.
3 tablespoons light soy sauce.
Fresh lemon juice of tablespoon.
Other Things You Need:
Sharp knife
Paper towels
Coarse salt
Heavy skillet
Spoon
Roasting pan with rack
Preparation
Time needed: 1 day and 2 hours.
How to Oven Roast Moulard Duck Breast?
Score the Skin Like Cross Hatch Pattern With a Knife

Bring out the duck breasts. If using a domestic duck or a fat wild duck, score the skin in a cross-hatch pattern. It produces 1/2-inch crosshatches. This produces fat and crisps skin.

Marinate It for 24 Hours

Add five-spice powder and honey to a dish and coat both sides of the duck breasts with the mixture. Then arrange the duck breasts in a dish.

After at least an hour of marinating, cover and refrigerate for as long as you need it to be (up to 24 hours).

Bake at 175 Degrees Temperature

Bake at 175 degrees for about 30 minutes in Oven.

Fry skin side down for at least 2 mins

If possible heat a big & heavy skillet at a high temperature. Instead of duck breasts, use the marinade to make the sauce. Fry duck breasts skin-side down for two minutes, or until crisp.

Remove the duck breasts from the pan and set them aside. Take off every last trace of oil from the pan (reserve the fat for the sauce or other cooking, if you wish). Skin-side-up, fry the duck breasts for another minute. This will finish the process of scorching the meat.

Now bake skin side up

Bake the duck breasts skin side up in a single layer large enough to contain them in a baking dish. 

For approximately one hour, you need to bake it in the Oven. If you turn off the Oven after two hours, it might continue warming. This recipe may create any number of duck breasts.

Serve It On A Plate

Slice the duck breasts into quarter- to half-inch thick slices, and arrange them on a platter to be served. Serve on a serving plate.
For better results, you can use:
Final Tips
Most duck breasts are from young ducks. Larger French-style breasts, labeled "moulard" or "magret," can weigh a pound or more and feed two to four people.
Roast the duck breast skin-side down in a medium-hot pan until it's golden brown and crispy. Just place it in the oven, skin side down, and bake it until it's done.
---
---
---
Read More: