Want to eat a healthy meal yet have no time to prepare it? Try this amazing recipe! Pumpkin overnight oats made with pumpkin rolled oats and almond milk gives you a perfect sweet and pumpkin spice taste. Enriched with fibers, protein, and carbohydrates, and get ready in just 2 minutes. It is totally worth a try!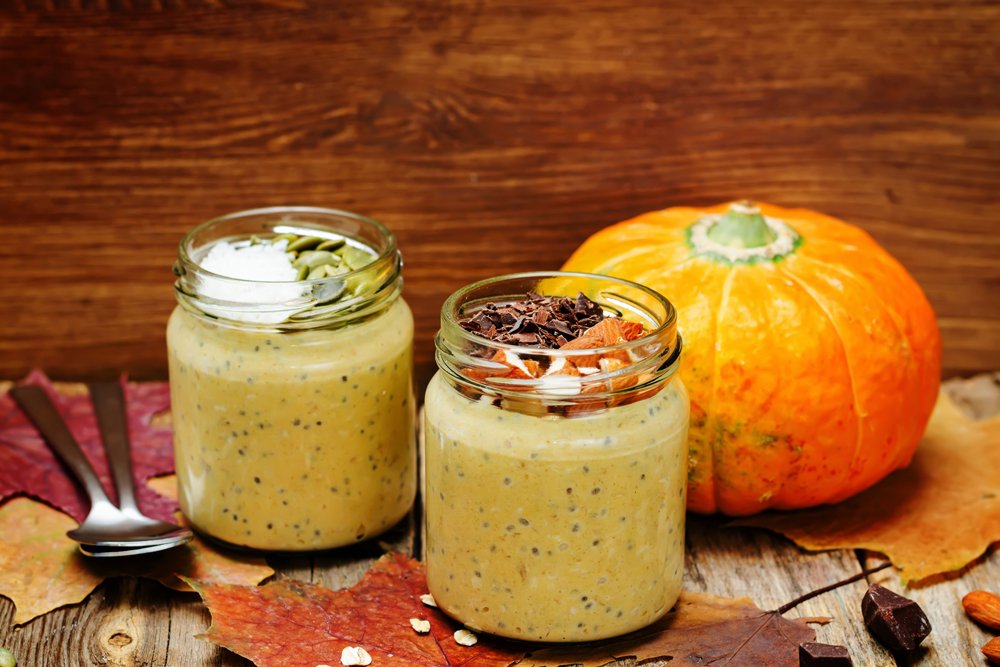 ---
Estimated reading time: 5 minutes
---
The Required Ingredients
With these ingredients you can make overnight oats pumpkin with the best taste:
I will recommend using rolled oats for this recipe. Rolled oats will give a perfectly thick and creamy texture.
---
---
Use plain Greek yogurt for a little boost up your protein requirements in your meal. Yogurt is necessary for overnight rolled oats as it gives a creamy texture to oats besides giving health benefits.
You can omit chia seeds, but I will recommend you to use chia seeds as these small seeds are full of healthy fats, plus they firm up the thick texture of your overnight rolled oats.
You can also swap chia seeds with flaxseed meal
Do not use pumpkin pie mix instead, add real pumpkin free. You can use fresh or canned, it is totally up to you and your convenience. Pumpkin is a great source of boosting your immunity. It is also enriched with antioxidants which protect them from chronic diseases. Pumpkin is also a great source of vitamin A. thus making your breakfast or snack highly nutritious.
You can use any kind of milk; in this recipe, Almond milk is used to get the right consistency, plus it is also low in calories.
To sweeten the taste of your pumpkin overnight oats, add a bit of maple syrup. You can also add honey if you like.
Vanilla extract will give some additional taste to your overnight oats.
Mix your overnight oats with cozy spices like pumpkin pie spice for true delicious pumpkin flavor.
How To Make Pumpkin Pie Spice At Home
If you do not have pumpkin pie spice, do not worry; I'll tell you how to make it at home.
Add ½ tsp cinnamon, 1/8 tsp nutmeg, a pinch of allspice or ground cloves, and 1/8 tsp ginger.
for some extra delicious taste, try adding dried cranberries, pecans, almonds, peanut butter, or coconut flakes. You can also add whipped cream or chocolate chips on top.
If you are making your overnight oats dairy-free, add dairy-free almond milk or coconut yogurt.
---
---
Quantity of Ingredients For 1 Serving
1/4 cup vanilla or plain nonfat Greek yogurt
1/2 cup unsweetened vanilla almond milk
1/4 cup pumpkin puree
1 tbsp pure maple syrup
1/2 tsp vanilla extract
1/2 cup rolled oats
2 tsp chia seeds
1/2 tsp pumpkin pie spice
Steps To Make Pumpkin Overnight Oats
Time needed: 5 hours.
How To Make Pumpkin Overnight Oats
Mix & Stir

Grab a medium bowl, and mix almond milk, yogurt, pumpkin puree, maple syrup, and vanilla.

Keep in Refrigerator

Then stir in pumpkin pie spice, chia seeds, and oats. Pour your mixture into a container and chill in the refrigerator for 4 hours- 12 hours.

Add More Toppings

Top with your favorite optional toppings and serve right away!
Nutritional Information
Servings: 1 serving
Calories: 274kcal
Fat: 6.5g
Carbohydrates: 42g
Fiber: 10.3g
Sugar: 9.7g
Protein: 14g
---
Get Tupperware Container Now Prep Your Overnight Oats!
---
---
---
Read More: