Camping in winter? Are you Crazy? No, you are crazy! Most of the people believe it is impossible to camp in winter but if you are an adventurous person and love the feeling when your body runs adrenaline high then you are in! Although services are limited in many camp grounds when its winter, you still can enjoy enough of it, if you come prepared. All you need is appropriate winter gear and fire starter with bulk supply of food properly packaged in right containers! If you are a beginner, do not waste your money elsewhere and take our word. Tupperware canister sets are ideal for storing all your dry and wet food. They don't just keep your food fresh longer but also help saving it from animal-attack while you rest in your sleeping bag!
Tupperware Canister Set: Mini Cubes for Tidbits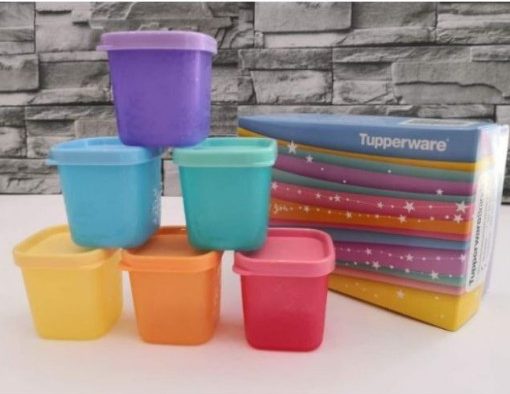 Camping needs not to be stressful. Although it consumes energy, you will keep yourself full if you pack delicious tidbits to munch on while you make preparations for the bonfire and setting your camp high. However, stay alert. Tidbits are favorite snacks of your kids as well as squirrels'. They have the audacity to snatch the trail mix, nuts & candies in broad day light. Therefore make sure you pack a little of it in several boxes instead of storing the bulk of it in a single jar. This mini Tupperware canister set will help you pack your each child favorite snacks. Toss one in each of their bags and make them take care of their belongings!
Round Tupperware Canister Set: Ideal for Wet Food
Not ever in your right mind you will decide to pack the carton of eggs for a camp night. The best way to pack eggs is to break them open, whisk them and store in a round container. Round container with liquid tight seals prevent spilling while you are on the jerky ride to the camp side. Round shapes also make it easier for you to pour out the contents. This Round Tupperware container set will do the job for storing marinades, eggs, and breakfast parfaits for you. Is someone a nut butter fan? Save space and scoop out just-what-you-need from your peanut butter bottle and store it in one of the round jars. These round cans also come handy for storing dipping sauces like hummus and garlic.
Pantry Tupperware Canister Set: All Purpose
Thank us later. Invest in this Pantry Tupperware canister set if you are a frequent camper. This set of 7 canisters of different shape and sizes along with two freezer mates included for free is everything you need. This Tupperware canister set will store all your ingredients from flour to spices, rice, porridge and cereals. The freezer box allows you to carry your meat without the fear of it turning rotten. After you return from your camp to home, shift these canisters back in pantry. They are this useful, long-lasting & durable!
Tupperware canister sets come with one touch burp seal that prevent any air or moisture coming through. They also offer life-time warranty so they are made to withstand rough handling and a lot of wear in your cabinets. Hence proved, Tupperware canister set is the best worth the money investment you need to make only once in life!