If you are looking for an easy and healthy way to start your day, you must try these protein overnight oats. They provide you with needed nutrients with a spark of good taste in the morning.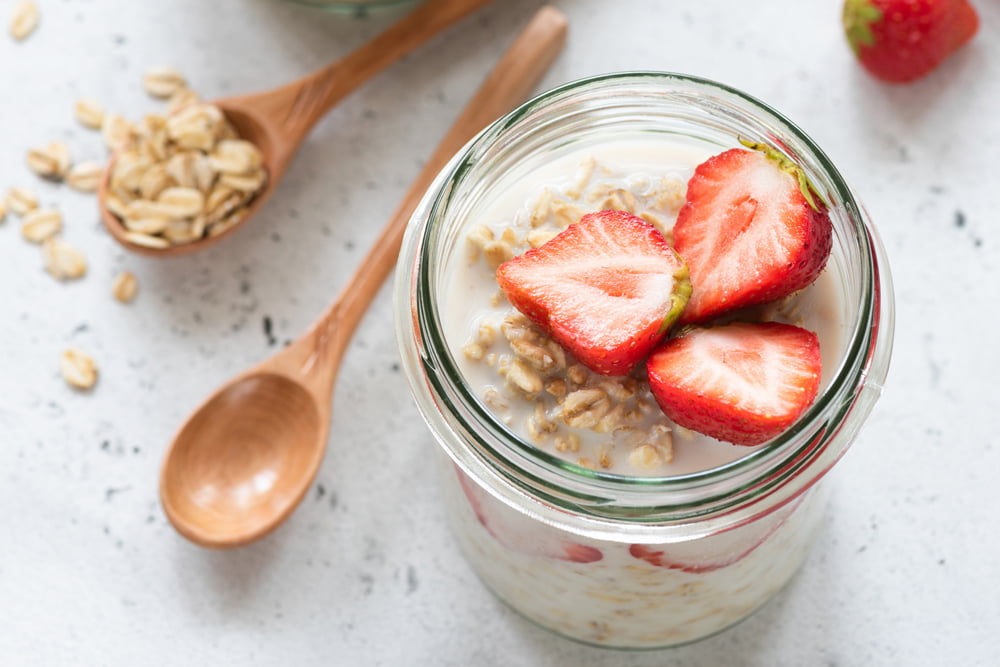 ---
Estimated reading time: 5 minutes
---
Benefits of Protein Overnight Oats
You should consider this recipe of protein oats overnight for the following benefits it gives:
More Energy & Burn More Fat
According to a Nutrient & Metabolism study, raw oats can speed up the metabolism by 27% which ultimately helps you in weight loss. Also, it can give you enough energy throughout the day.
Get Rid of Poor Food Choices
These oats overnight will help you to get rid of the poor and unhealthy food choices. It maintains your habit of having a good source of nutrients for your body in the morning.
Absorb More Nutrients
Having protein oats overnight will help you to absorb more nutrients as oats are associated with improving the digestive system. They interfere with digestive enzymes and assure minerals are absorbed better.
Ready-made Breakfast
For all the people who find it difficult to make breakfast while waking up in the morning, they can have already made breakfast with these overnight oats. They do not have to make anything to start a healthy daily routine. Hence, no trouble cooking your meal in the morning.
Packed with Protein
This recipe of protein oats overnight will provide you with a healthy portion of protein as its 20 grams of protein is packed in it. Proteins are essential to the body as they help strengthen your muscles and reduce kidney diseases.
---
---
Required Ingredients
With these ingredients, you can make protein oats overnight with the best taste:
I advise you to use old rolled oats for the best nutrition as the new and instant oats are provided to you in small pieces. Their level of absorption is different compared to old rolled oats.
Chia seeds are considered a good option for the add-in. They provide an ideal thick texture in the recipe and also some extra protein.
Adding a flavored protein powder will give all the protein requirements in the recipe.
Cocoa powder will add in a bit of extra taste of chocolate. The chocolate lovers must have it to get it more admiring. More it also gives a portion of fiber, protein, and iron.
Honey or any sugary Syrup
Adding a bit of honey or any kind of sugary syrup will add a sweet taste to overnight oats, and you will enjoy it more.
Any kind of milk can be used in it, but I would recommend you to use almond milk as it is low in calories plus gives all essential nutrients.
You can have overnight protein oats with extra toppings to enhance its overall look and nutrition. Value. Some delicious topping options are:
Fresh fruit
Dried fruit
Nut and seed
Shredded coconut
Chocolate chips
---
---
Quantity of Ingredients
1 tsp chia seeds

½ cup oats
1 tsp honey or any sugary syrup
½ cup milk
1 tsp cocoa powder
1 Punch of protein powder
Instructions To Make Protein Overnight Oats
Time needed: 6 hours.
How To Make Protein Overnight Oats?
Put Ingredients in Jar

Grab a jar, add all ingredients, stir it well, and cover it with a lid.

Keep in Refrigerator

Refrigerate it for 6 hours.

Add Milk & Toppings

Right before serving, stir it and add additional milk and toppings and enjoy your first healthy meal of the day.

Eat Cold or Hot

I prefer you to eat it cold. However, if you like the hot version of it, you can microwave it for 30 seconds.
Nutritional Information
Calories in each serving
33 grams protein
39 grams carbs
11 grams fiber
10 grams fat.
---
Get Tupperware Container Now Prep Your Overnight Oats!
---
---
---
Read More: