Want to save your precious time but also need to intake healthy food? Try this overnight oat peanut butter, rich with essential nutrients, to start your productive day!
Who doesn't love peanut butter? Add peanut butter to your overnight oats meal and make the taste 10X better!
This recipe typically used peanut butter, oats, milk, chia seeds, and some fruit topping.
These peanut butter overnight oats are enriched with nutrients containing 300 kcals (per serving) and also fulfill your protein and carbohydrates requirements.
Very easy, and in no time, your oats will be ready. No hassle, and start your day just by mixing these simple ingredients.
Hope you love these oats as they are creamy, hearty, and naturally sweet.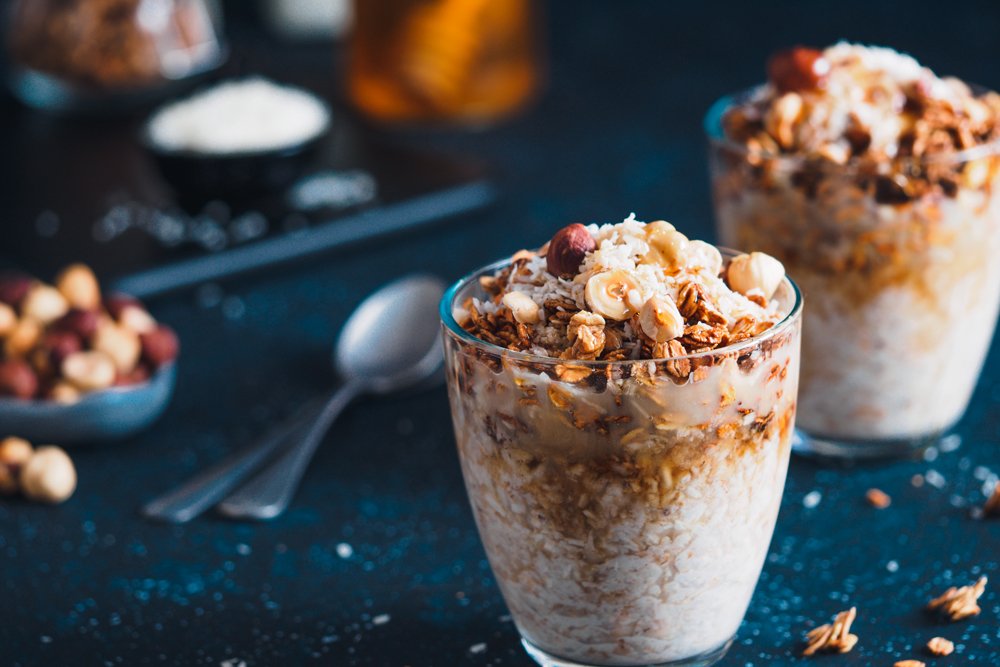 ---
---
---
Estimated reading time: 4 minutes
---
Required Ingredients
With these ingredients, you can make overnight oats and peanut butter with the best taste:
I used old-fashioned oats as they will get soft and gives your meal a perfect texture and taste. No need to soak the oats for the whole night.
You can use any kind of milk. In this recipe, almond milk is used. As almond milk is an excellent source of calcium and vitamin D and E. Plus, it is also low in carbs.
Add chia seeds to this recipe of overnight oats. Chia seeds will thicken the consistency of the oat/milk mixture. Chia seeds are also very beneficial for your health as they are enriched with antioxidants.
Overnight oats are sweet enough, but add a tsp of honey if you need to add any sweetener. Use honey as it is better for blood sugar levels than regular sugar.
You can add any kind of nut butter, but I personally like peanut butter as it is beneficial for boosting our heart health and gives a delicious taste to our food.
For additional toppings, you can add chocolate chips, fresh fruit, nuts, etc.
---
---
Quantity of Ingredients For 1 Serving
½ cup old-fashioned oats
1 tsp. honey
1 tsp. chia seeds
½ cup milk
1 tbsp. peanut butter
Toppings: fresh berries or banana slices or chopped nuts
Instructions To Make Overnight Oats Peanut Butter
Time needed: 5 hours and 30 minutes.
How To Make Protein Overnight Oats?
Add Ingredients

Add chia seeds and oats to that a container with a lid.

Add Additional Ingredients & Stir

Then add honey (if using), peanut butter, and milk (of your choice). Stir to combine.

Keep in Refrigerator

Now, place in the refrigerator overnight or a minimum of four hours to allow chia seeds and oats to get soften.

Add More Milk & Toppings. Serve!

Add some extra milk right before serving. Top with your favorite servings, and ENJOY!
Nutritional Information
Serving: 1serving
Calories: 300kcal
Carbohydrates: 37g
Protein: 10g
Fat: 13g
Saturated Fat: 2g
Polyunsaturated Fat: 2g
Monounsaturated Fat: 2g
Fiber: 7g
Sugar: 5g
---
Get Tupperware Container Now Prep Your Overnight Oats!
---
---
---
Read More: