Scared of using frozen fruits in overnight oats recipe? Don't know in what quantity ingredients should get add in the overnight oats? Well, you came to the right place as in this recipe I'll tell you the perfect right amount of each ingredient to make your frozen fruits overnight oats perfect.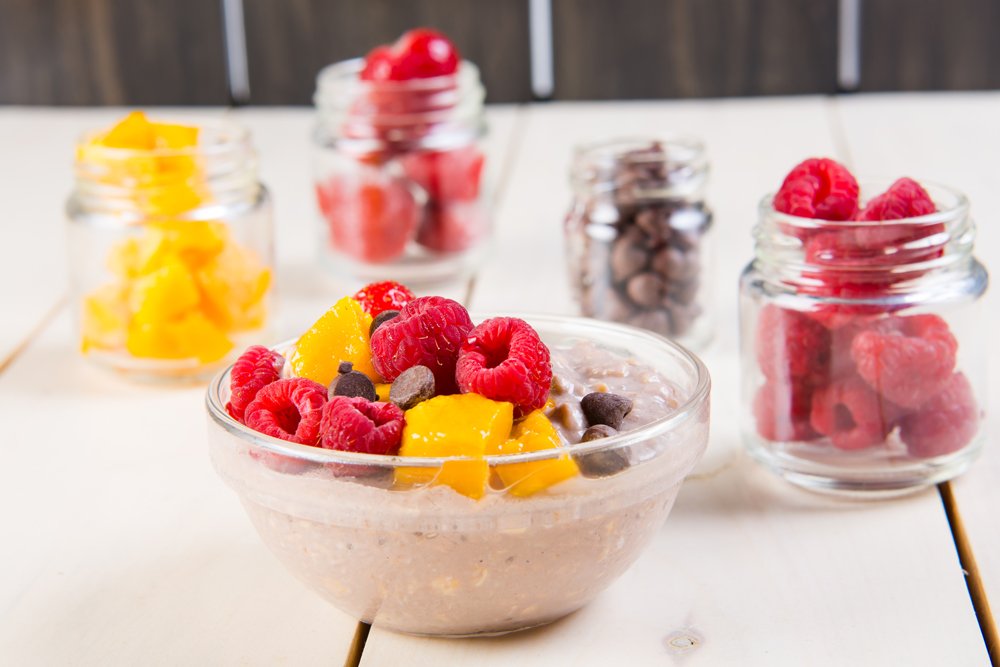 Fruits are an excellent source of essential vitamins and minerals, and they are high in fiber. Fruits also provide a wide range of health-boosting antioxidants, including flavonoids.

Eating a diet high in fruits and vegetables can reduce a person's risk of developing heart disease, cancer, inflammation, and diabetes

Medical news today
---
Estimated reading time: 5 minutes
---
Problems You Face While Making Frozen Fruits Overnight Oats:
Frozen fruits produce an excess of liquid as the fruits melt so, your overnight oats will be wetter and soggy than normal oats made with fresh fruits.
Frozen fruits especially strawberries and raspberries lose their texture when they melt. As a result, these fruits will disintegrate when you mix your overnight oats.
Tips For Frozen Fruit Overnight Oats:
Well, I have a perfect solution for these problems:
Just reduce the liquid by 2 tsp for every ¼ cup of frozen fruit in your overnight rolled oats.
Similarly, reduce 1/8 cup plus 2 tsp (3 tbsp) for 1 cup of frozen fruit
Reducing the liquid will keep the texture and moisture level of your final overnight oats the same.
Just remember that reduce the liquid that makes the bulk of the recipe. For instance, your main ingredients in the overnight oats are oats and milk but you are also using a little amount of vanilla extract and yogurt. Just reduce the amount of milk, do not reduce the vanilla or yogurt quantity as they are beneficial and give your oats a perfect enriching and flavoring texture. also, yogurt is a good source of antioxidants.
---
---
The Required Ingredients
With these ingredients you can make overnight oats and frozen fruit with the best taste:
You can use any kind of milk you like.
Soaked overnight oats contain a high level of fiber, and give you a healthy perfect diet and energy for your body. Old-fashioned rolled oats work best for this recipe as quick-cooking oats and instant oats are not sturdy enough, and steel-cut oats give a chewy taste. But it depends upon your preference.
Any yogurt will work Greek, plain, gluten-free, etc.
Salt, and sugar give your overnight oats a perfectly sweet taste, but if you need to add more sweetness add vanilla extract or maple syrup or honey. Also, add a pinch of salt and sugar.
Add any frozen fruits – frozen berries, bananas, etc.
You can also add a bit of cinnamon powder it gives a perfect texture and taste to your overnight oats.
Add peanut butter as it also gives a delicious taste, plus it is beneficial for health too.
Gives your overnight oats a thick texture plus a good source of fibers.
---
---
Quantity of Ingredients For 1 Serving
1/3 cup milk
½ cup oats
¼ cup yogurt
½ tbsp sugar
¼ tsp salt
¼ tsp vanilla extract
½ cup frozen fruit
¼ tbsp chia seeds
Steps To Make Overnight Oats Chocolate
Time needed: 5 hours.
How To Make Overnight Oats Chocolate
Mix & Stir

Grab a jar, and mix all the ingredients- oats, milk, yogurt, sugar, salt, and vanilla extract.

Keep in Refrigerator

Then add frozen fruit and refrigerate it for 4 hours to 12 hours in the refrigerator.

Add More Toppings

Top with your favorite optional toppings and serve right away!


Serve & Enjoy

Enjoy your healthy and perfect frozen fruit overnight oats.
Nutritional Information
Serving: 1 jar
Calories: 289kcal
Carbohydrates: 47g
Protein: 10g
Fat: 7g
Saturated Fat: 3g
Cholesterol: 14mg
Sodium: 641mg
Potassium: 413mg
Fiber: 8g
Sugar: 16g
---
Get Tupperware Container Now Prep Your Overnight Oats!
---
---
---
Read More: