Who doesn't love chocolate? Looking for a healthy meal made with chocolate? Well, these chocolate overnight oats are healthy, delicious, and full of protein!
Rich dark chocolate chips are accented with a creamy oat base mixed with milk, yogurt, maple syrup, and cacao powder. You can make this recipe within minutes and a Voila your perfect breakfast or post-workout snack is ready! These healthy chocolate overnight oats are rich in chocolate flavors that are crunchy with dark chocolate chips. Creamy with a little bit of sweetness, this overnight oats recipe is perfect for anyone looking for an easy and quick breakfast option.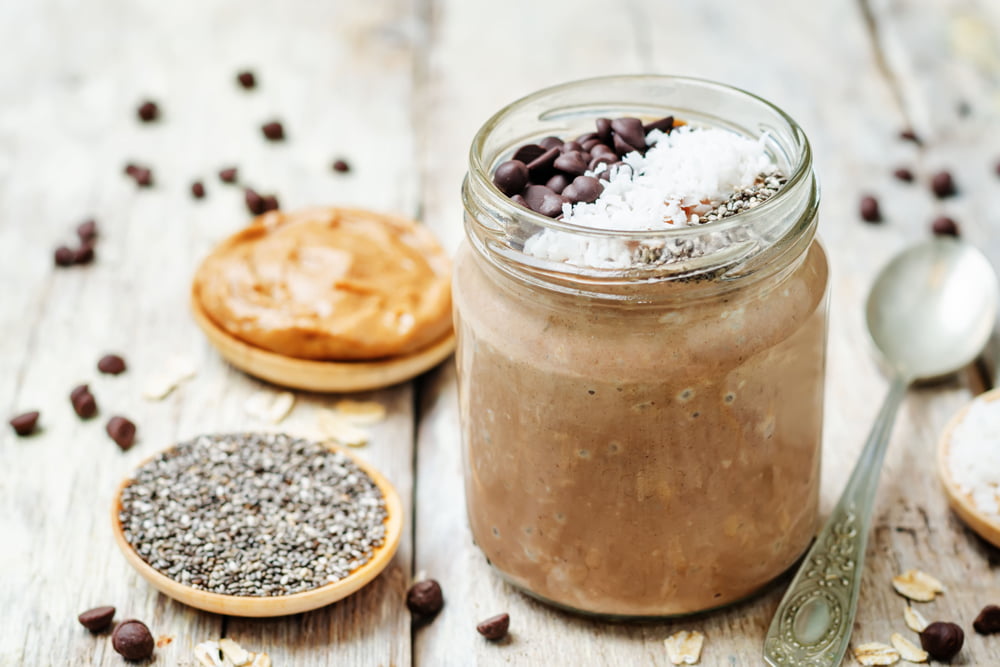 ---
---
---
Estimated reading time: 5 minutes
---
The Required Ingredients
Using these ingredients you can quickly make your overnight oats with chocolate healthy and mouth-watering
I used old-fashioned roll oats but you can use any kind of oats like steel-cut, quick-cooking oats but their soaking time may get different.
These little seeds are full of package; give your rolled oats a thick, creamy texture plus give many health benefits.
You can also use cocoa powder as it will enhance the chocolaty color and taste of your chocolate overnight oats.
You can use any kind of milk like cashew, oats, hemp, almond, coconut, soy, or macadamia nut milk. I used non-dairy milk in this recipe.
Greek or coconut yogurt either can be used for this recipe. If you want to make vegan oats, you can use coconut or any other non-dairy yogurt
It will give your oats a perfectly sweet taste. Use maple syrup or honey if not vegan
Dark chocolate chips- or chopped dark sugar-free chocolate
if you want to make these oats vegan, use dairy-free chocolate chips.
You can also add some extra toppings to make your meal more healthy and tasty. Add chopped nuts, berries, and fresh fruit pieces.
---
---
Quantity of Ingredients For 1 Serving
½ cup old-fashioned rolled oats
¼ tbsp chia seeds
1 tbsp raw or unsweetened cocoa powder
½ cup non-dairy milk
1/3 cup Greek or coconut yogurt
½ tsp pure vanilla extract
½ tbsp pure maple syrup
4 tbsp dark mini chocolate or dark sugar-free chocolate (chopped)
Instructions To Make Overnight Oats Chocolate
Time needed: 5 hours.
How To Make Overnight Oats Chocolate
Mix & Stir

Grab a mixing bowl, and add all the above-mentioned ingredients. Stir to combine thoroughly and then add into sealed jars.

Keep in Refrigerator

Place your oats jar in the refrigerator and chill them for 4 hours (minimum) or overnight (maximum).

Add More Toppings

Just right before serving, bring out the jars, stir again, top with your favorite toppings (if using), and serve.

Serve Cold or Warm

If you want warm oats, just microwave them for a minute and enjoy!

You can also store your rolled oats in the refrigerator for 5 days. Just make a big batch of rolled oats and eat those for 5 days and do not worry about cooking breakfast for 5 days!
Nutritional Information
Serving: 1 jar
Calories: 257kcal
Carbohydrates: 41g
Protein: 8g
Fat: 7g
Saturated Fat: 3g
Trans Fat: 1g
Cholesterol: 4mg
Sodium: 56mg
Potassium: 339mg
Fiber: 5g
Sugar: 14g
---
Get Tupperware Container Now Prep Your Overnight Oats!
---
---
---
Read More: