Tired of the usual boring breakfast? Want to change your meal? Try these blueberry overnight oats. These are highly nutritious and easy to make. Try this recipe on your busy day; eat these oats in your busy morning, and it will keep you full until lunchtime.
Great in the summertime, these oats just get ready in 2 minutes. Just mix oats and milk in a jar and top with blueberries.
Oats are universal; they can taste good with any ingredients. You can mix oats with any toppings. But these blueberries' overnight oats are especially my favorite. Blueberries are so tasty and full of nutrients that you should eat them daily. They are good for maintaining your heart health, boosting up your energy, and are enriched with antioxidants and what else you need.
Tips
Just make a big batch of these oats, and you can eat them throughout the weekend as they can easily get stored in the refrigerator for up to 5 days. Just add a splash of milk and stir it well before eating them.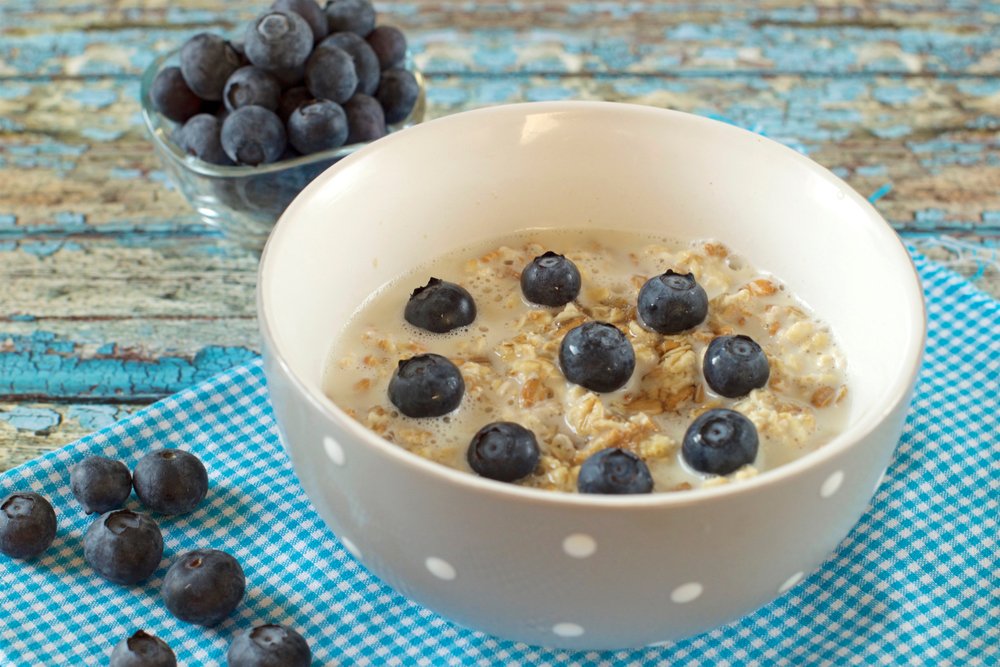 ---
Estimated reading time: 6 minutes
---
Why These Oats For Breakfast?
As breakfast is the most important meal of the day, eat this meal which provides you enough energy to begin your day and helps your body performs at its best all day long.
These overnight oats give you enough energy to keep you all going till lunch. You can also have them in your busy mornings as no COOKING is required and it takes no time to get ready.
You can also store your prepared oats in the refrigerator for up to 5 days!
On your busy days, just grab a bottle of your already prepared oats and eat them.
The Required Ingredients
Below are the ingredients that you need to add to your perfectly healthy and tasty blueberries overnight oats.
Old-fashioned rolled oats work best.
Add milk (dairy or non-dairy completely depending upon your taste and your diet.); you can also add yogurt instead of milk. Just go with the 1:1 ratio of oats and liquid.
Add sweetener to oats to give them a little extra sweet day. You can use any kind of sweeteners like honey, maple syrup, or agave nectar.
Sprinkle cinnamon to give your oats some extra brownish look and taste.
Add chopped nuts, Fruits (fresh or frozen), nut or seed butter, spices, and seeds to make your meal more healthy.
have fun with your optional toppings and add pretty much whatever you like: coconut flakes, cacao nibs, chia seeds, berries, banana, and/or chopped nuts, and lemon zest. These toppings will give you a little extra taste for these perfect overnight oats.
---
---
Alternative Ingredients
Make it vegan: Use maple syrup or plant-based nectar for sweetener. Use dairy-free yogurt.
Make it sugar-free: Remove sweetener and add 1/2 mashed ripe banana instead.
Make it gluten-free: Use gluten-free oats.
Quantity of Ingredients For 1 Serving
½ cup rolled oats
½ cup Almond milk (unsweetened)
¾ tbsp honey or pure maple syrup
¼ tsp pure vanilla extract
1 tsp cinnamon powder
¼ cup fresh or frozen blueberries
Toppings (optional)
¼ cup fresh blueberries
½ tsp hemp seeds
½ tsp flaxseed meal
Drizzle honey or maple syrup
Instructions To Make Overnight Oats Blueberry
Time needed: 5 hours.
How To Make Overnight Oats Blueberry?
Add Ingredients

Grab a 16 oz container with a lid. Mix rolled oats, unsweetened almond milk, and yogurt.

Add Liquid

Then add honey and vanilla extract. Add blueberries and cover the container with a lid.

Keep in Refrigerator

Now, place the container in the refrigerator for a minimum of 4 hours and a maximum of overnight.

Add More Milk

In the morning, bring out your container from the refrigerator, and stir up your mixture. Add a splash of milk, if needed.

Add More Toppings

Top with your favorite toppings, blueberries, chopped nuts, hemp seeds, flaxseeds, and cinnamon powder.  Drizzle honey and serve right away.

Serve Cold or Warm

If you prefer warm oats, do not worry; just microwave your oats for a minute or so and then eat them. Enjoy your meal, and then get back to your work.
Nutritional Information
Serving: 1 jar
Calories: 201 kcal
Carbs: 37 g
Protein: 6 g
Saturated Fat: 1 g
Fat: 4 g
Sodium: 80 mg
Fiber: 5 g
Sugar: 9 g
---
Get Tupperware Container Now Prep Your Overnight Oats!
---
---
---
Read More: