Do you know how to clean an air fryer?
So you bought an air fryer, right? So you may be able to eat all of those delectable fried dishes you love while consuming 80-90% less fat and calories.
We all know how efficient an air fryer is! Air fryers are effortless to use and don't require much effort to clean up after.
There will be some buildup of oil and fat in your air fryer, but it will be less than in a deep fryer. To keep your air fryer in peak condition, it's essential to keep the appliance clean.
We've got some easy-to-follow instructions on cleaning and maintaining it. Continue reading for more information!
---
Estimated reading time: 8 minutes
---
How Often Should You Clean Your Air Fryer?
Every time you use your air fryer, it's best to clean it. Your air fryer will build up grease and oil over time.
It makes it less effective, consumes more energy, and requires more intensive cleaning. Grease and filth can't build up if you clean it after each usage.
If you're a busy person, cleaning your air fryer after every usage isn't an option. You may clean your air fryer basket by wiping it down with a damp cloth or putting it in the dishwasher.
However, the air fryer inside should be cleaned after five usages, depending on the item cooked.
Routine Cleaning Method For Air Fryer
Follow the following process to deal with routine cleaning methods for your air fryer:
Time needed: 1 hour.
How To Clean An Air Fryer
Step 1

Please wait until the air fryer has cooled fully before touching it. Doing so might result in serious burns. Remove the detachable parts, including the crumb tray and frying basket, after cooling down the appliance.

Step 2

Tap out food scraps and crumbs over the sink to get rid of them. To remove any food that has become adhered to the basket or tray, you can use a paper towel.

Once the fat and food residue has been removed from the crumb tray and frying basket, they must be completely cleaned.

Step 3

Don't worry if you can't wash your air fryer's detachable components in the dishwasher: There's an easy method to do it by hand.

Step 4

You can begin by making a warm or hot soaking solution of water and an anti-grease dishwashing agent, such as vinegar or Dawn.

Your air fryer's replaceable components should be cleaned with soapy water to remove the oil and stains.

The soaking period for this should be between 15 and 20 minutes. Hotter cleaning solutions may expedite dirt removal. This is all about cleaning an air fryer.
How to Clean the Crumb Tray?
If you're using abrasive cleaning scrubbers or kitchen equipment to clean your air fryer crumb tray, you will get scratches.
Scratching a non-stick surface makes food attach to it, making cleaning much more challenging.
Don't forget to wipe the corners with a dish brush, which can be done quickly and easily.
Rinse and dry your air fryer's crumbs tray completely after cleaning it.
---
---
What Is The Best Way to Clean a Frying Basket?
How to clean an air fryer basket? Well, that's a cakewalk. Disinfecting the frying basket is more difficult than dismantling the crumb tray. This is because food tends to become stuck in difficult-to-clean places.
When it comes to getting into the cracks of your frying basket to remove the burnt-on fat and crumbs from your meal, soaking your basket will assist. A dish brush or a thin cleaning brush can be used.
Using a bowl of water and a shake, wash or rinse out any particles that have been removed from the basket's surface but remain in its crevices.
A thorough cleaning may be achieved by doing it frequently. Using a clean towel, dry your frying basket under running water once you have completed the cleaning process.
After each usage, wipe the interior of your air fryer with a wet cloth to eliminate food that might deteriorate. This prevents grease buildup.
Put the crumb tray and frying basket back in the air fryer after cleaning the outside with a moist towel (once completely dry).
How to Deep Clean Inside Of Your Air Fryer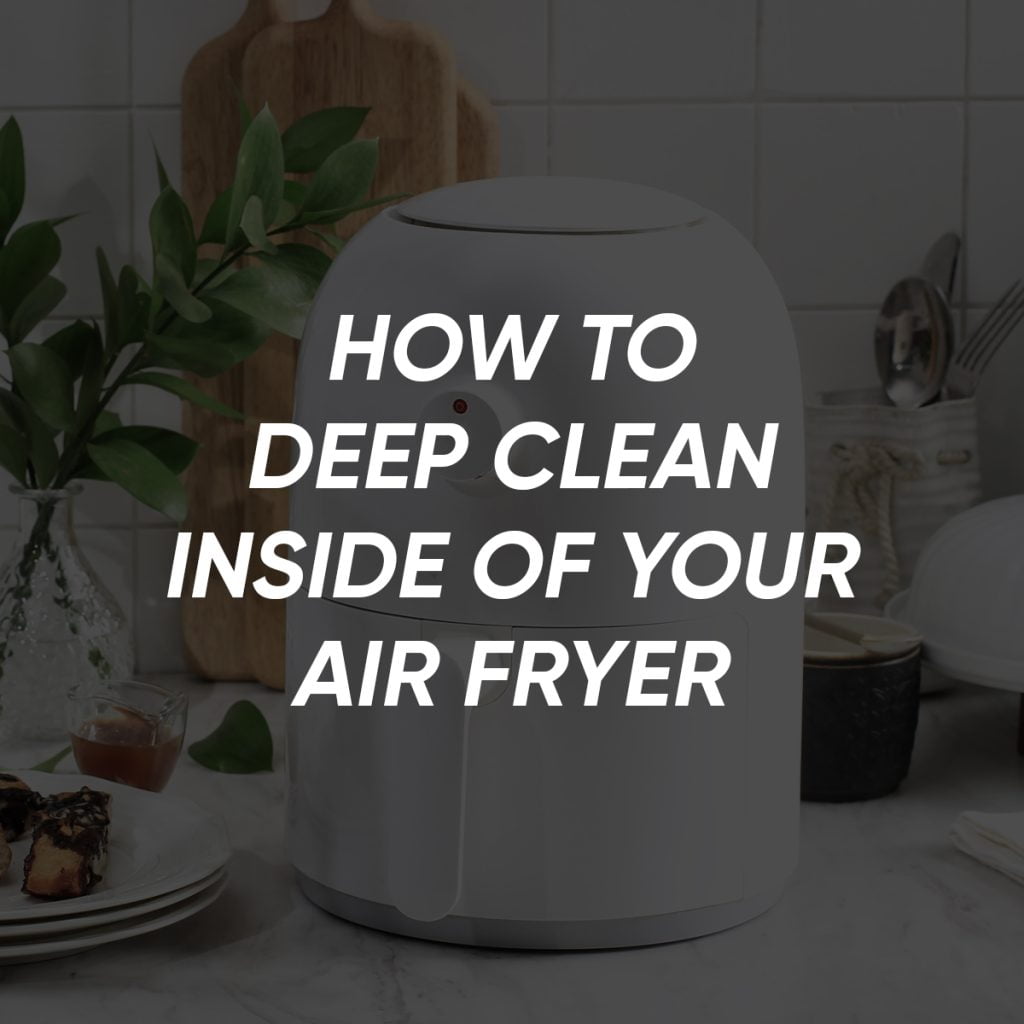 Cleaning your air fryer's inside on a regular basis can help to extend the life of your device and allow you to cook great meals with fewer calories.
Do you know how to clean an air fryer inside? Once a month, your air fryer's inside should be thoroughly cleaned to eliminate oil and germs.
To thoroughly clean the inside of your air fryer, follow these instructions:
To clean, remove the crumb tray and frying basket and follow standard cleaning procedures.
Tilt the device and use a brush to eliminate any large food fragments or crumbs.
Make a baking soda paste and water in a basin and set aside. You'll want to keep your paste from becoming too runny to remove oil.
As you scour the appliance's interior, look for any places you may have overlooked while doing so.
Remove the baking soda paste from your air fryer by wiping the inside of the appliance with a moist microfiber towel.
Before reinstalling the removable parts and sealing the top, let the air fryer air dry fully.
---
---
Top 3 Easy to Clean Air Fryers In 2022: Recommended by Our Experts
Cleaning up crumbs and food waste is a pleasure with these top-performing air fryers:
Bottom Line
This is all about how to clean an air fryer.
Clean your air fryer with a few simple actions, and you'll maintain it in peak condition. The best way to maintain your air fryer germ-free and sanitary is to execute the cleaning instructions listed above!
---
---
---
Read More: