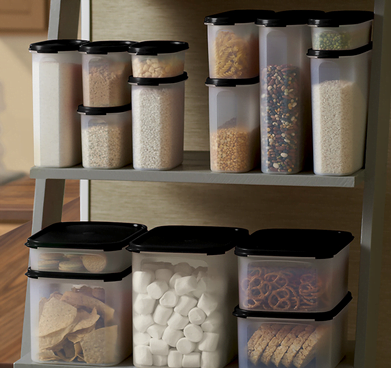 Dry food ingredients are vulnerable to insect contamination and exposure to moisture. Store your dry food ingredients in airtight containers at a cool and dark place. Toss opened flours and lentils in pantry invite moths & provide favorable conditions for severe infestation. Tupperware provide best kitchen storage containers for dry ingredients in an array of designs and shapes, appropriate for all types of dry food ingredients including pasta, flours, beans, cereals & herbs etc.
Best Kitchen Storage Containers for Pasta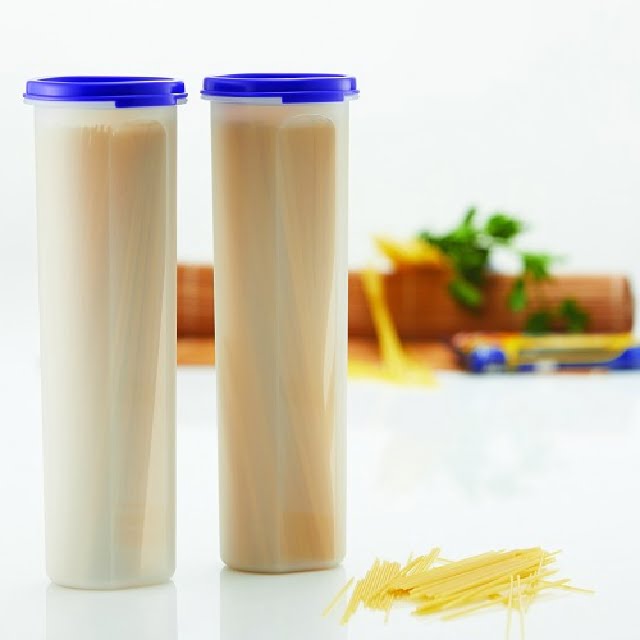 Dry pasta when stored in air-tight jars once the packaging has been opened remain good for a few years. Although the expiration date on the package tend to be conservative, it is best to follow it. Dry pasta is unlikely to develop mildew & grow bacteria but it loses flavour with time. Tupperware offers best food storage containers for dry pasta. This set of 4 round modular mates feature different sizes, ideal to accommodate both long pasta such as fettuccine and linguine etc. & short pasta such as macaroni & penne pasta etc. The round shape of containers make it easier to pour the content whereas the burp seal ensures pasta remains fresh longer.
Best Kitchen Storage Containers for Flours
One rule of thumb to storing all types of flour is to prevent it from moisture, heat & air. Since flour has the large surface area it is easier for it to grow mold & weevils. The best kitchen storage container for flour is one that is deep & allows scooping out.  Tupperware Lucky Bloom One Touch set offers airtight & liquid tight canisters that are ideal to keep flour with or without its burlap packaging.
All-in-One Pantry Storage Containers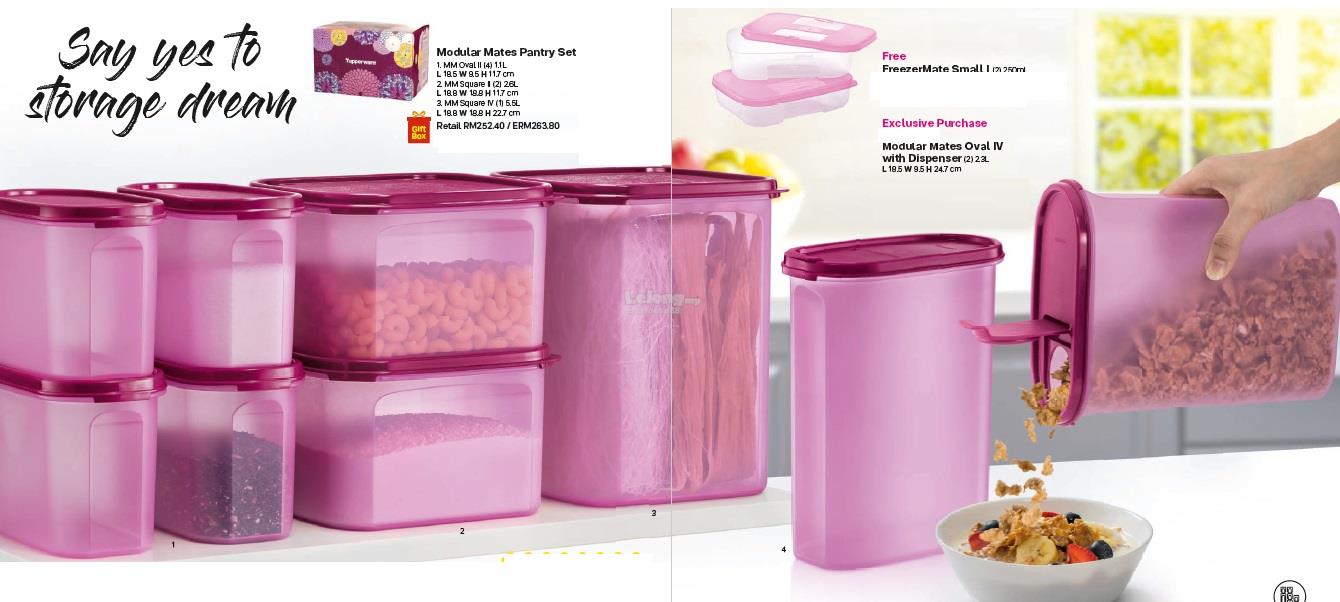 If you are building your pantry and starting from scratch at a wallet friendly price than nothing beat this Tupperware Pantry set. Being air-tight & liquid tight, the set is more than impressive to store dry ingredients such as breakfast cereals, baking supplies, dry fruits & nuts & flours. The set is a mix & match of scoop out & pour jars with clear window that allows quick scanning of the content.
Food storage boxes are available in square and round shapes with their unique sets of benefits. Round containers allow adequate air circulation, minimize food waste due to rounded interiors & allow faster cooling times whereas square containers maximize storage space & hold more product in a smaller area. Depending on your preferences get the best kitchen storage containers for your pantry needs to maximize the shelf life of dry food ingredients.