Christmas is all about the colorful festivities. The ancient traditions tracing the existence of Santa & rituals revolving around the concept of sharing, keep the fervor of the auspicious occasion alive. The most indispensable part of Christmas is candies. Even if you don't have a sweet tooth, warmly packed Christmas bounties will have your heart trapped in an instant. Tupperware containers & jars make an eye catchy collection in your pantry to serve the enchanting color-mixed trail of Christmas candies. Take gifting to a whole new level this year by creating your own unique series of Christmas gift jars. With Tupperware containers & jars you have crazy yet frugal opportunities. DIY Christmas favors using Tupperware containers to please your guests with your high aesthetics.
Christmas Tupperware Containers: Tupperware Jar Gifts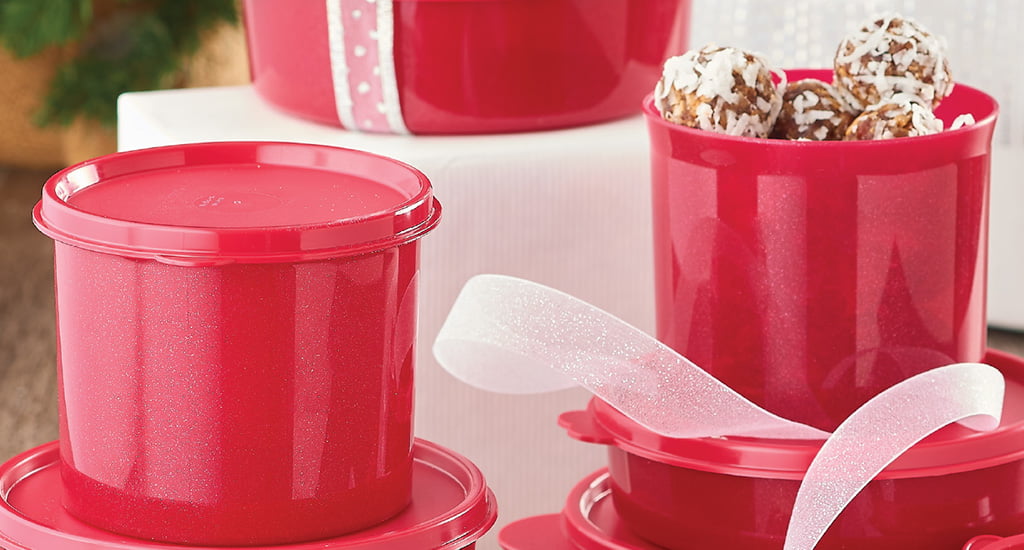 Tupperware jars come in a variety of design & colors. They are securely closed with a lid which a traditional mason jar is unlikely to offer. Tupperware canisters are highly valued since they can be used over & over again. Making Christmas favors in printed Tupperware containers keep the excitement growing till the last moment. Let's play surprise!
4 Tupperware Jar Gifts Recipes
1. DIY Hot Chocolate Christmas Favor
Who on the earth would say no to hot chocolate? From toddlers to adults, everyone enjoys the sip of hot chocolate in frenzy snow. No need to make a dent in your wallet when you can prepare delicious concoction of cocoa & milk at home at the fraction of a cost. Alternatively, you can also prepare homemade jams made from your fresh fruits picked from your kitchen gardens. Pour them in Tupperware containers, taking care to neatly tie a label with a jute string. We bet this is going to be the best thoughtful gift for the hostess that will keep her intrigued till she smells into the divine jar. Make sure you pick liquid tight jar with a snap on lid for this purpose.
2. DIY Sand Art Brownies: Modular Mate by Tupperware Containers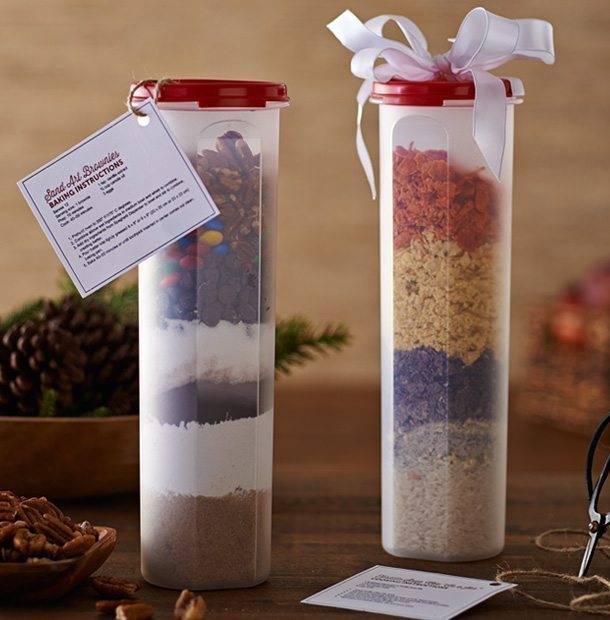 Now this is beyond art. Surprise your mothers this Christmas by preparing her this over-the-edge Sand Art brownie mix. Pour in all the ingredients in a translucent modular mate by Tupperware container. Don't forget to stick the recipe card to help her enjoy the richness this brownie mix carry.
3. DIY Stay Fresh Tupperware Gift Jar
Let's pay homage to the teachers who lay our strong foundations by sacrificing their own joy & life. This thoughtful gift jar will certainly make your mentor realize how important they are in your life. Collect personal hygiene luxuries from facial wipes, cleanser, antiseptic wipes, soothing massage bar & a worthwhile mist to elevate the senses. Hide & pack them in one of the printed Tupperware container to escalate the surprise game.
4. DIY Assorted Candy Jar: Tupperware Eco Flip Bottles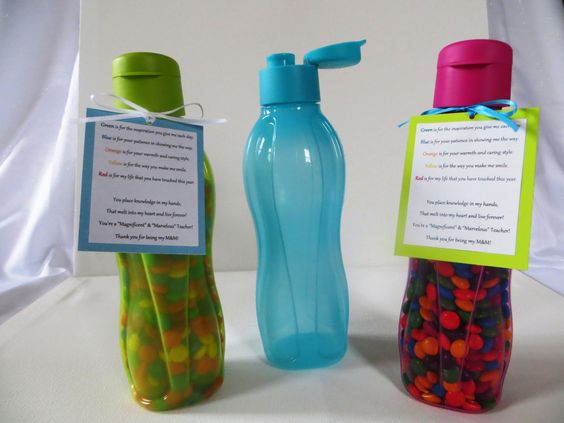 Nothing could be trickier to keep your toddler engaged than a bottle filled with colorful candies. It is as easy as it sounds. Fill the eco flip BPA free plastic bottles with your child's favorite candies & let him have fun exploring which color is what taste till you prepare gingerbread cake for the family feast.

Meanwhile you prepare the favors, keep your staples freshly stored in cheerful Tupperware containers. These airtight & liquid tight Tupperware containers certainly keep the freshness, aroma & texture intact.