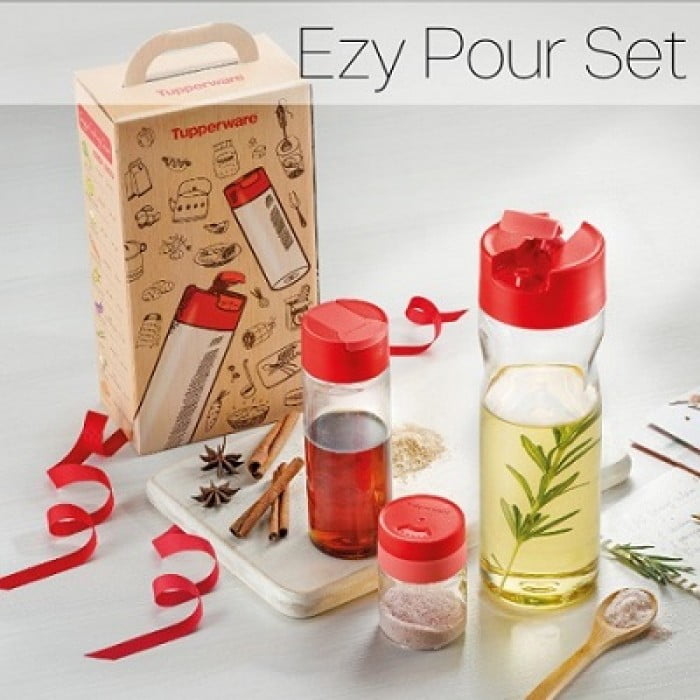 Vegetable oils are every kitchen's necessity. They are known for the light taste & nutritious value they boast. Unfortunately, cooking oil can easily go rancid if stored improperly. Light, heat & air facilitates breaking down the fatty chains and oxidizes oil that turns oil rancid prior to its expiration. Storing edible oil in Ezy Pour Tupperware containers allow you to protect it from environmental factors that contribute to deteriorating its taste & quality.
Tupperware Containers Ezy Pour Pet Bottle
There are innumerable types of oil servers available. Tupperware containers make the famous light weight, easy on maintenance oil pourer with its unique ergonomic design. The oil servers boast a slanted spout that prevents dripping oil hence reduces the mess. It comes with a rotating cap top & allows you to dispense just the exact quantity you desire. Oil & vinegar dispensers by Tupperware containers are available in varying sizes from large to medium & small. Either store different sauces for BBQ or simply use them to prepare, store & serve your salad dressings.
Tips to Prevent Oil from Going Rancid
Ever found your cooking oil smelling metallic strong? A single sniff can detect rancidity in edible oils. Most probably improper storage of oil such as on the back ledge of stove, cabinet over stove or on countertop could be held responsible for the good oil going bad.
Unsaturated fats that ensure the oil stay in liquid form at room temperature might break down due to frequent temperature changes, direct sunlight, water and air. Microbes can also compromise the taste & quality. Always recap your oil bottle after each use to prevent oxidation.
Do not store cooking oil in a metal container. Metal components such as iron and copper react with oil and turns the taste bad.
Always transfer oil from its original packaging to a small container such as Ezy Pour oil servers. This lets you enjoy the convenience of using/storing your oil bottle near the stove while preparing/cooking food.
Store oil in a cool & dry place but definitely not in refrigerator. A pantry, or a cupboard will do. Make sure you have closed the bottle tightly if you are storing it for longer duration.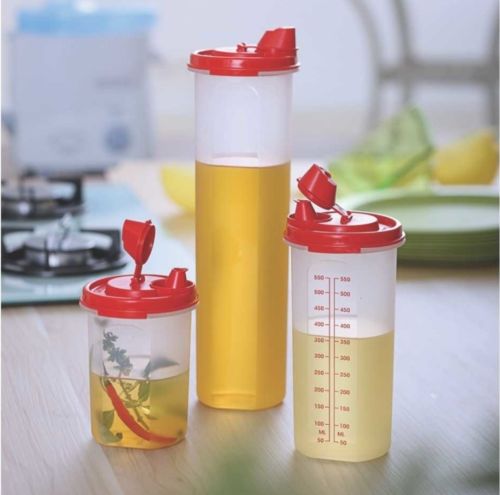 Tupperware Ezy Pour bottle has a cylindrical body with a moulded slim- sized finger grip for easy handling. The sheer bottle enables easy identification of the content. Furthermore, Ezy Pour by Tupperware containers are travel-friendly. You don't need to worry about carrying oil the next time you go out for camping. Ezy Pour bottles, being break-proof and light weight get the job done without fret & mess!