Almost everyone in any part of the world is carrying reusable water bottles these days. So if you want to jump on the bandwagon, this article might help you how to choose & where to get the best water bottle 1L.
Did you know Australians purchase 15 million plastic bottles every year? And at the end of the day, those disposable plastic water bottles ended up in landfills and worst, our waterways.
Now is the time to switch from disposable plastic water bottles to reusable bottles. If you don't know how to start, don't worry. We are here to help.
---
Estimated reading time: 14 minutes
---
How To Choose The Best Water Bottle?
First of all, you need to know what kind of water bottle do you need. Yes, there are so many different reusable water bottles in the market. You are spoilt for choices. So, how to go for the best?
Material
Basically, you can find three main materials for reusable water bottles. It is either stainless steel, glass or plastic.
A stainless steel water bottle is a great option to keep your water hot or cold longer with the insulated feature. Even so, you may end up with a metallic taste to your water.
A glass water bottle is amazing to avoid chemical leaching and doesn't discolor or degrade. However, glass bottles tend to break if you accidentally drop them.
On the other hand, a reusable plastic bottle is perfect for lightweight and durability. But, there is possible chemical contamination over time. In fact, your water might taste and smell plasticky.
Mouthpiece And Cap
You can choose between a small or large mouthpiece. A small mouth opening allows you to drink directly from the bottle with ease and no sloshing. On the other hand, a bigger mouth opening is great if you plan to add drink powder, fruit or ice cubes into your water bottle.
The cap is another thing you need to think of before buying a bottle. Screw-on, push-pull cap, flip-up straw, push-button cap, straw with cap, pull over cap, attached carabiner and so many more. It really depends on your preference.
Size And Capacity
Reusable bottles can occupy as little as 350mL up to 3L of water. So, it is wise to think about how and where you plan to use the bottle.
If you are planning to use it for 1-hour jogging session or brisk walk, a small bottle would be enough. Otherwise, for a gym session, you might want to go for a bigger capacity instead.
For office or daily use, 1L bottle would suffice to keep you hydrated all day. And if you are looking for one, below are some of the recommendations of which and where to buy water bottle 1L.
10 Best Water Bottle 1L in Australia
Here is the list of 10 top picks 1L water bottles in Australia. Let's check them out.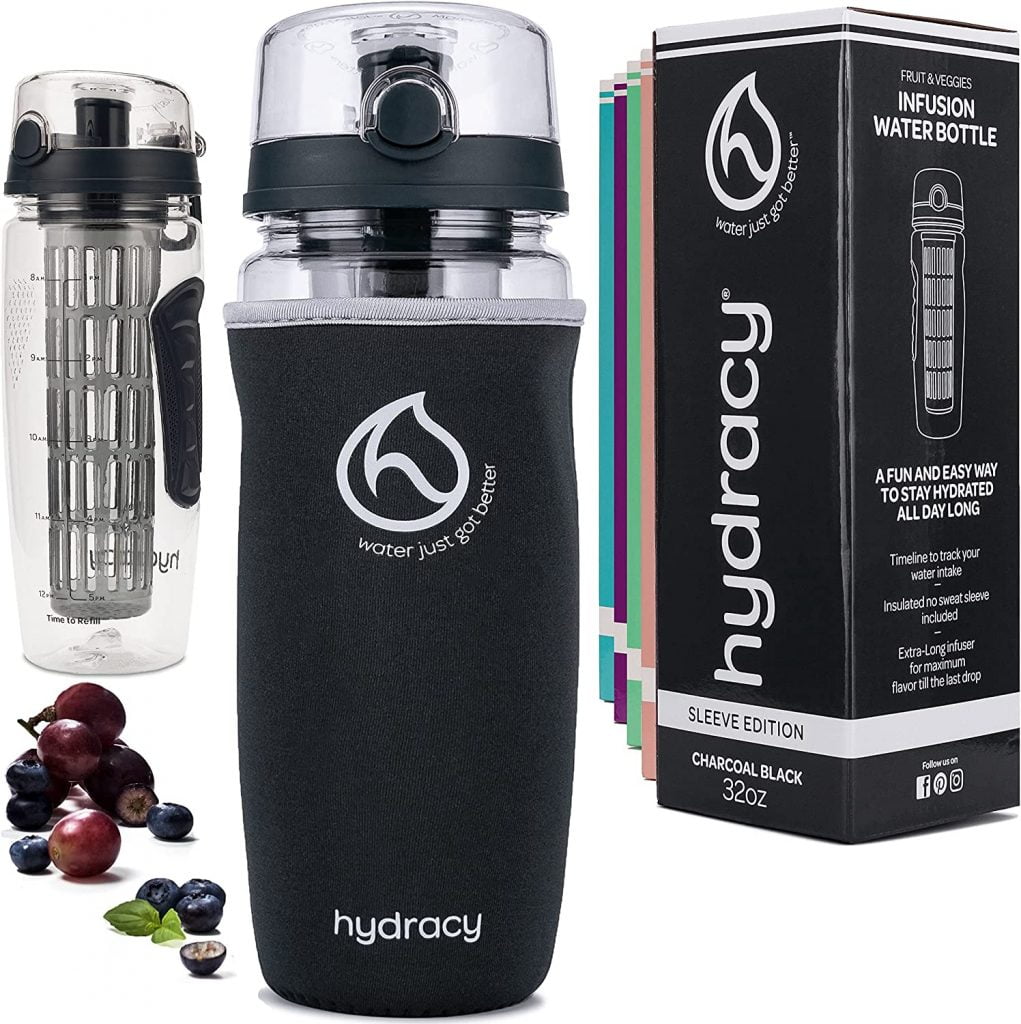 1. Hydracy Fruit Infuser
If you are looking for a fruit infuser water bottle with a 1-litre size, Hydracy Fruit Infuser is the answer. With the timeline marker on the bottle, it would be much easier to track your daily water intake.
PROS
---
Full-length infuser basket for increased flavour
Comes with a sweat-proof insulative cover
Flip-top cover
Easy to carry
Has specially fitted grips on both sides
Comes with an Infused Water Starter Guide including 25 Healthy Recipes eBook
CONS
---
Possible cracks on the slightest fall
Expensive
Rubber seal may degrade over time
User review:
"I'm so pleased with the size and the time written on the side of the bottle helps me keeps track of how much water I'm drinking which is great! I pack it full with lemon, cucumber, and other yummy fruit and veg to get more vitamins throughout my day. Overall, I love the product and I recommend this to everybody."
"We do get slight leaks with these, the infuser is good, the cap covering the entire mouth piece area is hygienic. Would use in the office, would trust using out n about. The insulated jacket actually works quite well. Think we paid too much as there are others out there that look identical but are a tad cheaper."
---

2. CamelBak Chute Mag Stainless Steel Vacuum Insulated
Looking for a reusable water bottle that can keep your water hot or cold longer? Check out the Camelbak Chute Mag Stainless Steel water bottle. The double-wall design keeps condensation from the bottle.
PROS
---
Keep water cold for 24 hours
Keep water hot for 6 hours
Wide mouth opening
Magnetic handler keeps the cap stowed while drinking
Angled spout to avoid spilling while drinking
CONS
---
Expensive
Doesn't fit a normal cup holder
Heavy
Cap mechanism may be a problem for some
User review:
"Solid construction, powder coating provides a nice texture. Fantastic insulation – with just two hours in the fridge, my water was still cold 4 hours later – on a 32c day, stored in a black backpack."
"Good size water bottle, great capacity. Doesn't keep the water quite as cool as other similar bottles (e.g. Hydroflask) but better than the standard Camelbak bottle. Very good opening mechanism and the magnet which catches the cap is really good. Overall its a really good product but just seems terribly expensive."
---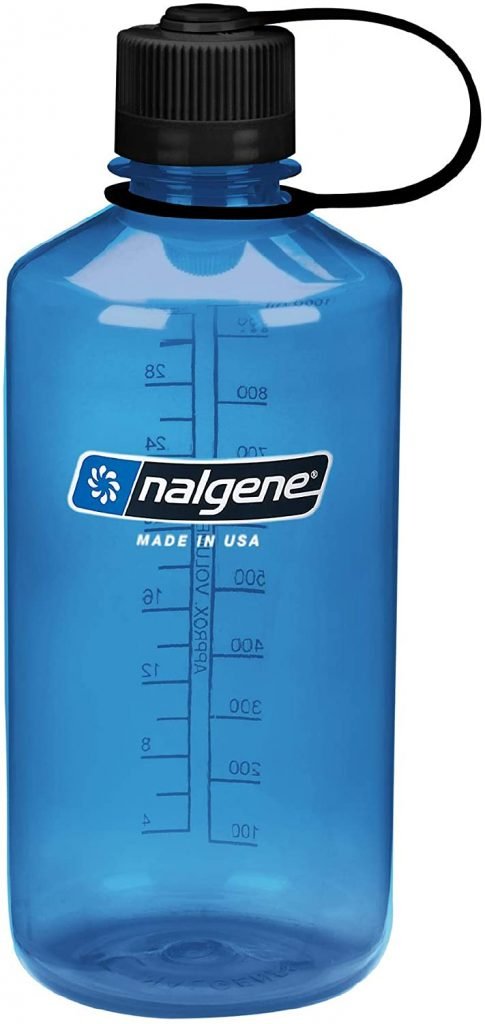 3. NALGENE Tritan
Made from triton, the NALGENE water bottle is a popular choice for many people. It is BPA, BPS and phthalate-free. Apart from that, the bottle is also sturdy and impact resistant.
PROS
---
Great value
Light and easy to carry
Easy to clean and dishwasher safe
Has volume marker to track water intake
Narrow mouth opening makes it easier to drink from
Suitable for both warm and cold beverages
User review:
"This one is perfect, it never leaks, has a perfect cap design, it holds enough water for half a day, and it's really easy to clean because there aren't any small nozzles or crevices. You just fill it will hot water and washing up liquid and give it a shake. Rinse it out, make sure all the bubbles are gone and it's clean!"
"I have loved this bottle for almost a year and have had other Nalgene bottles on the past, but this one has started leaking every time I use it and leaked all over my bag. I thought they were supposed to be indestructible? Would be great if they would replace it but I don't see that option."
---

4. Sistema 890 Square
Sistema is a well-known brand name in Australia although it is made in New Zealand. It is the best choice for those who prefer a simple design, easy to clean and leak-proof bottle.
PROS
---
Great value
Can be found easily in the store
Concave sides for an easy grip
Seal-tight screw-top lids
BPA, BPS and phthalate-free
CONS
---
Can not choose color
Possible mould inside the cap
Can not fit inside the normal cup holder
User review:
"As said above, it's fairly light when full so it's great if you have a habit of taking lots of small drinks throughout the day. The nozzle is the perfect size for taking drinks when laying down as well. The cap is nice and chunky and quite hard to lose to."
"I love everything about this water bottle – except for recurring black stained mound all round the seal in the lid. It has been used since July, cleaned, scrubbed and dried regularly – but the black rings as pictured simply do not budge. Very disappointed."
---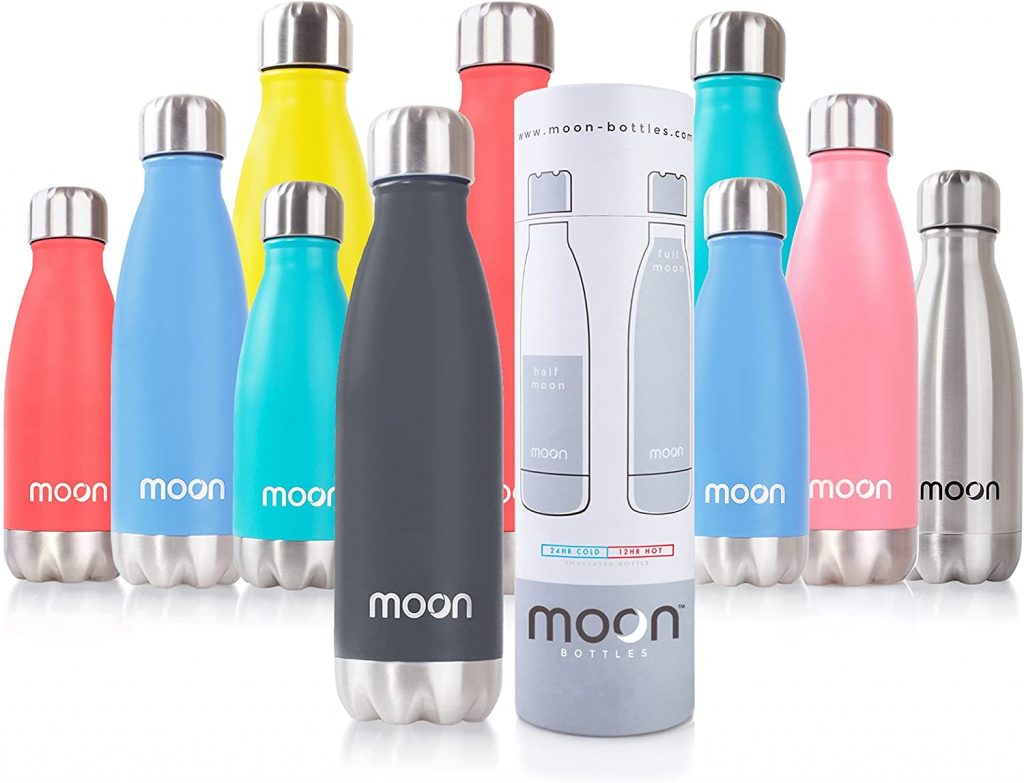 5. Moon Bottles Insulated Stainless Steel & Vacuum Flask
Other than being a great reusable water bottle for your own use, the Moon Insulated Stainless Steel and Vacuum Flask is also a perfect present for your loved ones. It comes in multiple color choices and a gift box.
PROS
---
Keeps water hot for 12 hours
Keeps water cold for 24 hours
100% BPA Free and phthalate-free
Comes in a gift box
Non-scratch based
CONS
---
Expensive
Possible unpleasant smell over time
Possible dented on the slightest fall
User review:
"This is a fantastic product, I am so impressed with the quality, the environmentally-conscious packaging and wonderful customer service from start to finish. Also, the speed at which it arrived was impressive! Fabulous product, I would definitely recommend you will not be disappointed!"
"I like the way this looks and it's really convenient for use when travelling. The downside is that you don't need to use both hands to drink from it and it's not dishwasher safe. Our other issue is if you drop it it will get dented. So we had to buy another one. It was our fault really but not quite as hard-wearing as we thought it would be."
---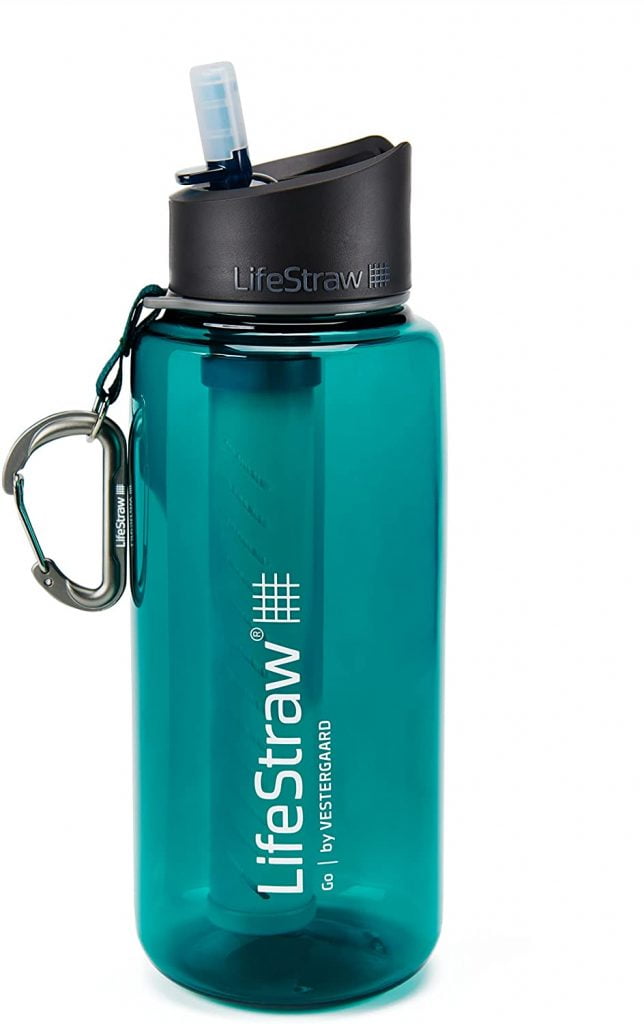 6. LifeStraw Go
The LifeStraw Go water bottle is the number one choice for hiking, backpacking or travelling. The two advanced water filters -Membrane Microfilter and Activated Carbon Filter – keep your drinking water safe and taste good.
PROS
---
Protects water against microplastics, chlorine, organic chemical matter and sand
Easy to use and clean
Great for the outdoor lifestyle
CONS
---
Expensive
No lid replacement
Hard to drink from
Need to buy a replacement carbon filter separately
User review:
"Have been using my Lifestraw Go bottle now for a couple of camping, kayak and hiking trips. Quick and easy filtration process. Very pleased with the purchase."
"You have to be a swallowing pro to easily draw the water through the straw. They mentioned there could be some resistance, but they make it sound easier than it is."
---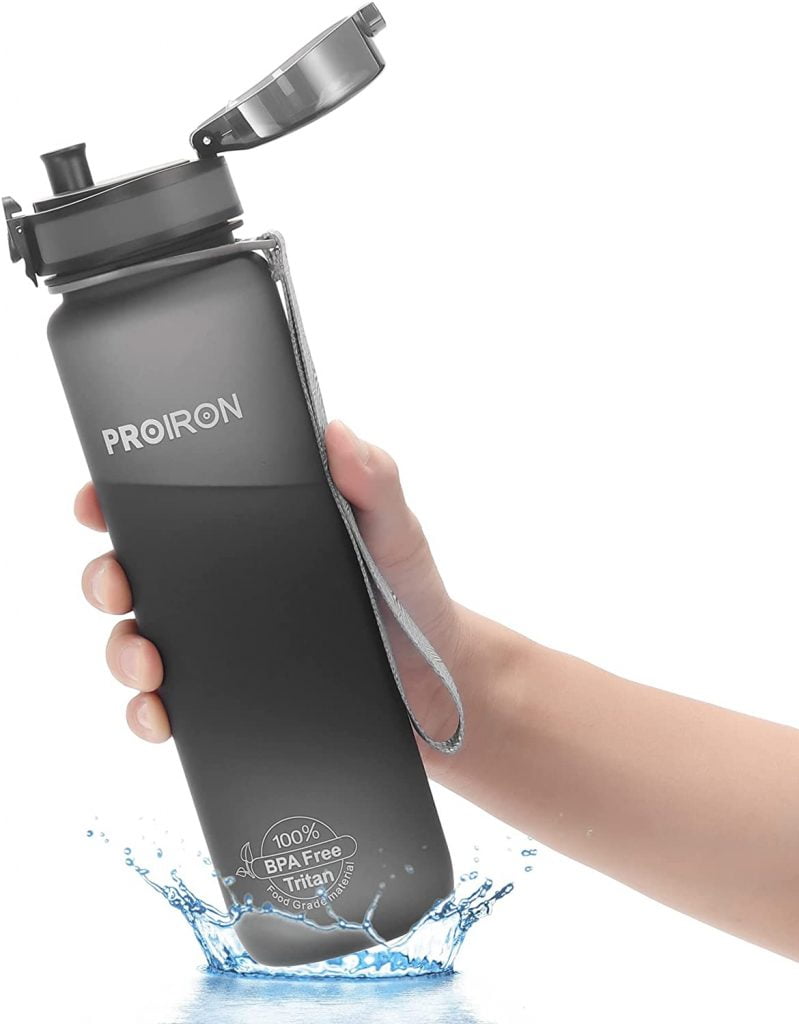 7. PROIRON Water Bottle
We all know how Aussies love sports and outdoor activities. So if you are searching for the best 1L water bottle that fit your outdoor lifestyle, go for PROIRON.
PROS
---
100% Leak Proof
Durable and shatterproof
Hidden metal spring which prevents the cap touching face when are drinking
Comes in a FREE Gift Box
Comes with a filter with a wide mouth opening for fruits or ice cube infuser
CONS
---
Expensive
Doesn't fit the bicycle bottle cage
User review:
"Nicely Priced, perfect size to measure your daily intake. The locking clip keeps things secure but is still super easy to undo one-handed. Water flow is fantastic due to the little air hole, straw is a nice size. sometimes water will dribble out on you from the air hole but only when drinking in an overly zealous manner."
"It's a great bottle as you don't need to touch the parts you put your mouth to drink. The only problem is that it says it fits a water cage. But you really have to force it down. It's not an easy fit"
---

8. Coleman FreeFlow Autoseal Water Bottle
Durable, double-walled and vacuum-insulated 18/8 stainless steel. Removable lid to add ice cubes. Button-operated Autoseal lid to prevent spills and leaks. Patented slide lock to avoid the accidental pushing of the Autoseal button. What else you can ask for from the famous Coleman brand?
PROS
---
Keeps water cold for 58 hours
Keeps water hot for 20 hours
Button-operated AUTOSEAL feature avoids spill
Easy to clean
Has a protective spout cover keeps dirt and germs off the mouthpiece
100% BPA-free
CONS
---
Expensive
Handwash only
Doesn't fit in the normal cup holder
Heavy
User review:
"Absolutely the best bottle. I keep it next to the bed every night. You can grab it and have a drink with one hand, no concerns about spilling at all. Keep water chilled albeit not as good as a thermos (as you would expect with a lid with such easy access). One ice cube will keep it super cold all night though."
"Where to buy the best 1L water bottle? Of course it's from Coleman. I have been a fans of Coleman for so many years. A very good quality drink bottle. My only criticism is the weight. It's very heavy when full. It also doesn't fit in standard car bottle holders. Maybe that's the cost of buying a larger capacity bottle."
---
9. Motivational Tritan Frosted Water Bottle with Time Marker Reminder
This motivational triton frosted water bottle has an hourly time marker to keep track of your water intake. It also comes with inspiring quotes to keep you motivated to stay dehydrated.
PROS
---
Great value
Comes with strap
Has hourly time marker and motivational quotes
Durable and won't break when dropped
Great and stylish design
Multiple colors to choose from
Dishwasher safe
CONS
---
Need to buy infusers separately if needed
---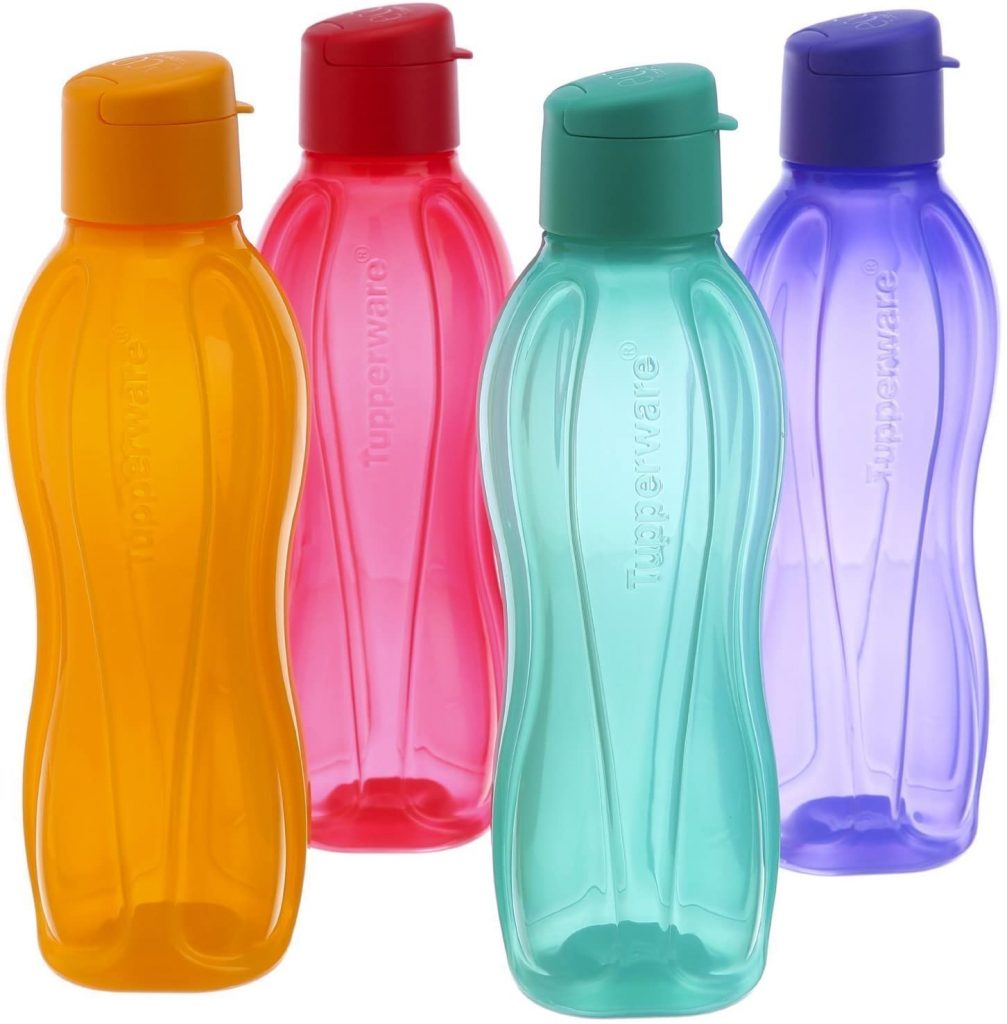 10. Tupperware Eco Drinking Bottles
For Tupperware lovers out there, you can never get enough of this brand's products. This Tupperware Eco Drinking is made from 100% food-grade plastic and is safe to use. The vibrant colors and ergonomic design are perfect for everyday use.
PROS
---
Great Value
Ergonomic shape for easy handling
Lightweight
Easy to clean
CONS
---
Doesn't keep water cold
Unable to choose colors
Can not fit a normal cup holder
User review:
"I love the size of these containers. However, I was expecting one yellow one pink one purple and one teal. I did not get my purple bottle and the yellow bottle is more like an orange. Would've loved to get the colors that I was expecting. These containers though are quite large and I'm not refilling them quite as often. You should know that they do not fit in most car cupholders. The size is delightful though."
"Colours not as advertised purchased as the colours in the picture were what I was after as I have bottles already in the colours I received. Disappointed to be honest."
Conclusion
Choices for the best water bottle 1L capacity are unlimited. However, do take into consideration of the material, mouth and cap, size and capacity, as well as your lifestyle to find the one that fit you.
We hope this list helps you how to choose the best water bottle and where to buy the best water bottle 1L in Australia. Keep yourself hydrated while saving our mother nature.
---
---
Read More: