A best lifestyle water bottle is an option you can have to stay hydrated and at the same time, save our mother nature by its reusable feature and have a look more aesthetic than unnecessary plastic bottles.
But, what do you need to know before purchasing a reusable water bottle?
---
Estimated reading time: 16 minutes
---
How To Choose The Right Water Bottle For You?
You can use these buying guides to search for the best water bottle for yourself.
Lifestyle
Think about your lifestyle. Are you an avid outdoor goer? If you are, you need a sturdy and durable water bottle. You might want to ditch any glass or single-walled plastic bottle.
Or do you spend most of your day in the office and have an addiction to coffee to keep your productivity up? Then, you will need an insulated stainless steel water bottle to keep that coffee hot.
Do you prefer rigid bottles or ones that can collapse whenever there's no water in them? You can save more space with a collapsible water bottle. This kind of bottle is perfect for travellers, hikers.
Size
There are a lot of water bottle sizes and capacities. Why? Because different activities require a different amount of water intake.
You can opt for a small bottle for a quick and short jog, run or exercise. Plus, a small bottle is easier to carry during these activities.
Go for a medium water bottle size if you plan for a day outing, work or just stay at home. A medium bottle size can meet your water intake need. But if you need more, you can always refill it.
A large water bottle is perfect for sports training or family day activities. You don't have to refill the bottle frequently and you still get enough hydration.
Easy Of Use
Let's face it. Each water bottle in the market has different shapes, lid types, accessories and even handle types.
Do you need a bottle with a handle for easy carrying? What about the lid? Would you prefer a screw-top lid or a flip-top lid?
A bottle with a larger mouth opening would let you put ice cubes, drink powder or fruit easily. Whereas, having a smaller mouth opening makes it easier for you to drink from.
Now let's talk about how easy the bottle you choose to be cleaned up. Can you wash it in the dishwasher or manually handwash only? Does your bottle grow mould in hidden spots?
Looks like there are a lot of things to consider before buying a water bottle, isn't it? Don't contemplate yourself. Here we have summarized the top 10 drinking bottles which fit the best for your personal lifestyle, include hiking, cyling, gym, running and etc.
---
---
Top 10 Best Lifestyle Water Bottles According To Your Preference
If you're looking to upgrade your disposable drinking plastic bottles to reusable drinking bottles, you've come to the right place.
For this reason, we have come up with a list of the best reusable water bottle that meets your personal requirements and lifestyle.
1. Best Versatile Bottle – Zulay Fruit Infuser Water Bottle With Sleeve & Cleaning Brush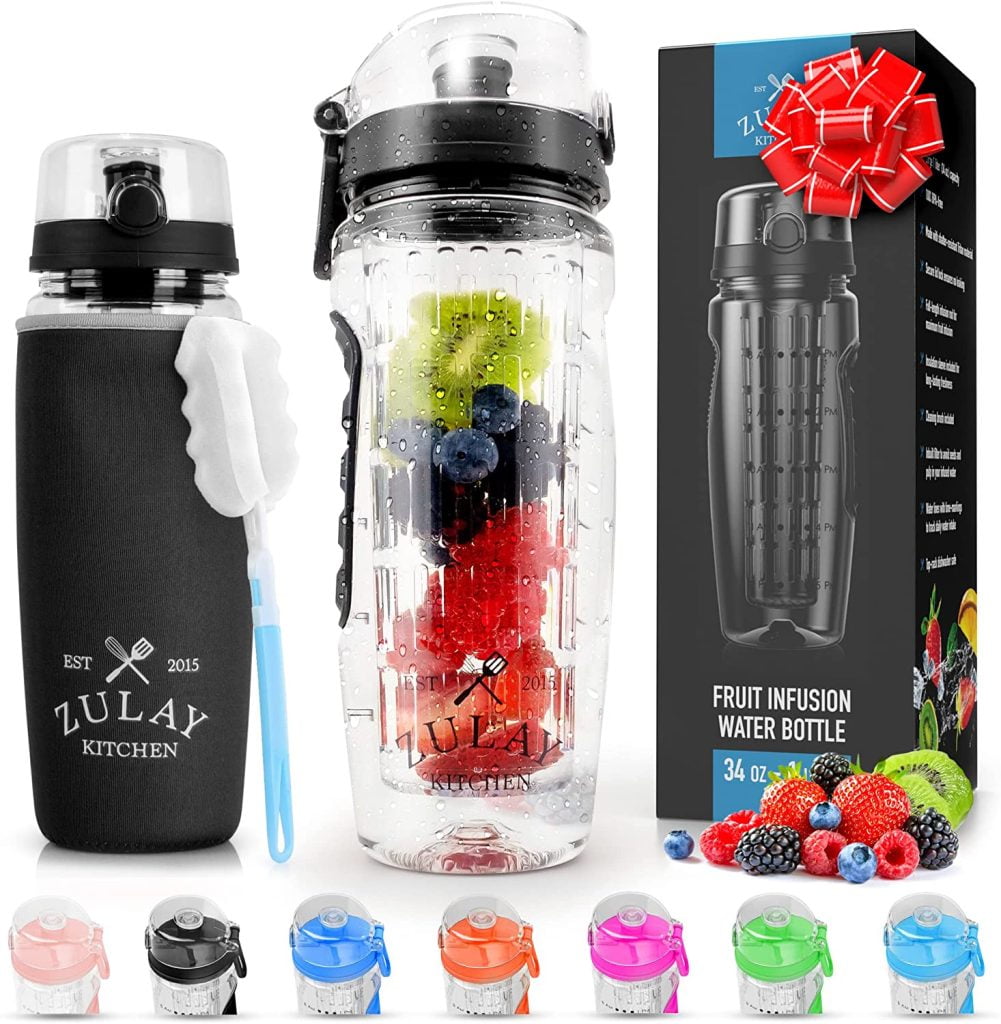 The Zulay (34oz Capacity) Fruit Infuser Water Bottle With Sleeve is BPA Free, comes with an anti-slip grip & flip-top lid, pouch and brush with 1 price.
The durability and functionality are certainly just the right features to make you fall for this bottle immediately. It is so versatile, you can use it just about anywhere – in the office, at the house, while jogging, at the gym or even on a hiking trip.
Pros
---
Great ergonomics bottle design
Easy to clean
BPA free
Can be used anywhere
Comes with fruit infuser, brush and pouch
Cons
---
Thorough washing is needed before use
Don't keep the water cold or hot
User review:
"Thank you for responding to my messages and giving me the option when you are unable to deliver it according to my date. The note and the card make the purchase more special."
"Very helpful customer service. Good quality and value for money."
---
2. Best Water Bottle For Travel – Nomader Collapsible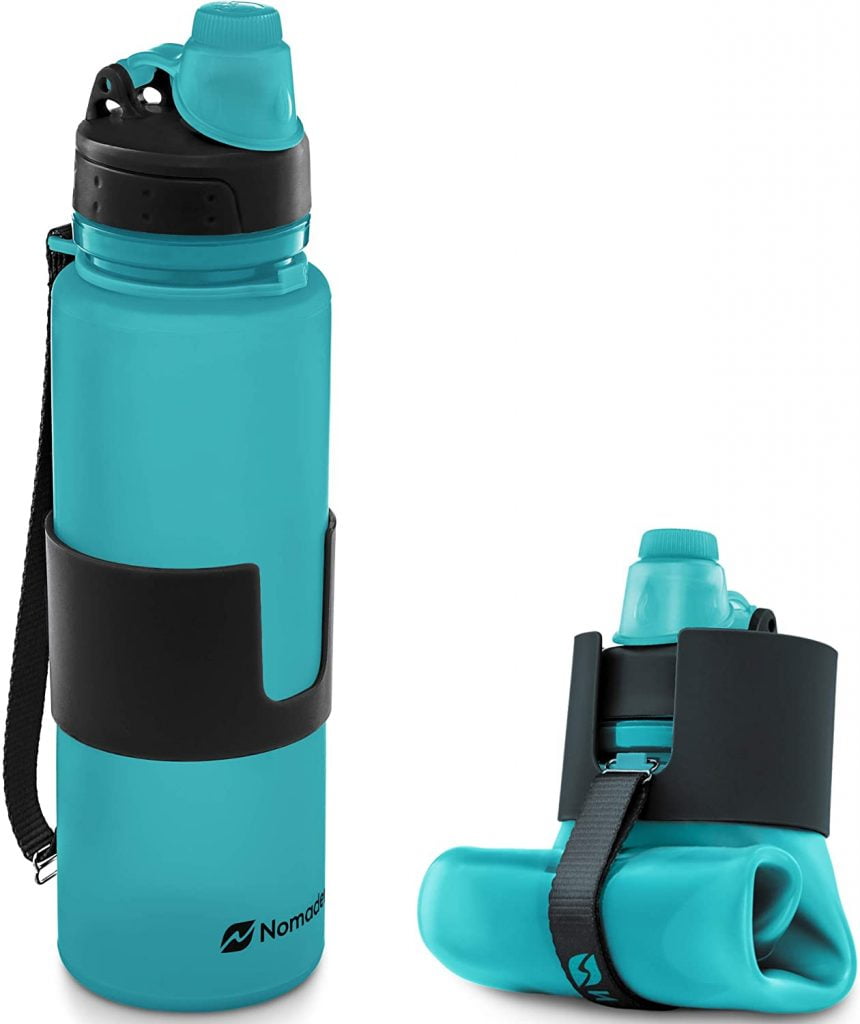 Founded by an avid traveller, the Nomader Collapsible is indeed an ideal water bottle that meets the unique needs of travellers and adventurers.
This bottle is made of thick and flexible 100% food-grade materials BPA-free silicone. Additionally, it rolls up for compact travel. You can also attach it to your bag for quick access.
Comes in 8 color variants, the drinking bottle is also designed for ruggedness. It is safe for hot or cold drinks. Other than that, you can also freeze it and wash it in the dishwasher.
Pros
---
Leakproof twist cap
Collapsible – space-saving
Can handle hot and cold drinks
Wide mouth – to clean and put ice cubes
100% food-grade materials
Cons
---
Need to preconditions the bottle before use
Silicone exterior easily picks up dirt
No insulation
Difficult to clean the inside
User review:
"At the end of the day, the Nomader Collapsible Water Bottle is a flexible option for air travel or any on-the-go individual. However, our few gripes, including its lack of insulation and relatively easy build-up of dirt, take a toll."
"Just what I was looking for. If I'm going to the gym or doing roller derby my bag is usually full to bursting, so being able to roll this bottle up and fill it once I'm at a water fountain has been great."
---
3. H2O Capsule Drinking Bottle – Best Lifestyle Drinking Bottle For Gym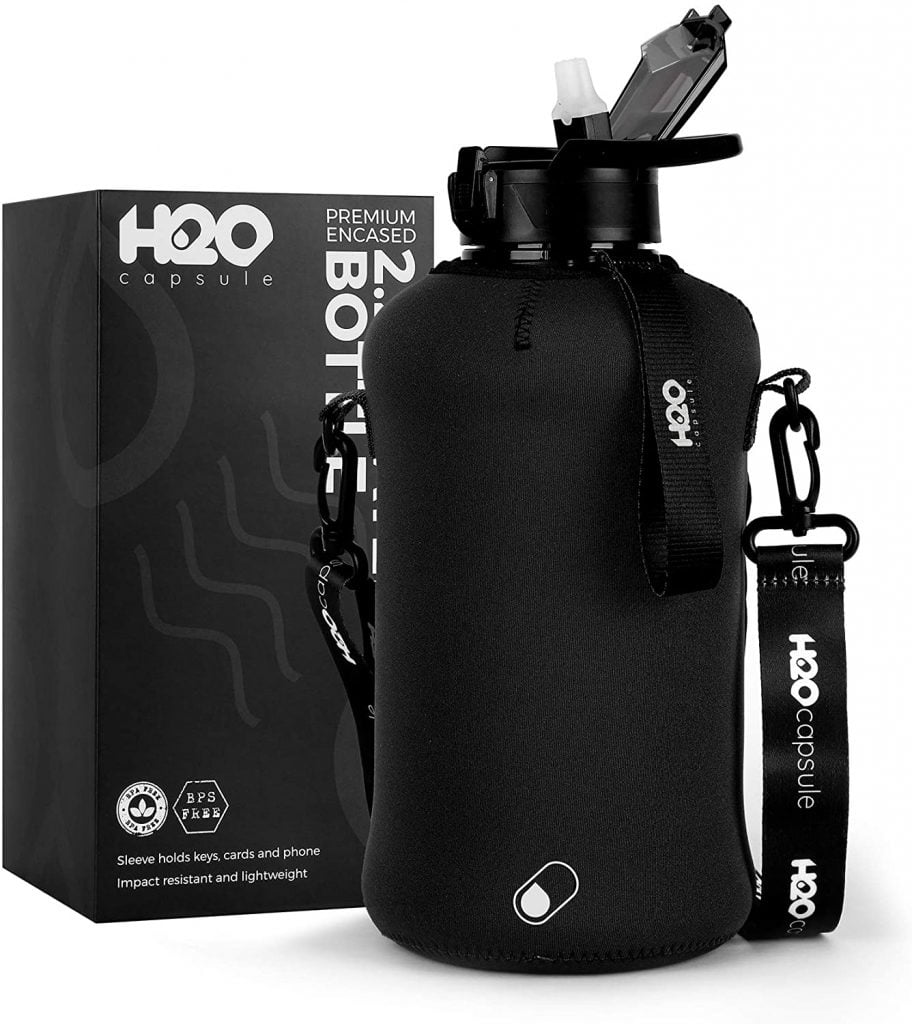 Looking for a balance between function and style for your workout day in the gym? Have a problem keeping your cell phone, keys, ID and cards while you train?
Maybe this H2O Capsule drinking plastic bottle is what you're searching for. This half-gallon water bottle comes with a multi-purpose sleeve that acts as a storage holder for keeping your stuff safe while you get your sweat on.
Keeping you hydrated and keeping your stuff safe? You wouldn't know how much you need this drinking bottle until you got one!
Pros
---
Comes with a protective sleeve that doubles as a handy storage
Leak-proof and dust-proof covered straw lid
Made with 30% thicker plastic
Non-toxic, BPA free and BPS free
Extra large 2.2L / 74 oz
Comes in 22 unique designs
Cons
---
Not dishwasher safe
Expensive
Some users have issues with the straw
User review:
"Works great. The only downside is it gets hard to suck from so every so often you have to loosen the lid to get proper fluid flow through the straw."
"Sometimes forget to stay hydrated in multiple calls and this definitely holds enough water that lasts the whole day! No weird plasticky bottle smell and the bottle is strong and sturdy. Saw some reviews about bad straws but mine works- at least for now. 10/10 recommend"
---
4. Best Water Bottle For Sport – Gatorade Squeeze Sport

Have you ever seen marathoners squirt water from a squeeze water bottle to their faces after completing their marathon? Or a group of football players who have other people squirting water from squeeze bottles in their mouth in between games?
Those water bottles indeed look pretty much convenient for the sportsperson. So, if you are into sport, you might want to invest in a squirt water bottle instead.
One of the best squirt water bottles available in the market has to be the Gatorade Squeeze Sport. Designed by Gatorade – an American brand for sport-themed beverage and food products, it is certainly the best water bottle for the sportsman.
Pros
---
Insulated dual-layer walls
Leak-proof and spill-proof
Non-slip bottle design
Squeeze bottle
Cons
---
Doesn't fit a normal cup holder
Hard to clean the lid
User review:
"I read a lot of these reviews and there was several that said they leak however, I got two of them and as long as you put the lids on straight they do not leak whatsoever!"
"Solid water bottles. I use them regularly for exercising and just for life in general. Very convenient for hydrating while working out or quickly without having to remove a lid or anything."
---
---
5. AONIJIE Handheld Water Bottle Great For Running Lifestyle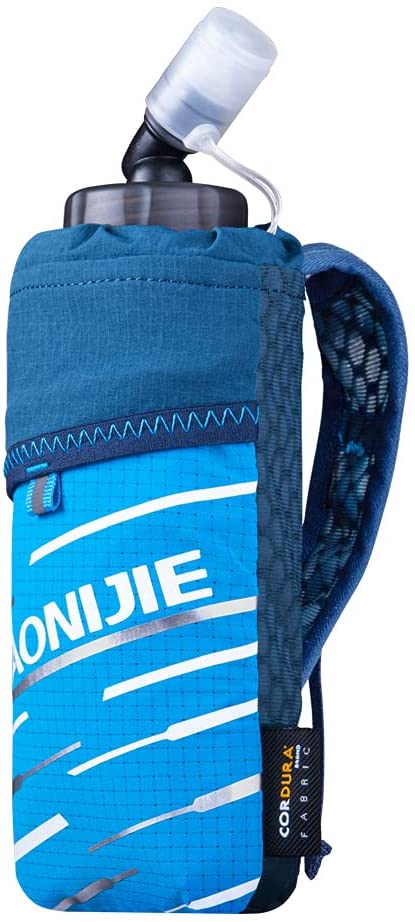 Going for a brisk walk, jog or run might be a bit hassle while holding your water bottle, phone, some cash or cards. That's why you should check out AONIJIE handheld water bottle.
The water bottle is designed to provide convenience for your outdoor activity. It has an adjustable belt so that it can wrap comfortably around your hand and enables grip-free running.
Other than that, it also has multiple storage compartments where you can keep your phone, keys and cards safe during your running and jogging sessions.
Pros
---
100% BPA and PVC Free
Enables grip-free running
Has built-in multiple zippered pockets
The mouthpiece can be adjusted
Cons
---
Small size
Flimsy bottle
Difficult to hold while drinking
Expensive for the size
User review:
"I've been looking for a water bottle to use while I run and this one is great. Lightweight, easy to hold and easy to store when I'm not using it!"
"Great little water bottle and holder. Easy to fill. Easy to carry and drink from while running or jogging."
---
---
6. Pro Bike Tool Drinking Bottle – Amazing For Cycling Lifestyle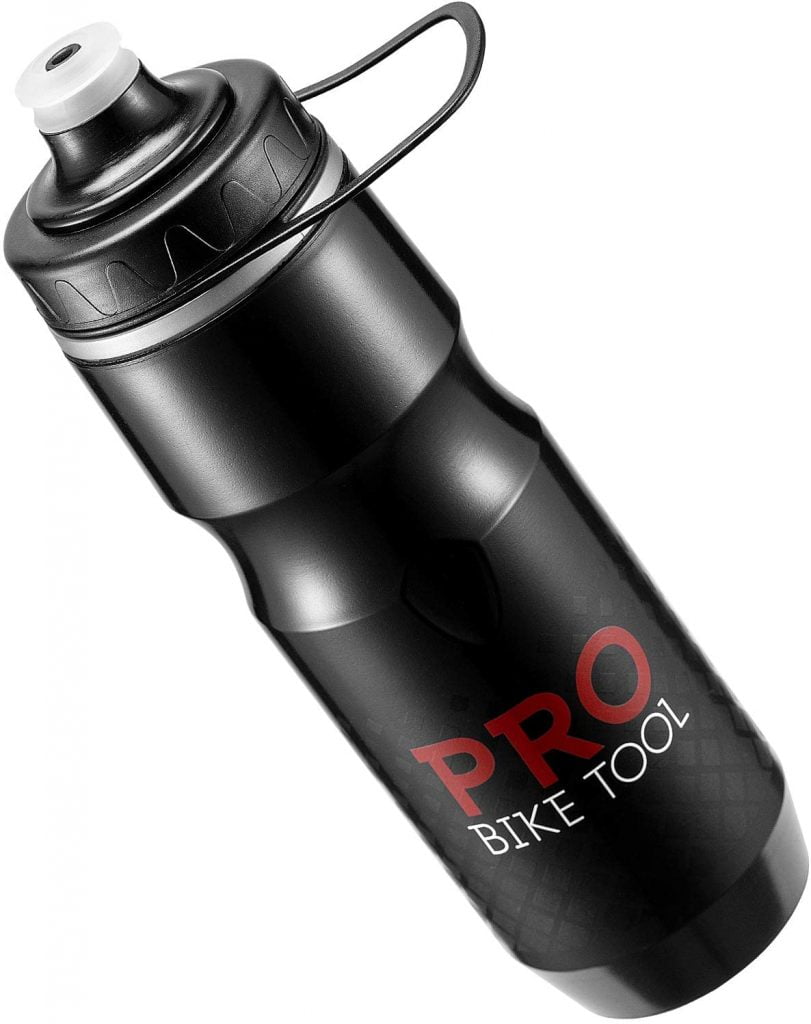 You know a product will be the greatest invention when it is developed by an expert and enthusiast. Pro Bike Tool water bottle is designed by a passionate team of cyclists for all riders.
They know what cyclists struggle with the most when it comes to hydration. They also know what ticks cyclists off when it comes to finding the best water bottle for their adventure rides.
So they come up with a lightweight and easy squeeze to deliver more fluid with less effort. Other than that, they also equipped the bottle with double-wall insulation to keep your water cold longer.
Pros
---
Keeps your drinks cool for longer
Easy to squeeze design
Specially design and made for cyclist
100% BPA free
Dishwasher safe
Cons
---
The bottle sweats easily
Need to precondition before use
User review:
"I've had many types of isolated water bottles and this is my favorite. Great cap and easy to clean (unlike camelback). Easy to drink from while riding (unlike polar). Would like to see more colors."
"Very happy with this purchase. Quality water bottle. The insulated bottle kept my water ice-cold for 2 hours on an 88-degree afternoon ride."
---
7. Survimate Filtered Water Bottle Perfect For Hiking Lifestyle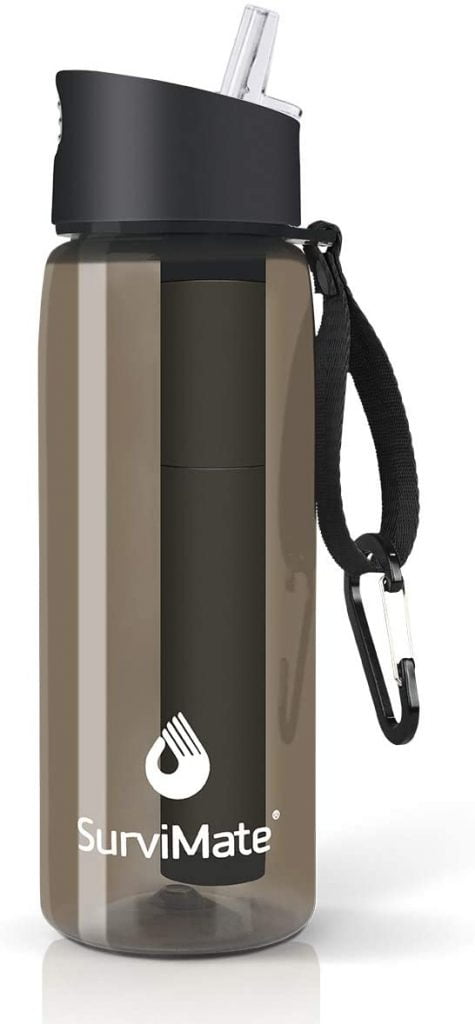 The Survimate water bottle is installed with 4 advanced high-performance purifiers which are Medical Grade Hollow Fiber Membrane, Coconut Shell Activated Carbon, Beads and Medical Grade PP Cotton.
By all means, you can use waters from brooks, streams, ponds, puddles and tap water as water resources in this water bottle and filter them to get clean drinking water.
Pros
---
Has 4 advanced high-performance purifier
Long lifespan and replaceable filter
Made of food-grade material
Cons
---
Difficult to pull the straw
The filter is heavy
It takes a little work to suck the water out
User review:
"I looked around the internet for a while for a viable way to purify water. Finally, I choose this filtered water bottle. I had this bottle for servals days now and it is wonderful. It feels good knowing that you are drinking clean water everywhere you go. Another thing I liked about the filter is that there was absolutely no weird taste of after taste."
"I love this water bottle… the water it filters tastes great so I don't even mind drinking it lukewarm. The compass and carabiner features are the best! It helped me navigate my trip. For my small hands, the bottle is a little heavy with water, but that easily offsets how awesome this water bottle is… considering how long the filter for this water bottle lasts, I think this water bottle is one of the best purchases I made on Amazon."
---
8. Best Water Bottle For Adults – Hydracy Water Bottle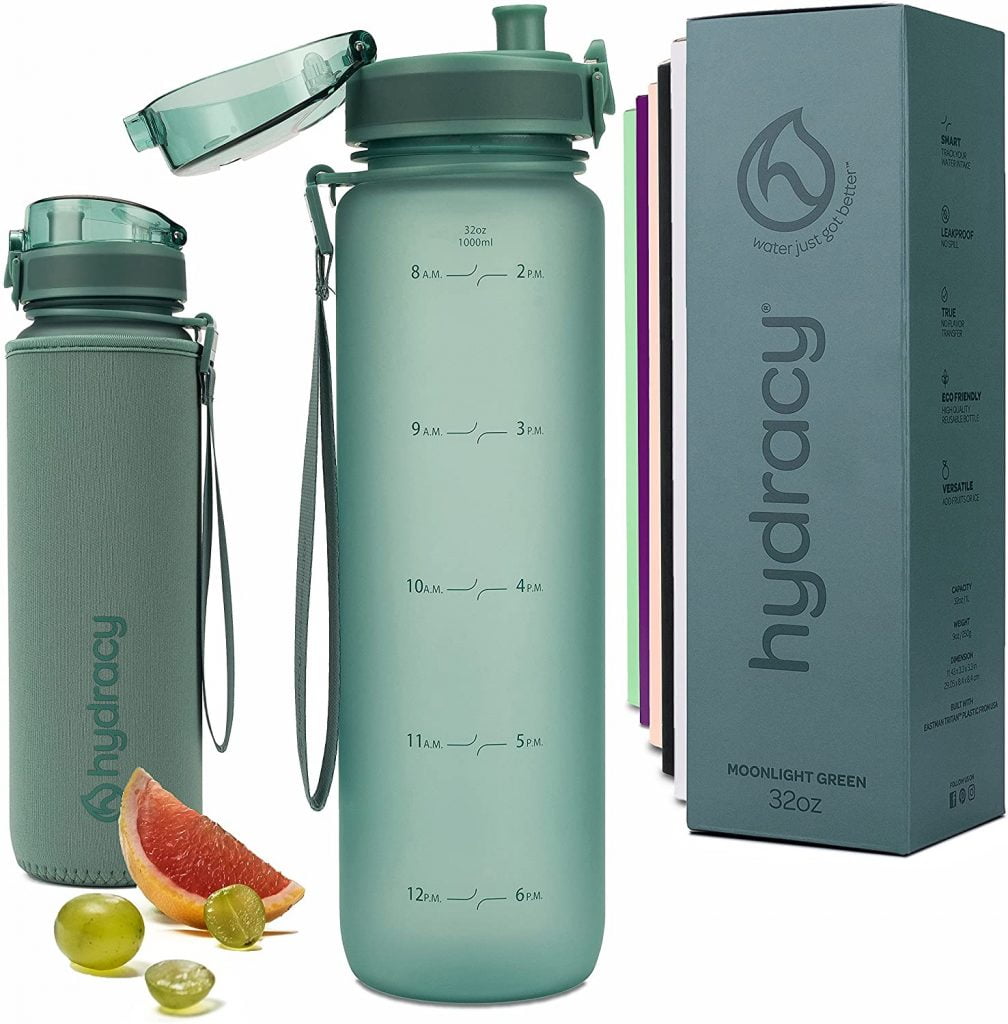 Honestly, it is hard to choose which water bottle is best for adults as each of us has our own preferences. However, if we talk about the functionality, durability, design and price, Hydracy Water Bottle might be the best for you.
It may sound a bit silly but a lot of buyers get so enthusiastic about this water bottle. Most of them immediately fall in love with this water bottle once they get their hands on it. And some, even develop an obsession with it.
Pros
---
Huge capacity
Great design
Has time marker
Comes with a flip-top cap
Has fruit strainer
100% leakproof
User review:
"This thing is going to be my new best friend. Matte, sleek, definitely a sporty feel to it. My favorite is the little filter so I can put fruit inside and they won't block the water flow and seeds won't get in the way!"
"I'm obsessed!!! This is exactly what I was looking for! I wanted the time markers with a flip-top cap that's easy to open so I can drink my water while I drive! This is it!!"
---
9. Contigo Autoseal Trekker The Best Option For Kids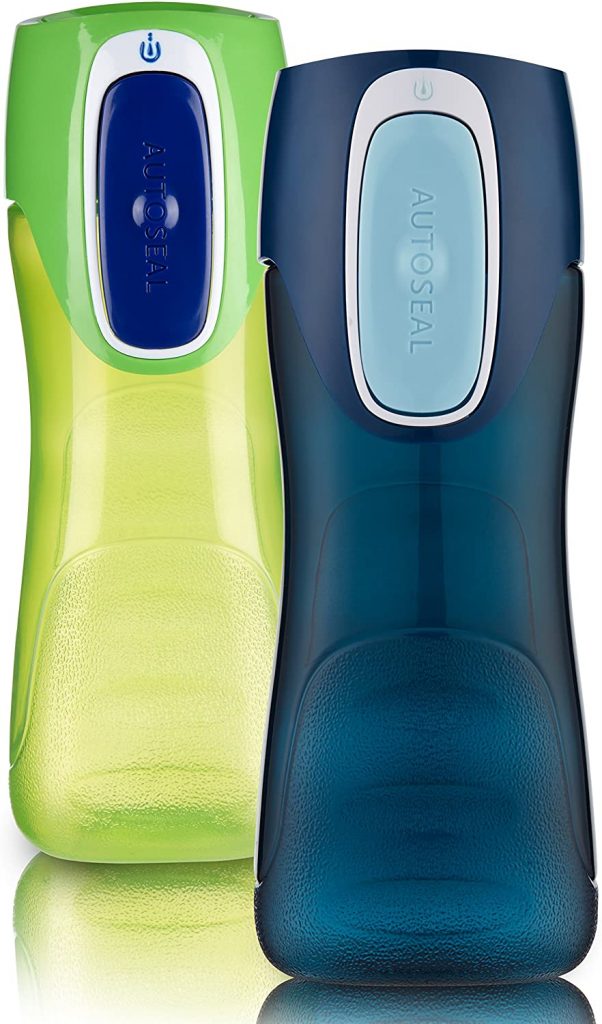 We all know that young kids are not really great at handling drinking bottles. They are either going to spill the water or slip the bottle from their hand and break it.
But, that is not the case with this Contigo Autoseal Trekker drinking bottle. It is perfect to avoid accidental spills. And it is durable enough to handle unexpected drops.
However, same like most other drinking bottles for the kid, this water bottle is prone to growing mould easily on the mouthpiece seal. It may be the biggest pet peeves for many parents.
Pros
---
Leak and spill-proof
100% BPA free
Easy one-handed drinking with the push of a button
Top-rack dishwasher safe lid and body
Easy for small hands to hold
Fits most car cup holders
Cons
---
Can only handle cold water
Comes only in 2 color variants
The bottle's cap is hard to wash
Smaller in size

User review:
"I love these. The design is perfectly simple. They fit in cup holders and back pack pockets. The button is easy to use. Closing the lid is one turn. They don't have weird straw contraptions that are hard to clean, go missing or get chewed through. They don't leak."
"Great water bottles but quite expensive for what they are. But overall good quality and do the job"
---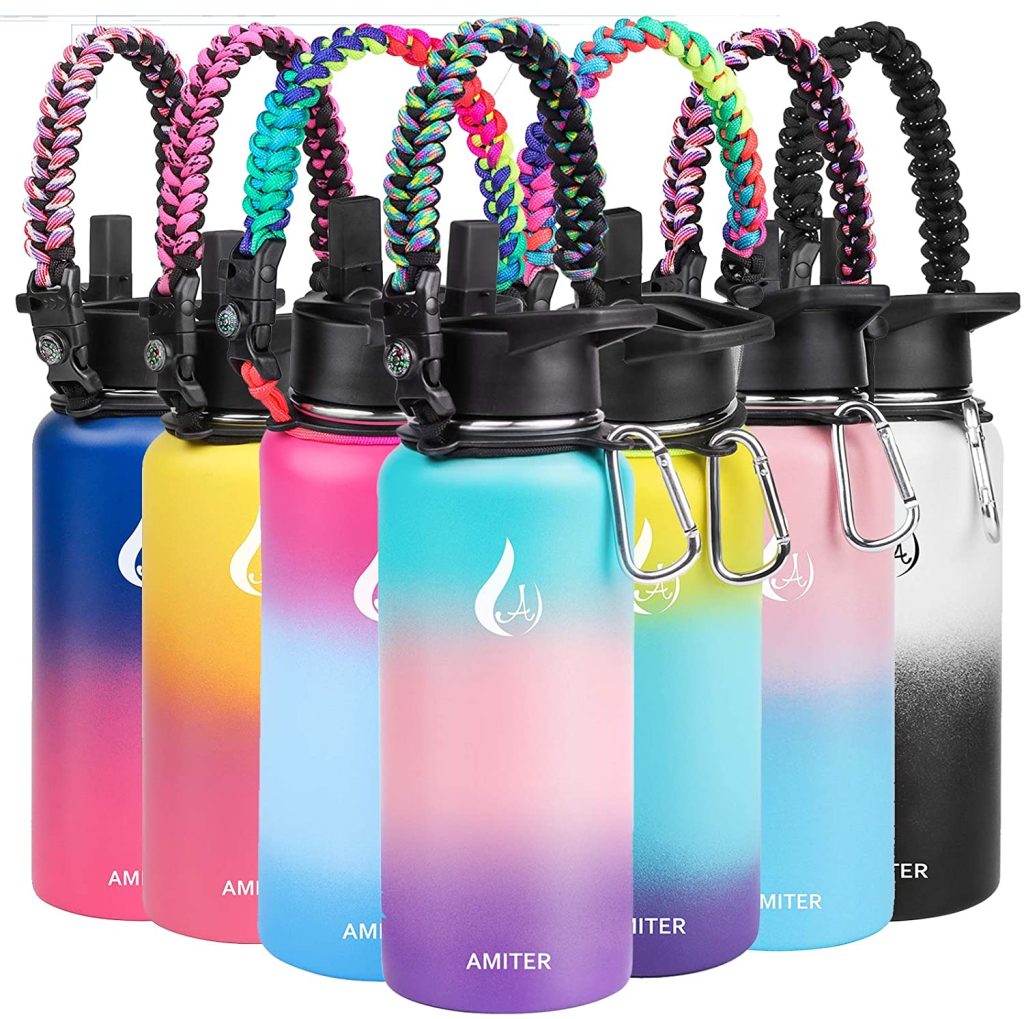 10. Easy Drinking With No Spills – AMITER Water Bottle with Wide Mouth Straw Lid & Handle Lid
Hydration is an important part of our life. Therefore, you need to have a quality and long-lasting reusable water bottle to be used anywhere including at your home.
The AMITER Water Bottle with Wide Mouth Straw Lid & Handle Lid is one of the best reusable bottles for home, office or outdoors. It has a slide handle for easy grip and also easy-open tab The spout pops out with just a simple lift.
It comes with 2 units in a set, it is a great option for family sharing. In fact, you don't have to refill the bottle frequently.
Pros
---
Durable
Large capacity
Easy drinking or dispensing bottle cap
BPA free
Comes with 2 lids
Lifetime warranty
Cons
---
This water bottle don't stay cold
Massive – heavy to carry around
User review:
"I am very happy with my purchase. Thank you and would recommend you! Regards Lorraine."
"They are great and super useful"
---
Final Thoughts
Whether you're looking for reusable plastic drinking bottles for travel, hiking, cycling, adults or kids, there is always one perfect bottle for you. Overall, each of the water bottles in the list above offers a little something that meets your need.
---
---
---
---
Read More: