Due to ongoing pandemic COVID-19, people are busy stock piling the grocery items without realizing that overbuying is neither going to help them nor it will let other to satiate their hunger. Hoarding food creates an illusion of artificial scarcity that may lead to chaos & mismanagement. During quarantine, you don't need to panic buy but devising the ways of intellectual food storage. With the right choice of storage containers you can keep your food fresh longer. Limit your trips to grocery store and order Tupperware containers online.
Buy & Store Food Wisely during Lock Down
As more and more countries are going under forced lock-down, there are raising concerns about shortage of food and essential supplies. Although officials have dismissed any such reports, it is wise to practise social distancing when and where possible. It is important to keep your bellies full with nutritious & healthy food that help you survive through the state of emergency. Instead of buying perishable items, buy shelf-stable food products such as dry and canned food. Please keep in mind, once you open the can you need to convert whatever remains into an airtight Tupperware container.
Ideal Foods for Quarantine with Ideal Storage Methods
How to Store Dry Food to Extend its Shelf Life?
Flour, Rice, Pasta & Legumes
Think of dry food such as legumes & beans that are an excellent source of plant protein. Dry foods can be eaten solo or they can also be incorporated into various delicious combinations. For instance, you can prepare lentil soup at home as it is a notable source of protein and fiber. Other dry foods that you would like to have in sufficient amount for your family are rice, pasta, spaghetti, different types of flours & chickpeas. Get this modular mate essential set by Tupperware containers to store the different types of dry food. If stored otherwise, dry food will become vulnerable to moisture & weevils invasion.
Frozen Vegetables
Frozen vegetables are packed with fat soluble nutrients such as vitamins, minerals, fiber & antioxidants. Vegetables such as carrots, potatoes, broccoli sprouts, cabbage, and asparagus do well when frozen. They can be tossed into a wok for a quick stir fry or you can add the colorful mix of vegetables with your favorite type of pasta. Chill & Freeze Set by Tupperware containers allow you to move the leftovers from fridge to freezer. Hence, it has become even easier to prepare the wholesome meals in bulk that you can save for later.
Frozen Seafood
Get yourself frozen seafood such as fish & shrimps that provide essential nutrients to the body. Sea food is a good source of vitamins A, B, D and omega 3 fatty-acids. Freezer mate by Tupperware containers keep sea food fresh longer. Sea food is infamous to be disastrous if improperly stored. Wrap it in plastic and secure in the air-tight Tupperware containers. Stack the containers on the lowest rack over the ice to keep it thoroughly cold.
Nuts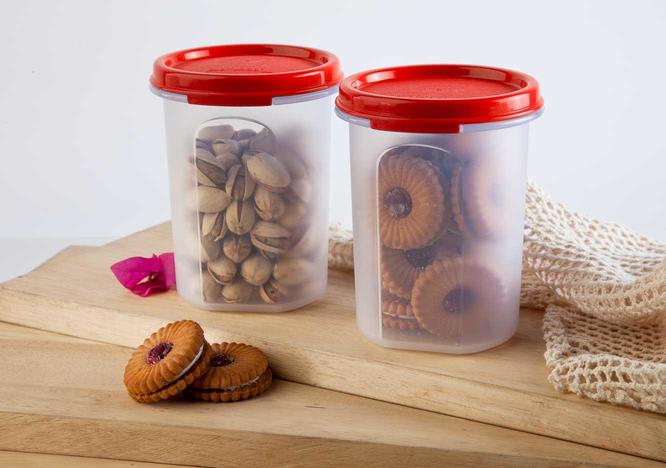 Get your favorite mix of nuts & dried fruits along with chocolate chunks. Dry roast the ingredients and prepare nutritious trail for snacking. Nuts are considered super food so they provide enough protein, healthy fats, vitamins, minerals and fiber to keep your body fueled. Store your snacks such as cookies, crackers, saltines and trail mix in airtight jars that keep both moisture and humidity locked out.
Keep yourself physically busy and make sure you prepare your meals thoughtfully. Avoid eating out of boredom, anxiety or frustration. This time too shall pass!