Looking for the best reusable water bottles? Switching to an eco-friendly reusable water bottle is perhaps one of the easiest ways toward sustainable living. If you're still hesitant about why and what to choose for reusable water bottles, read on to find out more.
Estimated reading time: 9 minutes
Why You Should Make The Switch To Eco-Friendly Reusable Water Bottles?
Choosing an eco-friendly reusable water bottle certainly helps our environment and helps you save money aside from saving our Mother Earth. Let's briefly talk about its benefits.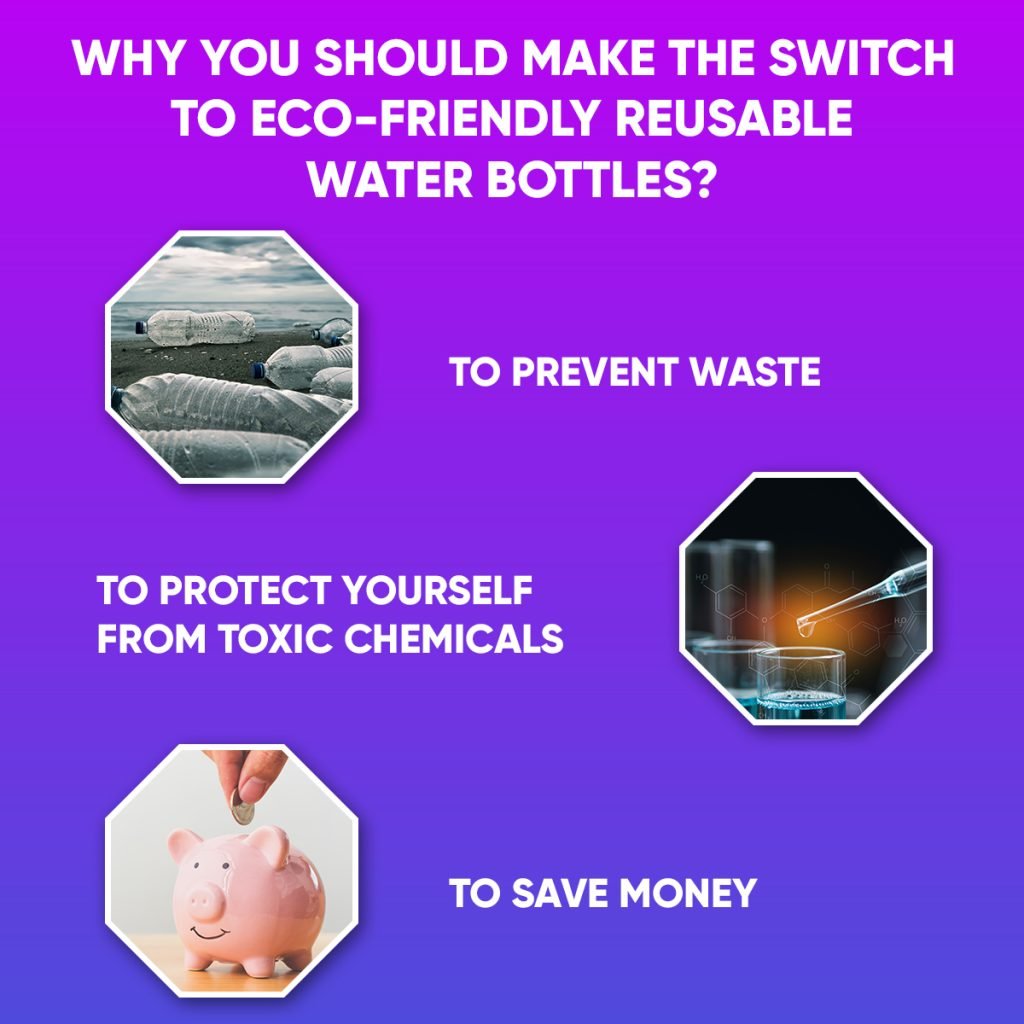 To Prevent Waste
A large amount of waste comes from bottled water. A plastic water bottle is among the 10 common rubbish items found on Cleanup Australia Day. Australia recycles only 36% of PET plastic drink bottles. Around 373 million plastic water bottles end up as waste each year. Switching to reusable water bottles helps greatly in reducing waste.
To Protect Yourself From Toxic Chemicals
Do you know that plastic bottled water contains Bisphenol A (BPA)? BPA is a chemical that may cause disruption to our body's health. It may be linked to breast cancer and maybe an endocrine disruptor. It is also possible to cause hormonal imbalances, infertility, and severe allergic reactions as well.
To Save Money
Let's think of it this way: If you were to buy 8 glasses of water per day, you will be spending approximately $3650 a year. The same amount of tap water would cost you just $0.98 per year. So save your money and start using a reusable water bottle now!
Now that you know the reasons for choosing an eco-friendly reusable water bottle, but with so many options available, it could be difficult to choose the right ones. Below are our recommendations on the top 5 best reusable eco 1L water bottles in Australia.
---

---
Here Are The Top 5 Best
Our expert team carefully selected the top 5 most popular and environmentally-friendly water bottles to help you decide which is right for you.
1. LifeStraw Go Water Bottle – A Filtration System In Your Bottle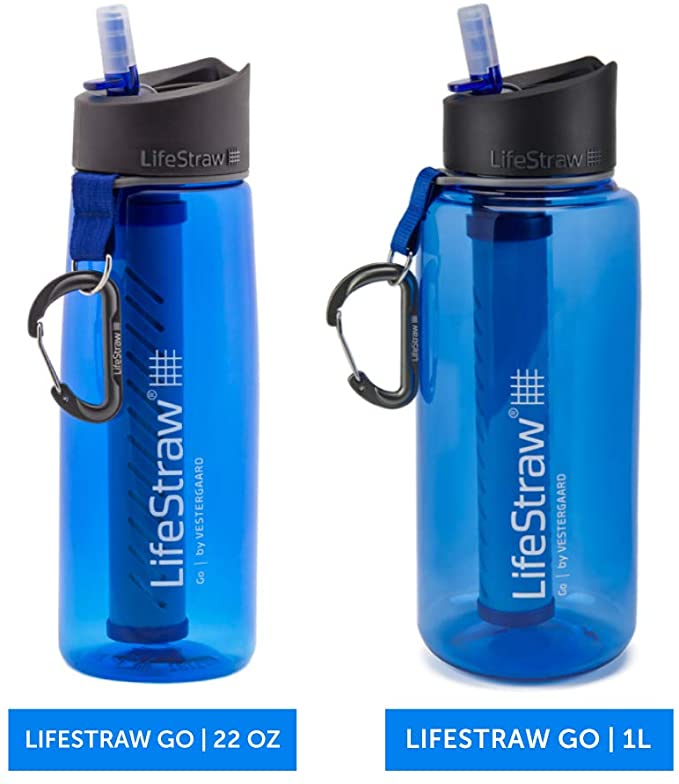 Worrying about the quality of your tap water? No worries! LifeStraw go has an integrated straw and filtration system that allows you to have quality water no matter where you are. An ideal choice for those who have no choice but to drink tap water. It contains a carbon filter that protects you against bacteria, organic chemical matter, and chlorine.
Pros
Cons
BPA and toxin-free
Need to remove the filter before putting the bottle and cap in a dishwasher.
Independently lab tested to meet drinking water protocols established by the US Environmental Protection Agency (EPA) and
NSF International/ANSI
Replacement of filter is required.
Durable and tough
Leave quite a lot of condensation
User's Review:
"Great product. I hate tap water. This helps a lot with that. I use it every day both at home and while traveling."
"Seems to work fine. Only used it once so far and the river water was very clear to begin with. It is quite bulky and it's a pity the filtered water cannot be poured through the mouthpiece rather than always having to be sucked through."
---
2. Hydro Flask Wide Mouth Flex Cap Bottle – It is Vacuum Insulated!

Hydroflask is ideal for walking, hiking, or even traveling. It has a flexible carry strap that allows a good grip. Thanks to its vacuum insulated feature, it keeps cold drinks icy cold and hot drinks piping hot for hydration any time and anywhere! It's lighter than most insulated water bottles, ideal for those who are on the move as it won't weigh you down.
| | |
| --- | --- |
| Pros | Cons |
| Vacuum insulated | The lid can be difficult to screw on if it's not aligned correctly |
| Dishwasher safe, convenience | Price is on a slightly higher side |
| Slip-free powder coating which doesn't sweat | It may have a metallic smell due to its stainless steel feature |
User's Review:
"Amazing!!! Finally gave in and bought a huge hydro flask and I don't think I'll ever use another water bottle again."
"Amazing!!! Finally gave in and bought myself a huge hydroflask and I don't think i'll ever use another water bottle again. I think the color I got is named fog and it is stunning!! I bought a white silicone boot and white straw lid off Amazon to go with the bottle and I'm in love with how it looks!"
---

---
3. Tupperware Eco Drinking Bottles 1L Flip Top – Best For Everyday Situation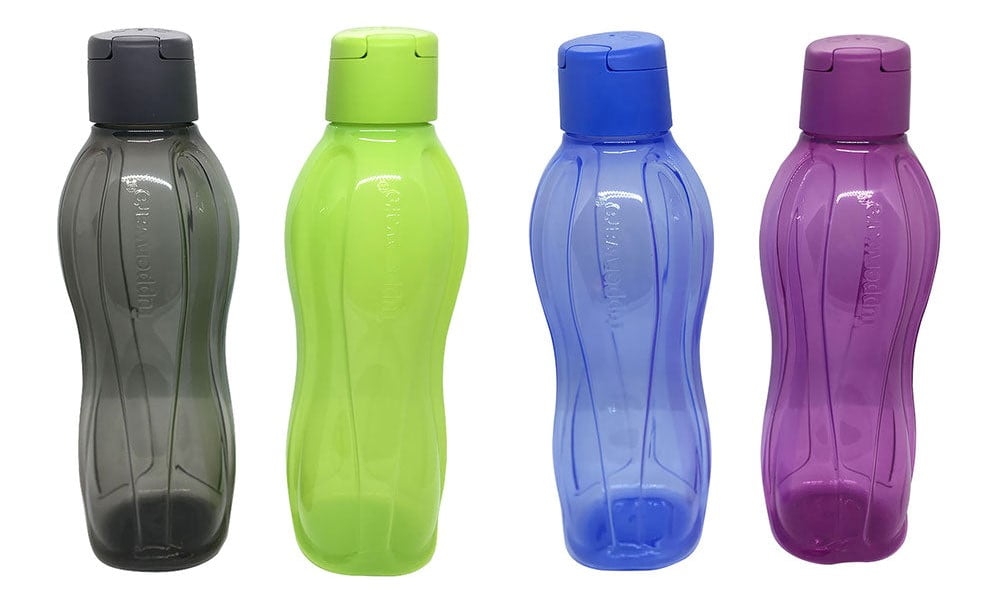 Tupperware Eco is the perfect choice for everyday situations. Made using food-grade plastic with zero toxic chemicals, this water bottle is both 100% safe and long-lasting. Moreover, you don't need to worry about leaking problems as the flip-top lid ensures no leakage. This water bottle can be stored and kept in refrigerators. It is just so convenient!
| | |
| --- | --- |
| Pros | Cons |
| Suitable for refrigerators | Does not have a carry strap |
| Microwave oven safe | |
| Dishwasher safe | |
| Durable and lightweight | |
| Resist climate change | |
| BPA and toxin-free | |
User's Review:
"Great bottles. 1 liter is perfect. Prompt service and quick delivery. Thank you!"
"I love them, they fit in your hand nicely."
---
4. Reusable & Motivational Water Bottle with Time Marker Reminder & Infuser 1L – Good For Busy Lifestyler & Children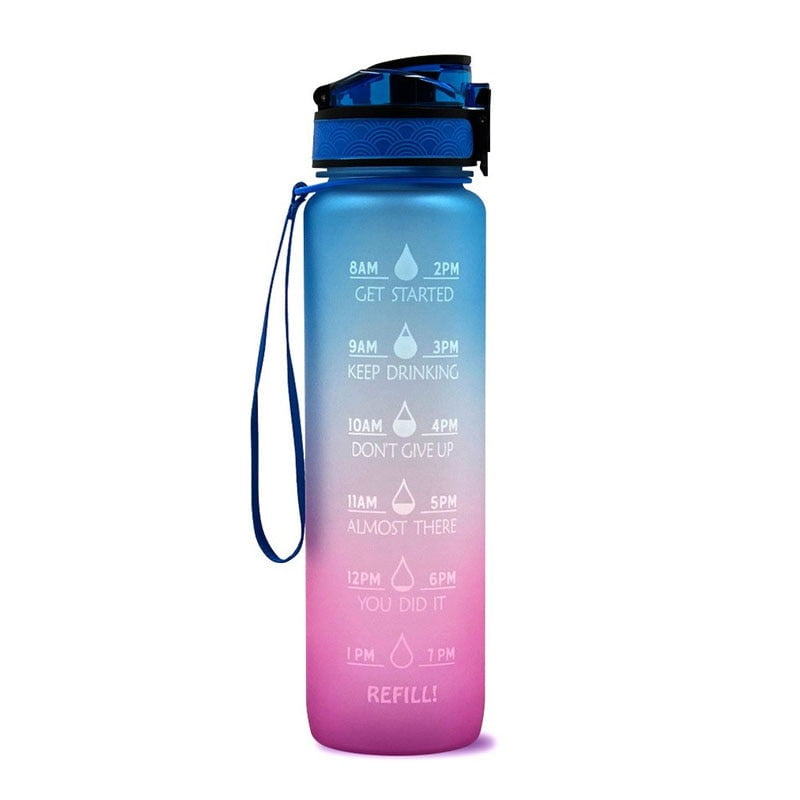 If you're having a busy lifestyle or often let forgetfulness dry you out, this water bottle is certainly a perfect choice for you. With its time marker reminder and fun little motivational quotes, it allows you to keep track of how much water you've had, and more importantly, how much water you still need to chug to stay on track. Available in several colors, this features a clamshell design lock that is leakproof and a carry strap handle. It is an ideal gift for children and friends.
| | |
| --- | --- |
| Pros | Cons |
| Made of environmentally friendly reusable Tritan copolyester plastic | Time marker and motivational quotes might get faded as time goes by |
| BPA and toxin-free | |
| Durable and tough | |
| Dishwasher safe | |
| Can infuse fruit and tea into your drink easily | |
User's Review:
"I've been looking for a bottle to encourage my kids to drink water. I bought one and noticed that it does help to remind them (either to drink because they've not had enough or because they're almost done)."
---
5. Double Walled Glass Water Bottle With Tea Infuser & Travel Sleeve – Tea On The Go!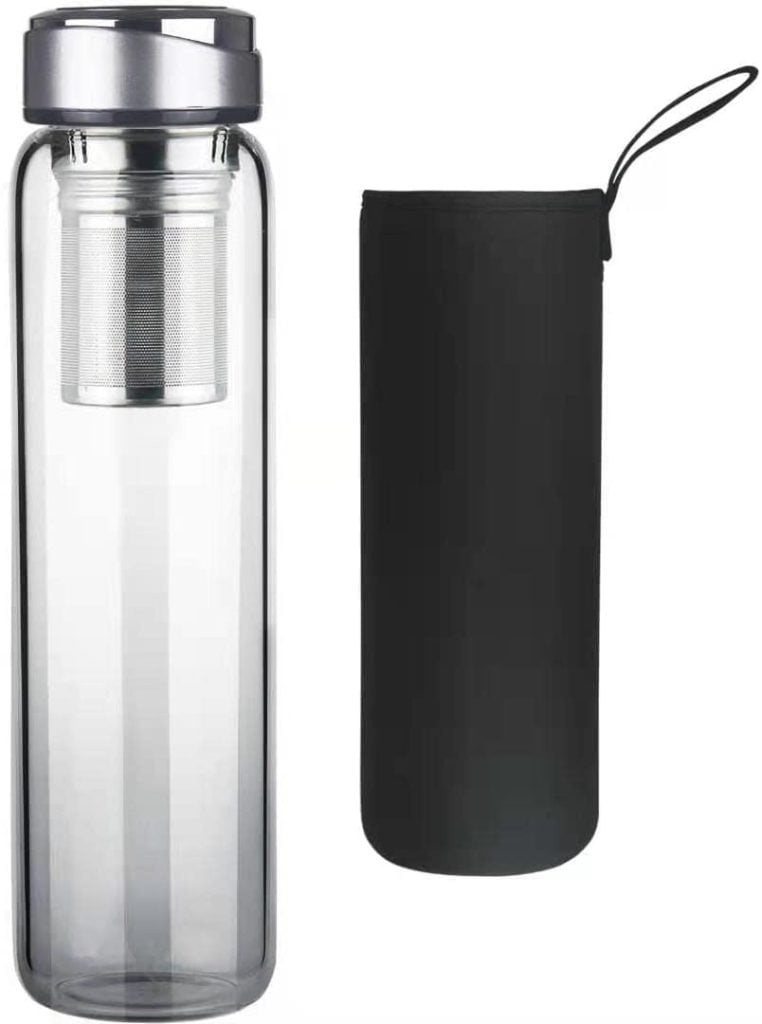 If you enjoy drinking tea on a daily basis, this glass water bottle fits you perfectly! Made using a double-walled odor-free glass tumbler, it is solid and well built to avoid leaking, sweating, or tipping over. And more importantly, tit isolates heat and avoids scalding from contact. The carrying sleeve of this glass water bottle allows you to take it on the go and make some tea on the journey.
Pros
Cons
BPA-Free and Lead-Free
Not highly impact resistant
Can withstand temperatures from
-20℃ to 120℃
Might not be suitable for children
Fits in most cup holders in the car
Heavier than others
Retain their clarity even after hundreds of washings
User's Review:
"When I put Greek mountain tea in this bottle and let it steep, the flower blossoms expand. This looks like you are drinking from a work of art. The bottle is not hot to hold and yet retains the heat. It's much more comforting to drink tea from this bottle rather than a ceramic cup."
"I love my water bottle!! It's a perfect size. The encouraging 'time makers', along with the gorgeous unicorn colors make it really fun to drink from! The lid flips open at the push of a small button, so you don't have to touch anywhere near the drinking nozzle. It's BPA free which is always something I look for. It's the best water bottle I've ever purchased!"
---
Last But Not Least
If your goal in 2022 is to drink more water in a healthier way, and you want to do it in an eco-savvy way, reusable water bottles are the best solution! Reusable water bottles are a great way to monitor your daily water intake and help you save money in the long run. Plus, these top 5 best reusable water bottles are aesthetically designed into must-have fashion accessories. Switch to reusable water bottles today, ditch the plastic, and hit your daily water intake!
---
---
Read More: