Nothing beats the taste of fresh & aromatic homemade cookies. However, the agony that comes soon after you bake a batch is unavoidable. The unnerving fear of cookies turning soggy or chewy keep you busy trying different storage strategies. Don't let several failed attempts discourage you. Storing them in airtight, liquid tight Tupperware containers such as Click Bowls keep the texture fresh & taste delectable. Additionally, follow these 3 easy tips to help them retain the moisture.
How long can Home Baked Cookies Stay Fresh?
The key to keeping your cookies fresh is to be able to differentiate between them. Soft cookies can stay fresh for up to 2-3 days whereas hard cookies will stay fresh longer exceeding up to 2 weeks. Once you know the type of your cookies, you can ingeniously pack & store them. Whether hard or soft, keeping your cookies in sealable air tight Tupperware containers increase the life span.
3 Ways to Keep Cookies Turning Soggy/ Chewy?
Select your Tupperware containers intellectually. Your container must have no cracks or crevices. The lid should snug securely that lets no air inside. Click Bowls by Tupperware Containers come in a set of 4 cheerful colors with an easy grip tab. The tab helps you open the bowls with just a snap preventing fidgeting & collapsing of the container even when you have a guest-emergency. This keeps cookies in the right shape while you handle the box.  After you have chosen your Tupperware containers for storing cookies, the next few things you need to collect are
A piece of apple
Some wax paper sheets
A tea ball with a damp cotton ball and
A piece of bread
1.Store Cookies in Click Bowls by Tupperware Containers with a Diced Apple
Allow your cookies on a wire rack to completely cool own before you store them. When storing soft cookies, place half of an apple into the same air tight Tupperware container you're storing your cookies in. The moisture from the apple will be absorbed by the cookies which help them stay soft & fresh longer. Don't forget to discard the apple when serving.
2.Line Tupperware Containers with Wax Paper
Line your Tupperware container with wax paper & arrange cookies. Layer them over each other with wax paper in between. Cover the top most layer of the cookies with wax paper & finally top it over with a slice of bread. The piece of bread will do the same job as that of the apple. It will provide moisture to the cookies, keeping them soft & tasty. Replace the bread slice when it becomes stale.
3.Keeping Cookies Fresh using a Tea Ball
Last but not the least, the trick works when in the absence of wax sheets, bread slice and apple. If your pantry is empty & you are still awaiting the next grocery session; you can store your cookies using a tea ball. Aluminum tea ball or infuser is a requirement of every kitchen. Simply dampen a cotton ball slightly & secure it shut in the tea ball. Throw the tea ball in the cookie container. The task is still the same i.e. retaining moisture to your soft cookies.
General Tips to Keeping your Homemade Cookies Fresh Longer
Always let them cool down completely
Don't store soft & hard cookies together. Soft cookies will leach moisture & turn hard cookies softer.
To re-crisp hard cookies that have been softened during storage, bake them again at 300 for five minutes & cool completely on a wire rack before serving.
Baked cookies shouldn't be refrigerated.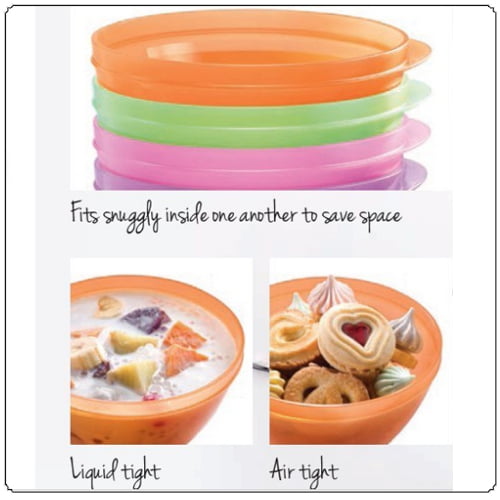 Click Bowls by Tupperware containers are ideal for storing baked products. Using these tips you can keep your breads, cookies & cakes fresh, soft & moist longer than you ever have. The translucent boxes ensure easy identification & help you pick the right item immediately without actually having to open them.