If you are going to board on a long haul flight, you might wonder about packing your own food. There may be several reasons to add more to your luggage, from health conscious people trying losing weight to patients with dietary restrictions and or may be the kids travelling along with. Carrying food to the plane is less thing to worry about if you pack it wisely in reusable Tupperware containers. Not only Tupperware containers help preserve your food longer but also eliminate the mess & risks common with glass & other containers that aren't liquid tight & spill-proof.
Which Food can You Fly with & How to Pack?
Thanks to the tighter security, not everything can pass through the airport security. Since liquids are only allowed in little quantity 3-1-1; it is a better idea to carry finger food than focusing on fruit juices, salad dressings or desserts with gel-like consistency such as jello & yogurt. Light snacks such as chips, sandwiches, diced fruits & an ingenious mix of nuts & herbs make the perfect time-killing snacks for the flight.
Eco Friendly Reusable Tupperware Containers: Keep Breads Soft & Salads Green
As per the regulations you must avoid noisy food and food that smells strongly bad. For instance pistachio & tuna. While packing food for the toddlers, be considerate enough to pack highly engaging food that your kids don't eat in routine. Your food choice should be light on stomach yet filling enough to serve sudden hunger pangs. For kids, food is more than food- it is an entertainment. Pack your snacks in Tupperware containers that your kids find attractive.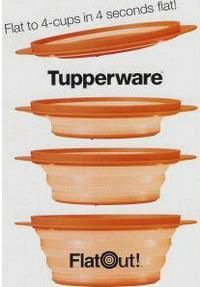 If you want to avoid the burden of carrying utensils separately to eat from, these collapsible bowls from Tupperware containers that lie flat when empty do the job.
The re-sealable Tupperware containers are able to keep your food fresh longer in the accurate texture & shape. They can hold an average size flat bread, chips & sandwiches & even salads.  Liquid tight & airtight Tupperware containers prevent your sandwiches turning soggy. Prior to transferring your food into Tupperware containers, it is a good idea to convert it into a zip lock bag so that you don't have to carry dirty containers throughout the way. Furthermore, it allows you to take your left over food off the plane, along with you. Reusable ecofriendly Tupperware containers help you in more than one ways when it is about picking "on-the-go food choices".
You can always buy airport snacks but if you are a careful mother or strict at budget you can try packing your own food to the flight. Having food on a long haul flight as per one's own choices is fun & a great activity to prevent oneself from expected boredom. All you need to do is to pack your food ingeniously. Respect TSA guidelines & pack in Tupperware containers that guarantee to hold your deli food fresh & make them last long.