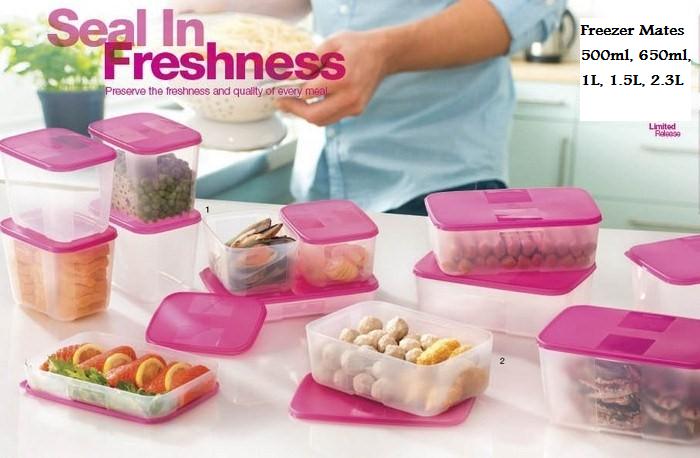 Tupperware Plastic containers being break-proof & multi-purpose have conquered our lives. The versatility of plastic has enabled Tupperware to enjoy fruitful years of providing 100% customer satisfaction. Tupperware specializes in freezer mates that are moisture-vapor-resistant and come with a snap on lid. These plastics are very safe & protect your health the same way even after years of usage.
Though bad plastic has invaded our lives, we must not lose hope trying to improve it. With Tupperware BPA free containers, you take a step ahead towards improving your life pattern. Tupperware products ensure safe storage as they are made from food grade material appropriate for freezing food.
Locally made plastic containers release harmful toxins when you take them out from freezer to thaw or re-heat. Furthermore, they are made from cheap plastic that cannot withstand the subzero temperatures in freezer. They are prone to stretching where the snap on lids may no more fit the container. Hence the box loses its ability to stay a liquid-tight container.
Tupperware Freezer Mates:

Tupperware freezer mates are made from sheer plastic that ensure easy identification whilst helping you organize your freezer. These snap on sealed boxes prevent spilling of liquid and food in freezer, which otherwise may lead to bacteria growth & contamination.
They can be stacked over each other respecting the limited storage space of the freezer.
Tupperware freezer safe containers preserve your food in the right texture, color & aroma as a result you find your food fresh longer. Plastics break down over time. Some plastic containers are not meant to be used repeatedly whereas some are not safe enough to heat or refrigerate. It is always a good idea to check Tupperware labels at the bottom of the product than mindlessly using the container for a purpose it is not meant to cater.