Do you need to purchase cabinets on a low budget? Saving money by opting for prefabricated versus customized is a fantastic place to begin. We will discuss how to save money on new kitchen cabinets in this context.
It might come down to the type of wood used or the number of drawers you incorporate into the design. The best part is that practicality won't always have to take a back seat to form.
If you are considering upgrading your kitchen and need to save the cost of new kitchen cabinets, there is no need to go any further. The cost of your cabinets will depend on a number of elements, and being aware of these will help you get the most for your money.
Let's continue!
---
Estimated reading time: 10 minutes
---
What Is Kitchen Cabinets?
Cabinets in a kitchen are useful pieces of furniture.
They are useful for putting away provisions, kitchenware, and tableware. They are custom type with a modern style kitchen framework.
Appliances like refrigerators, ovens, and dishwashers are often concealed under kitchen cabinets in contemporary kitchens, resulting in a space-saving layout with maximum efficiency.
Since homeowners interact' with their kitchen cabinets regularly, anthropological research suggests that form and function should be given equal weight when designing cabinets.
Kitchen Cabinet Ergonomics
Cabinets are a crucial feature of any contemporary kitchen. They either come prefabricated and predesigned with a brand new kitchen layout or are manufactured separately to fit into an existing kitchen design.
However, when it comes to creating cabinets, ergonomics is a very important consideration.
Large kitchens may accommodate more cabinets, each with various storage options. However, smaller kitchens might benefit more from creative solutions that make the most of their limited square footage.
Features of Kitchen Cabinet
Modern kitchen cabinets include several helpful features, such as:
Discreet and easily accessible garbage cans, recycle bins, and spice racks.
Drawers on the floor provide plenty of room for pots and pans.
Bottle and baking sheet racks are stored vertically.
Drawer and door soft close mechanisms.
For optimal utilization of awkward nooks, use carousel trays. Corner cabinet lazy susans are a space-saving solution.
---
---
Different types of Kitchen Cabinets
1. Base Cabinets:
The foundation of the kitchen and the base cabinets are the glue that binds everything together. These cabinets are typically 24 inches deep and 28 inches tall (without skirting). Depth adjustments of up to 27 inches can accommodate various uses and necessities.
Furthermore, the optimal height of the lower cabinets is determined by their intended use and the user's needs. Some 32-inch-tall base cabinets are supported by a "toe-kick" or skirting in these kitchens.
2. Wall Cabinets:
These wall-mounted storage units sit above your counter and go by various names. In contrast to the standardization of base cabinets, the placement and quantity of top cabinets are flexible. And it may be tailored to the specific needs of each kitchen.
Standard upper cabinets are 12 inches deep, but we can build them as deep as you need them (up to 17 or 18 inches).
3. Tall Cabinets:
These cupboards may store your gadgets besides your food and cutlery. They are custom-made to fit the layout of the kitchen. Moreover, there's a maximum of 80 inches in these spaces, making them ideal for storing items.
4. Special Cabinets:
You won't find them in every kitchen, but the ones with them show off a creative and tasteful way to make the most of limited real estate.
Space is maximized, and chaos is reduced in the kitchen thanks to specialized storage containers. Some examples are corner cabinets, counter extensions, suspended worktops, bottle racks, and tall cabinets for storing appliances.
---
---
9 Ways to Save Money on Kitchen Cabinets
1. Compare Door Styles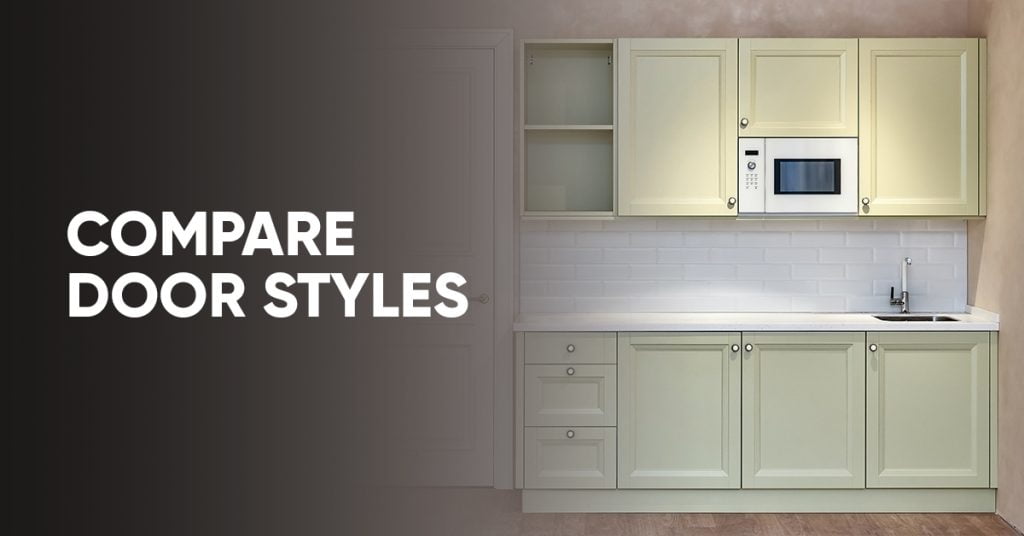 You will likely have a certain door style in mind before visiting your local cabinet store. If you are looking to cut costs, it is recommended that you choose two or three alternatives before making a final decision. Different types of cabinet doors can significantly alter the overall cost of a project.
The cost of a door with a raised panel or an inset panel is often higher. Although not often the case, Shaker-style doors tend to be more affordable.
To some extent, it depends on the maker of the cabinets. Because of its uniformly low cost, slab door fronts are a great option for frugal homeowners putting together a contemporary or modern kitchen.
2. Replace Wall Cabinets With Open Shelving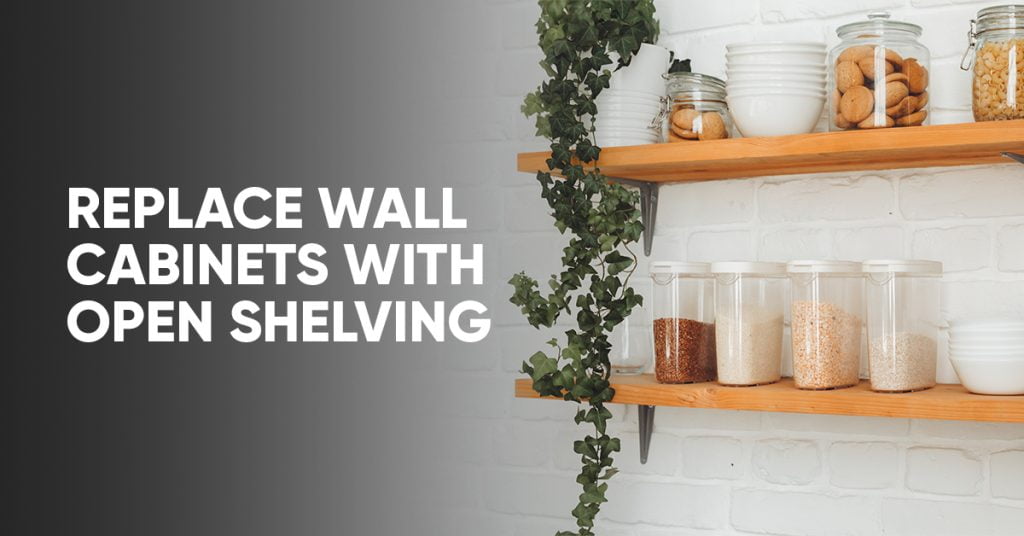 Shelving is a fantastic financial investment. You are giving up some room for storage. But in no way are you jeopardizing your retirement savings. The cost of installing regular wall cabinets might easily add up to a few grand. The gap in cost is nothing short of staggering.
3. Choose an Affordable Wood Species: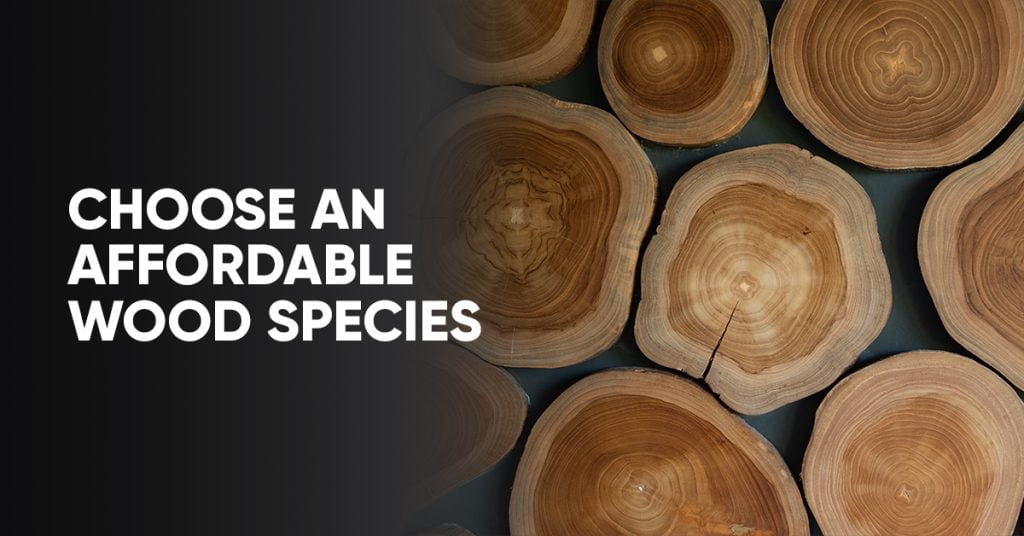 Selecting the appropriate species of wood may save you hundreds of dollars. Most oak furniture is reasonably priced. Hickory, as shown here on the base cabinets, is often more expensive than oak but a nicer wood. Cherry is popular among homeowners, but its high cost might deter others.
Cabinet makers set the final pricing for their products based on the cost of the wood they use. However, find out what species are available from a nearby cabinet maker at the lowest cost.
4. Consider Thermofoil or Laminate: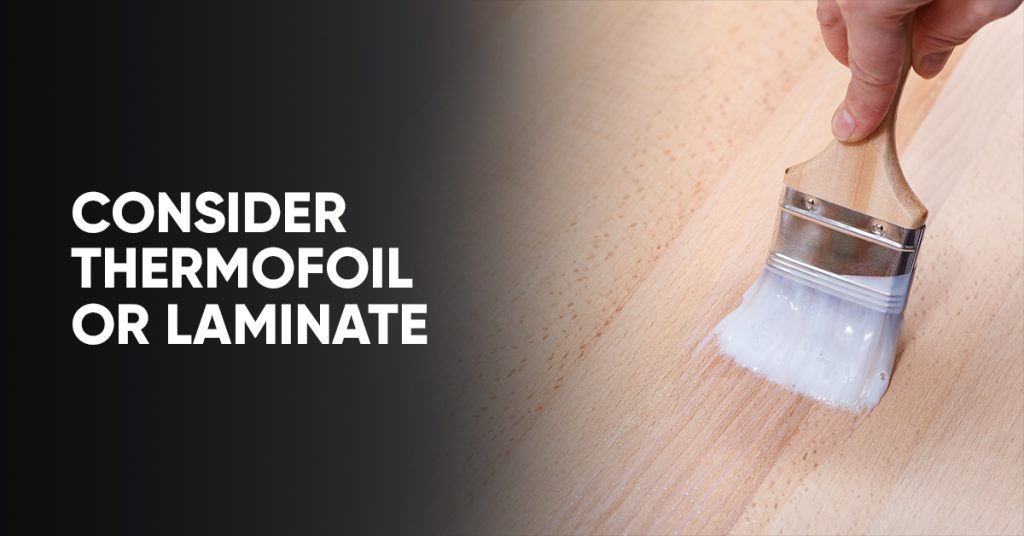 A plywood-only build isn't your only option. Both thermofoil and laminate are great low-cost choices.
Thermofoil is a plastic coating that may be applied to a medium-density fiberboard or engineered wood core.
Although not as durable as wood, it stands the test of time. It's also more likely to be damaged by water.
When deciding between thermofoil and laminate cabinets, there are a few factors to keep in mind.
Delamination heat shields should be positioned in the vicinity of your firing range. If you want to be particularly safe against water damage to your sink, you may choose an all-plywood sink foundation or a sink mat.
With the money you save by using laminate or thermofoil on your cabinets, you can pay for fancy extras like crown molding, corbels, and a unique door design.
5. Do Without Soft-Close Drawers and Full-Extension Slides: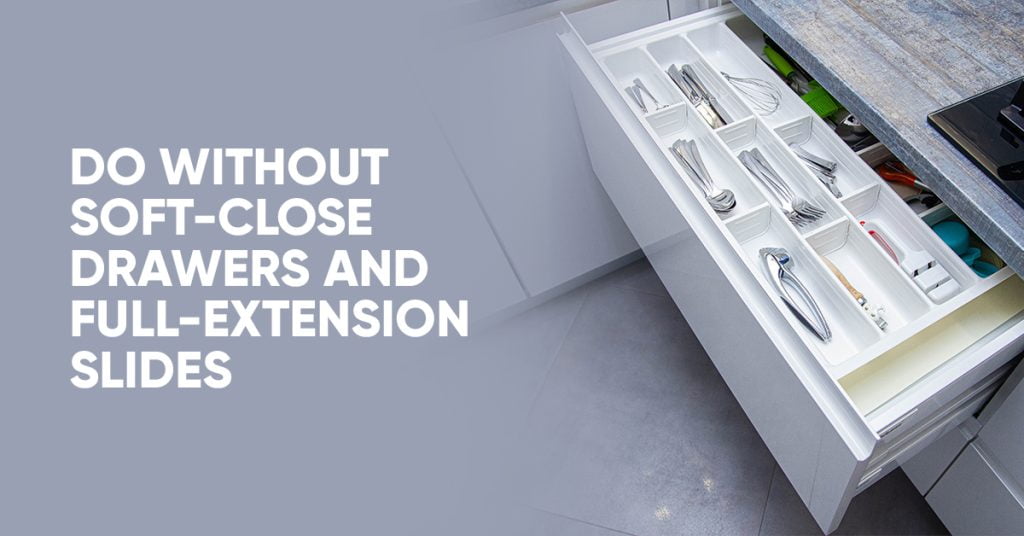 By skipping soft-close drawers and full-extension slides, you may save hundreds of dollars.
Remember that these features are only optional additions that might improve the user experience and the final product.
Door pulls are more durable than knobs if you're worried about constant use. They may be a less expensive choice that nonetheless serves to protect your door and drawer fronts.
---
---
6. Say No to Pullouts: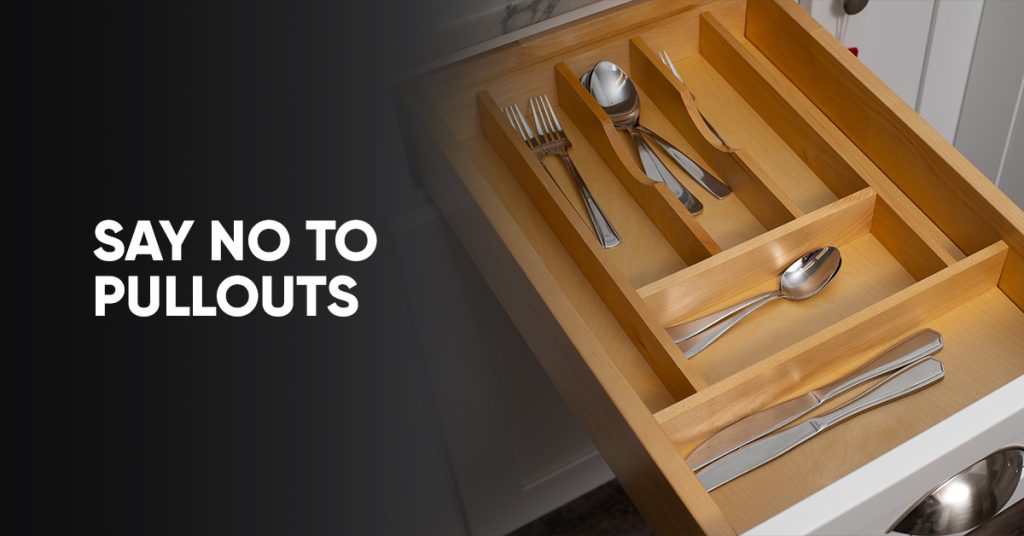 Your decision should be based on whether or not the cost of the convenience is acceptable to you. The cost will increase if you want a pullout garbage can, sliding shelves, or a "miracle corner."
Consider relocating your garbage can to a more inconspicuous spot, such as a pantry or the far end of your kitchen island. Use basic construction techniques such as blind corners and base cabinets without extras.
7. Customize Less: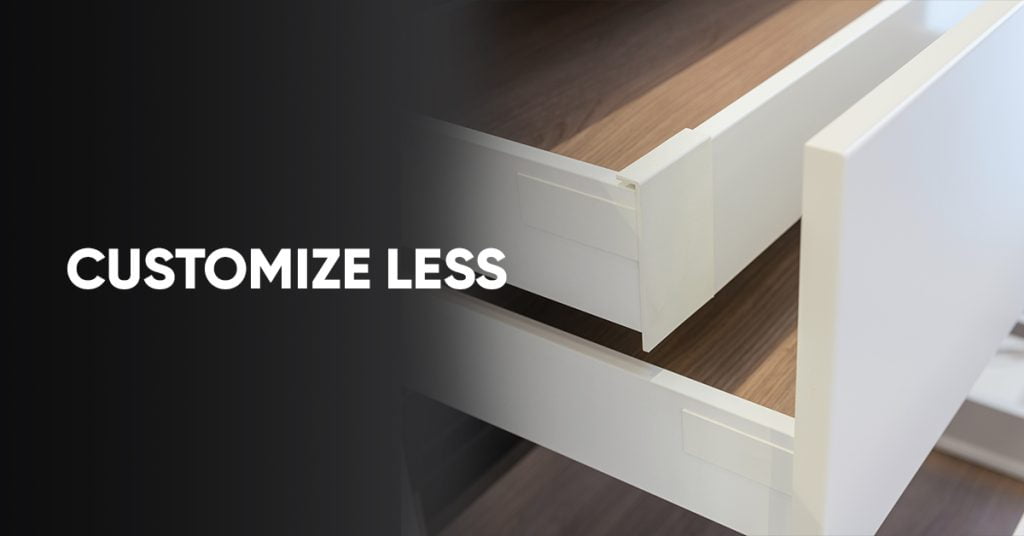 You've already heard this a million times, but it bears repeating: The fewer options you select, the lower your final cost will be.
Corbels, intricate legs, matching end panels, glass door fronts, crown molding, etc., may be expensive. These unique selections are guaranteed to drive up the final price.
It's all a matter of approach. Instead of cutting costs elsewhere, invest in some crown molding. To reduce the number of pullouts and add some ornamental legs.
8. Don't Add a Glaze to Your Paint or Stain: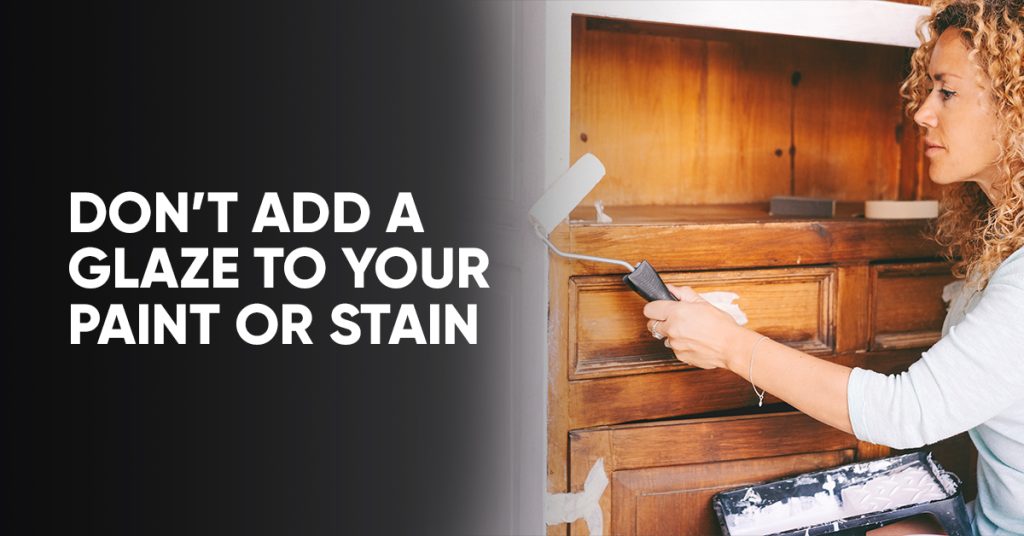 In terms of aesthetics, a glaze is appealing because of how much of an impact it can have on your cabinets. However, kitchen cabinets' price increases significantly when a finish is applied.
9. Opt for More Doors & Fewer Drawers:
You have decided on a raised panel door and a simple wood like maple because you appreciate how it looks. The good news is that trying to save costs is not hopeless.
Reduce the number of drawers in your layout to compensate for the higher price of these two alternatives. It's a no-brainer that drawer bases will be more expensive than regular base cabinets. You may save many hundreds of dollars on each unit of cabinetry.
Conclusion
Cabinet pricing is sophisticated so you won't find a simple price list or kitchen cabinet pricing guide online. You may save money on new kitchen cabinets by paying attention to these essentials and tricks.
With little careful consideration, one may stick to their financial objectives and purchase just the most necessary items. However, homeowners should begin with their whole budget for cabinets and countertops.
Giving your expert kitchen designer access to your cabinet from the outset of the project will help you get the greatest appearance for the best price. In addition, keep your kitchen well decorated and enjoy cooking.
Do you know more ways to save money on new kitchen cabinets? Share with us!
---
---
---
Read More: