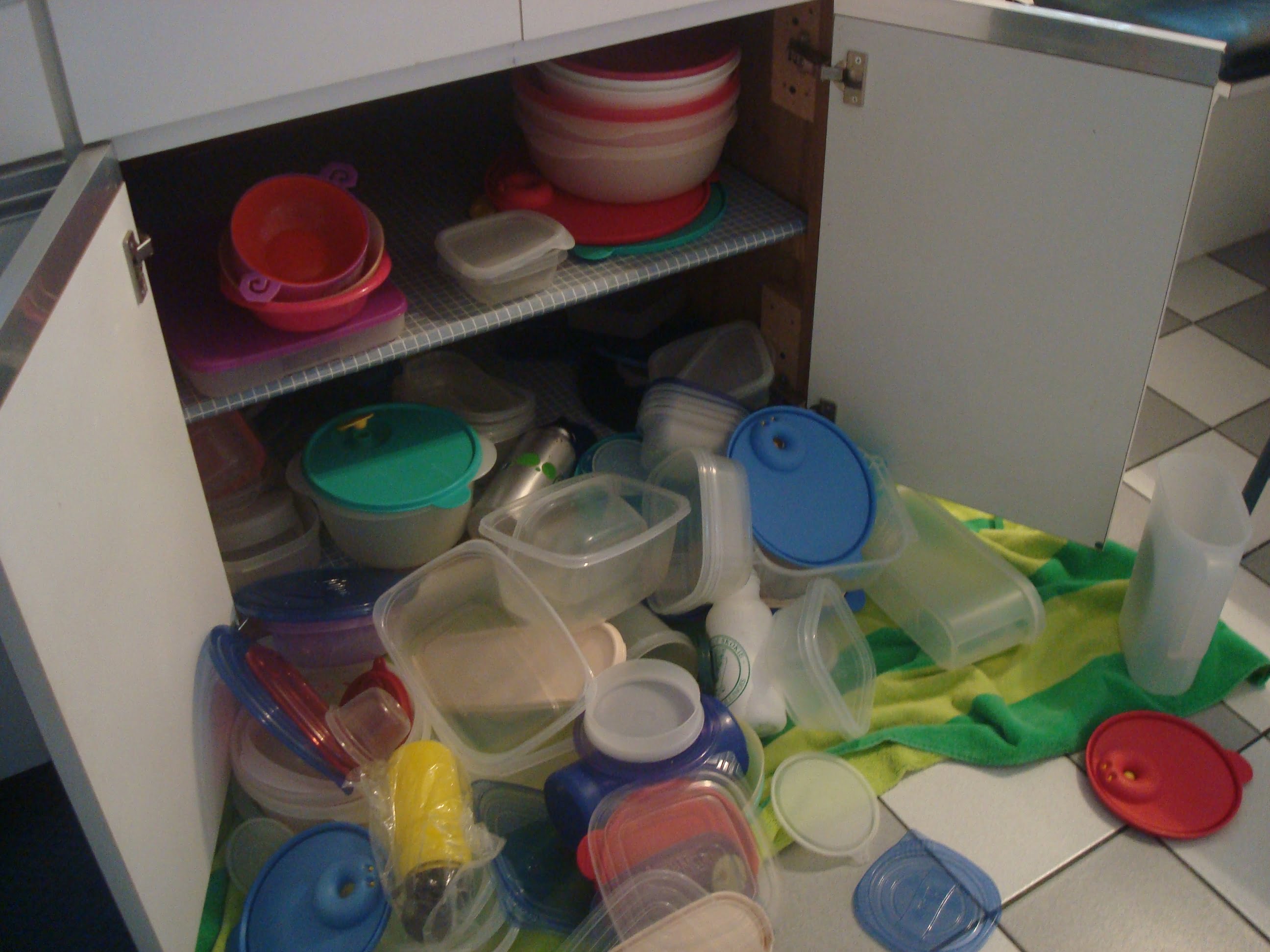 We guess organizing your kitchen is more dreadful than organizing your life. If not all, there is at least one kitchen cabinet full of Tupperware containers that has been a nightmare for every house wife. Tupperware containers with mismatched lids & orphaned mates are a real disaster that come tumbling down every time you open the cabinet. To prevent the frightening avalanche of Tupperware containers, follow the tricks that will help you manage your drawers & cabinets without going any further mess.
Start with Downsizing
It may be heart wrenching but you have to face it. Collect all your Tupperware containers & find a flat space to work at. De-clutter the differently shaped containers and place them nestling into each other, following the shape they bear. This is just to tame the chaos by separating round, square & rectangular plastic mates from each other for easier identification. Once you do it; you will better be able to assess which containers are still functioning and which ones need to be tossed away. You can also donate the containers that are no longer efficient for you instead of binning them in the garbage.
CD Rack or Dish wash Drain Rack: Keeping Tupperware Containers & Lids Arranged
Get a CD rack or a dish wash drain rack after you decide on the best of the Tupperware containers that you want to keep. A CD rack helps you keeping your lids securely intact into the dividers. They will be no more slipping or making a mess with other containers or boxes. These racks serve as one of the best kitchen organizers and that too for few bucks, you will ever come up with.
Keep the lids separate from the boxes but close by. This will help you reach your desired Tupperware containers with the right lids within a moment. No need to continue digging into the cabinet for painful worthless hours you would spend otherwise finding the required storage box.
Buy Drawer Dividers
Drawer dividers are sectioned drawers that help you build compartments to store the contents. If your drawer does not come with sections, you can buy them from the dollar store. Introducing the divider system to your cabinets & drawers will be improving your life immediately.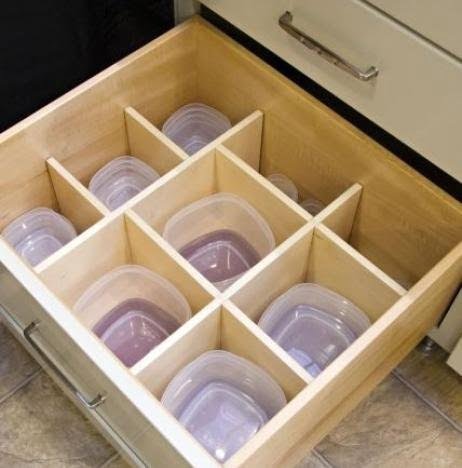 In each section, store the Tupperware containers nestled into each other as per their shapes. This keeps the boxes occupying unnecessary space.
DIY Tupperware Lid Holders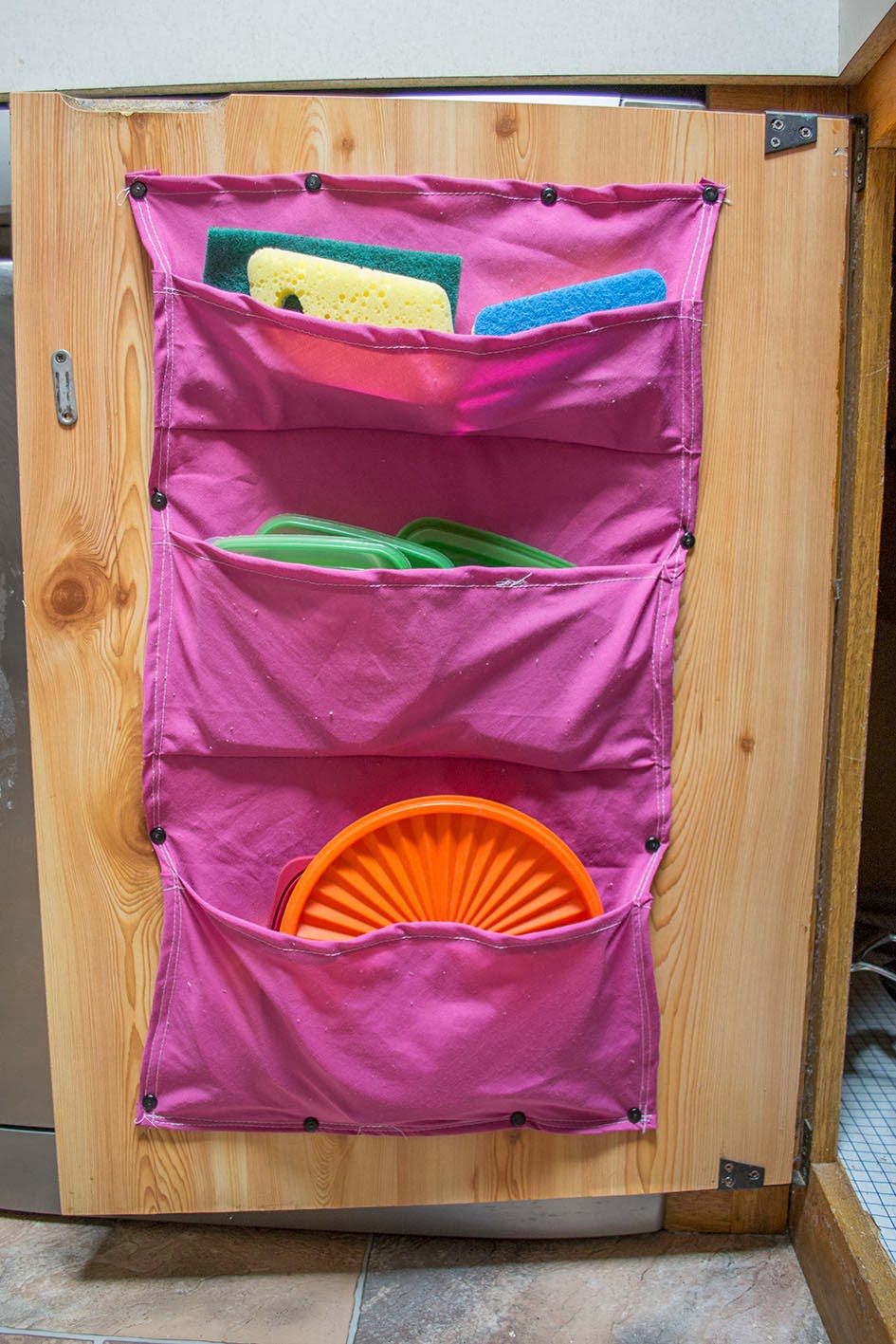 In case you are unable to find an appropriate assembling rack, you can DIY a lid holder. You only require a little grip on sewing and a "some-what-sturdy" fabric to hold the lids. Hang it inside the cabinet door just where you store the storage mates.
Buy the Plastic Bins
The fool proof way to keep everything organized in your home is to get yourself plastic bins. Utilize the plastic bins to arrange & organize the Tupperware containers that you rarely use. Items that are used every day frequently should be kept at the front row.
We believe a woman enjoys most when every tool she requires, is easy at the approach. In case you are prone to buying Tupperware containers for the versatility they offer, we recommend keeping your cabinets organized to get the most of your storage containers.