Pack your Lunch in Tupperware Executive Lunch Box. The only answer!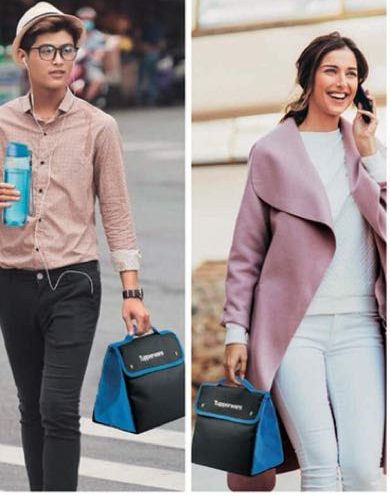 Packing your lunch to work place is not only about picking a healthy lifestyle over junk food but it is also about being economical and going friendly with your budget. The tradition of bringing homemade food to work place has now become a laughingstock unfortunately that should be eliminated. We understand your default brown bag could be slightly embarrassing but packing your meal following the workplace etiquette will bring back your lost confidence. Tupperware Executive Lunch Set is thoughtfully designed for high grade officials that adds to one's prestige. It comes with a decently sized rectangular flat lunch box, a water tumbler and a briefcase style pouch to contain the contents.
Why Pack Lunch to Office?
Take out lunch is easy to grab every day for only $10. On the other hand homemade meal requires a huge princess from brainstorming to preparing and packing. Although the easy deal could be taking your left over food but to keep every day lunch an exciting part of the day we recommend coming up with a basic recipe that you could twist and tweak every now & then.
The snacks offered at delis and junk food at restaurants is high in calories and heavy on your budget. Who would happily spend $250 a month that could be saved annually to make about $3000 for a Caribbean holiday? Go lighter on both your diet and budget by effective meal planning.
Tupperware Executive lunch set keeps your sandwiches crisp and your greens fresh longer. The air-tight lunch box also seals in the dressings making sure that no spills occur. It is reheat able thus tossing it into the microwave at the work place would be a no issue.
Make a Lunch Club
Sharing is caring. To enjoy a bigger menu every day it's a good idea to share your lunch with a co-worker who brown bags it. Pack yourself a treat every day for instance few squares of a chocolate, some pretzels or anything that serve your urge to eat high caloric.
Tupperware Executive lunch set follows a decent color theme and is only priced at $32.00. The bag does not fray at the seams thus supposed to last you long whereas the lunch box itself and the tumbler is covered by Tupperware lifetime limited guarantee. Grab yours today and start making a meal list right away.