Calm jars or sensory bottles are great tools to keep your naughty toddler tamed. These calm jars help emotional development and stability among kids. Furthermore, a calm bottle with swirling glitter plays an important role to keep noisy tots engaged in a constructive activity. These bottles are used in preschools that make child manage anger, fear & self-harming destructive behavior. Usually calm jars are made with clear mason glass jars but if you are dealing with children, use only smooth & easy to grab Tupperware bottles.
Supplies you require to DIY Sensory Bottle
Translucent or Clear Tupperware Bottles
You will love the idea how easy it is to build a calm jar of your own using a simple Tupperware bottle that you might have just discarded. Tupperware bottles are excellent for the purpose since they are virtually liquid tight. The ergonomic shape is a plus as it makes grabbing for the little hands easier. Tupperware bottles are smooth and have no jagged edges. Please prefer bottle with a spout opening instead of the straw mouth.
Other than Tupperware bottles, you require a handful of following  interesting essentials too
Clear glue with fine glitter or glitter glue
Hot boiling water to help glue dissolves in
Some other supplies depending on the project such as soap water for hurricane calm jar & little floating alphabets if you want to trigger learning response in your child.
Duct tape or strong glue
The Fun Part Begins
Place your Tupperware bottle at flat surface and pour in boiling water. Now squirt glitter glue making sure it goes directly into the water than messing with the spout opening. Please be careful about water being hot. If water is not really hot, the glitter glue will become lumpy & settle down than leaving you with beautiful swirls otherwise.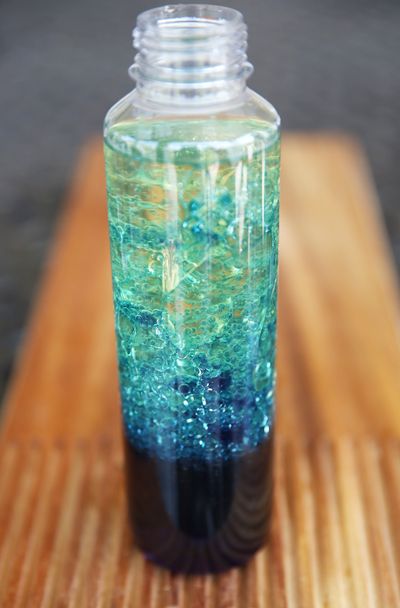 Add in other supplies. Glow in the dark stars, aquatic weeds & fish, somersaulting letters or beads etc will do the job. Sensory bottles need not to be complicated this is why they are cheapest yet visually stimulating. Don't forget to shut the lid close with glue or duct tape. Keep in mind your project is going to fail if the bottle is not liquid tight. Since Tupperware bottles are spill-proof, air tight & liquid tight, there is one less thing to worry about after choosing them for the DIY calm jars project.
Feel free to roll over sensory Tupperware bottles to your crawling baby & enjoy the satisfaction delivered by your hard work! Does your toddler find it difficult to sleep at bed? Throw him a discovery Tupperware bottle after a good shake & ask him to count the stars or read the letters. We bet you will be surprised how effective these calm jars are for taming even the most stubborn child.