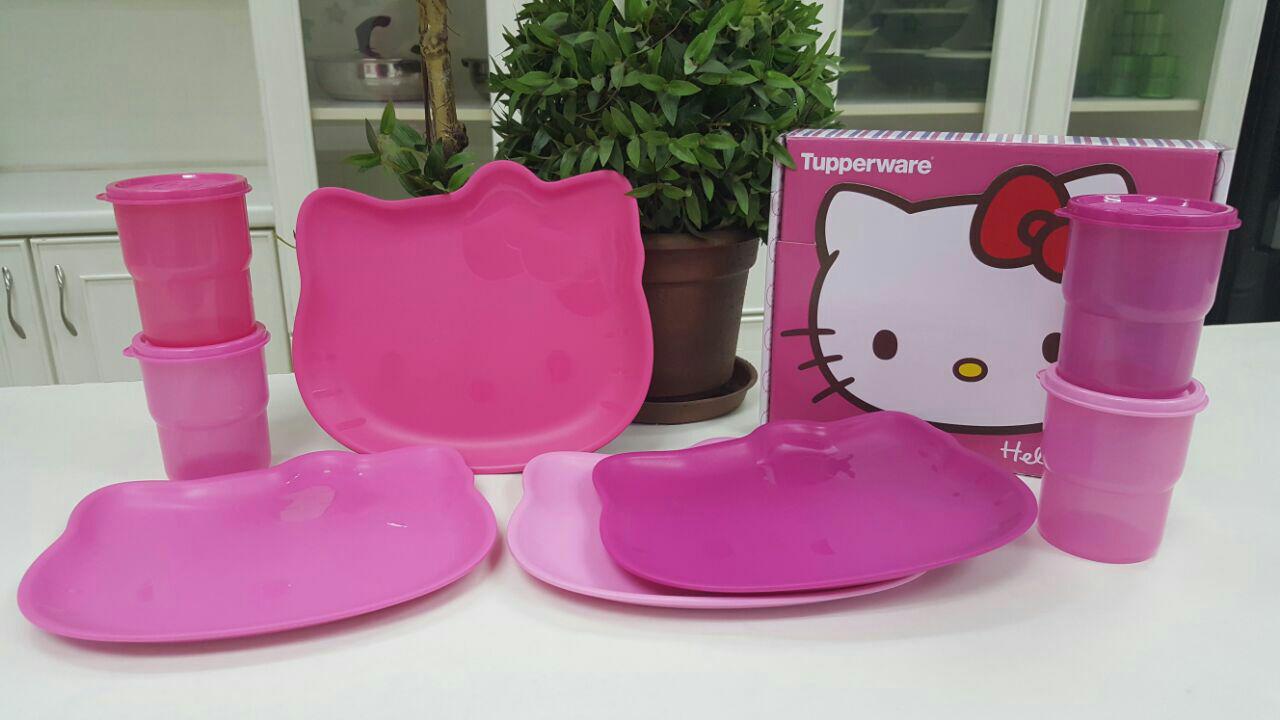 As your infant grows into a toddler, he begins to develop taste buds for the variety of food items. Some kids are really stubborn with food intake & are considered picky eaters. Motivating your child to eat enough that meets his body requirements could be a tedious job unless you find interesting ways to offer them food. Serving food in characterized dinnerware that is particularly designed for toddlers, can excite them to eat off the entire portion. But hold on! Why serve food into cheap plastic ware to your kid that you just bought from the dollar store, when you have BPA free Hello Kitty Tupperware to get the party on!
Hello Kitty Tupperware: Is it Safe for Kids & Toddlers?
Tupperware officially states that since 2010, they have not sold items containing BPA.[2] Here's exactly what Tupperware states on its website (accessed on June 28, 2017):
"Tupperware follows the recommendations and guidelines of governmental regulatory agencies regarding materials that may be used in our high quality products. The Company also acknowledges the attitudes of consumers regarding products containing BPA. In its continuous search for the best materials for use in its products, Tupperware has found other materials with improved performance characteristics that have been approved by regulators to be BPA free to replace polycarbonate. As of March 2010, items sold by Tupperware US & CA are BPA free."[3]
We all are aware about bad plastics and how it leach chemicals into your food. Cheap plastic ware when reheated or used for freezing food run potential risks of infections. You may find huge variety of inexpensive kids' dinner ware with your child's favorite cartoon character on but don't be tempted as yet- unless you make sure that what you are paying for will be safe for your child.
What Hello Kitty Tupperware can do for Your Child?
Tupperware is known to producing BPA free complete range for children from eco bottles to reusable safe plastic lunch boxes, plates, canisters & sippy cups etc. Children are more likely to appreciate food when it is served interestingly. The best moms are seen carving fruits creatively & packing delicious sandwiches innovatively to encourage their child eat more. Fortunately, not every mom has to be this a meticulous chef. Serving food to your child in his favorite Hello Kitty Tupperware will do the job effortlessly. Hello Kitty Tupperware offers lunch sets including sandwich keeper and water tumblers with a spout opening that makes it easier for kids to suck water out.
Hello Kitty Tupperware targets both genders. Available in pink & black, Hello Kitty Tupperware ensure your child develop an acquaintance with his dinnerware. Having his favorite cartoon character on his belongings also help him strengthening the recognition skills.
Keep note, BPA and other chemicals are responsible for obesity & diabetes in children. You cannot risk the life of your child with glass dishes since they can break into innumerable shards. Steel is also not a reasonable option. The best option you are left with, is Tupperware. Get the whole collection here with free shipping today.