You may have seen this breakfast idea all over various social media platforms such as Instagram, Facebook, TikTok, Youtube, and so on. Overnight oats is one of the easiest and quickest breakfast superfoods that can be easily prepared the night before. So, are overnight oats healthy? How is it usually made? When to eat overnight oats? Read on because we'll be sharing several yummy overnight oats recipes that you can try in the comfort of your own space. Enjoy!
---
Estimated reading time: 7 minutes
---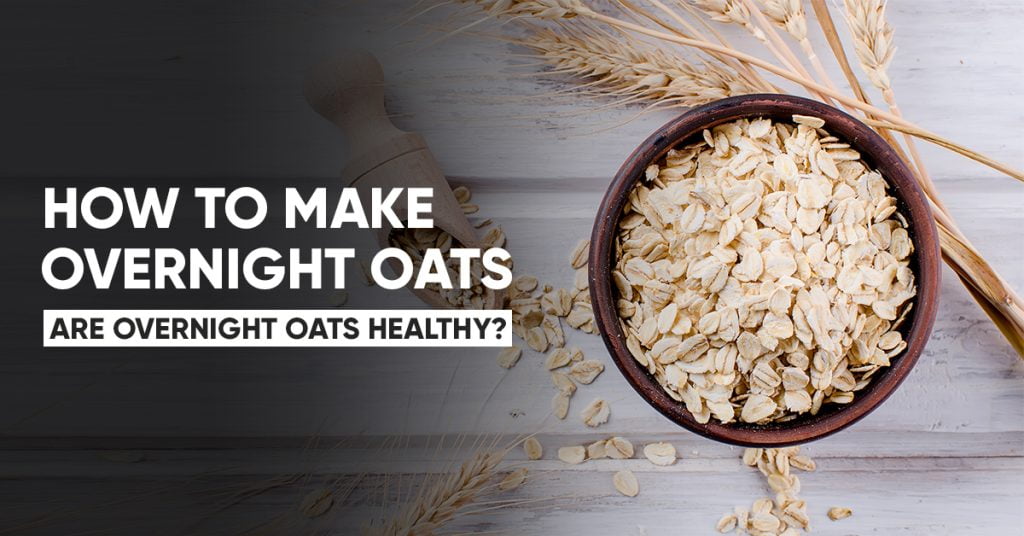 Are Overnight Oats Healthy?
One of the common questions asked when it comes to overnight oats is – are they actually healthy or nutritious. However, it does come with good benefits, for instance, healthy overnight oats can help burn fat and keeps you feeling full for a longer time.
The main ingredient used in the recipe when making overnight oats is obviously, rolled oats. Usually, oats contain beta-glucan which is a type of fiber that provides many benefits to our health such as lowering cholesterol levels, regulating our blood sugar levels, boosting our immunity, improving our heart's health, and many more.
Besides that, it is also important to pay attention to the ingredients we add to the overnight oats recipes. Some of the common ingredients used to add to overnight oats and their benefits are as below:-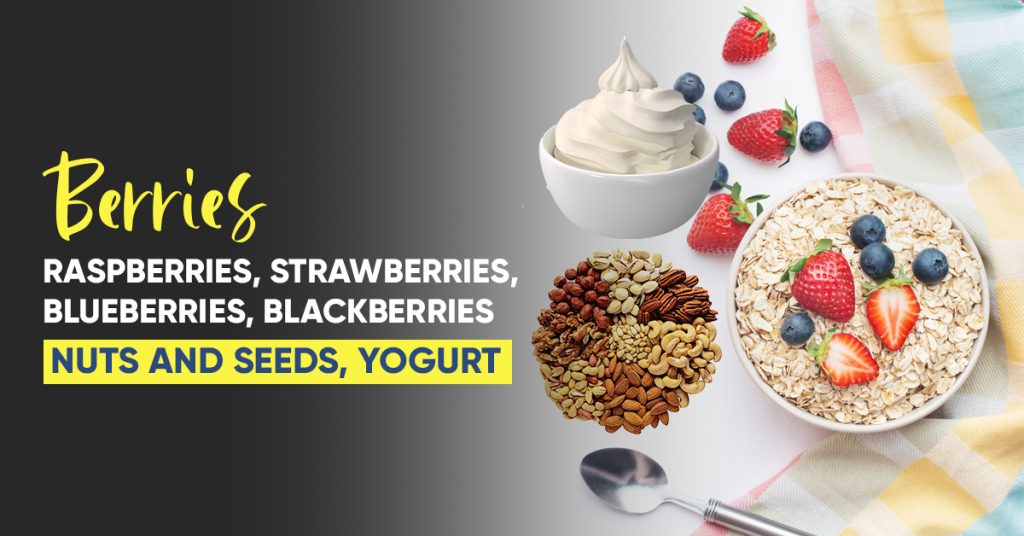 Berries (Raspberries, Strawberries, Blueberries, Blackberries)
Berries are packed with antioxidants and help to improve blood sugar and insulin levels. They are also high in fiber which helps in reducing hunger and increasing the feeling of fullness.
Nuts and Seeds
Nuts and seeds contain good sources of fibers, healthy fats, protein, minerals, and vitamins. These healthy superfoods contain unsaturated fat as well as nutrients that help to prevent heart diseases.
Yogurt
Yogurt is high in protein, calcium, and vitamins. It also contains probiotics that enhance our gut health and helps to prevent digestive issues. The amount of calcium that is in yogurt also strengthens our bones and teeth.
---
---
---
When to Eat Overnight Oats?
There is no rule on when this should be eaten. However, they are highly recommended to be eaten for breakfast. This is because its high fiber and protein content helps in digesting slower so that the feeling of fullness can stay longer.
With the help of staying full longer, it can also help in preventing from consuming more calories than the usual requirement that is needed in the day.
Overnight Oats Recipes
There are endless types of recipes all over the internet. Here are some of our favorites!
Let's start off with the recipe of the main base.
Main Base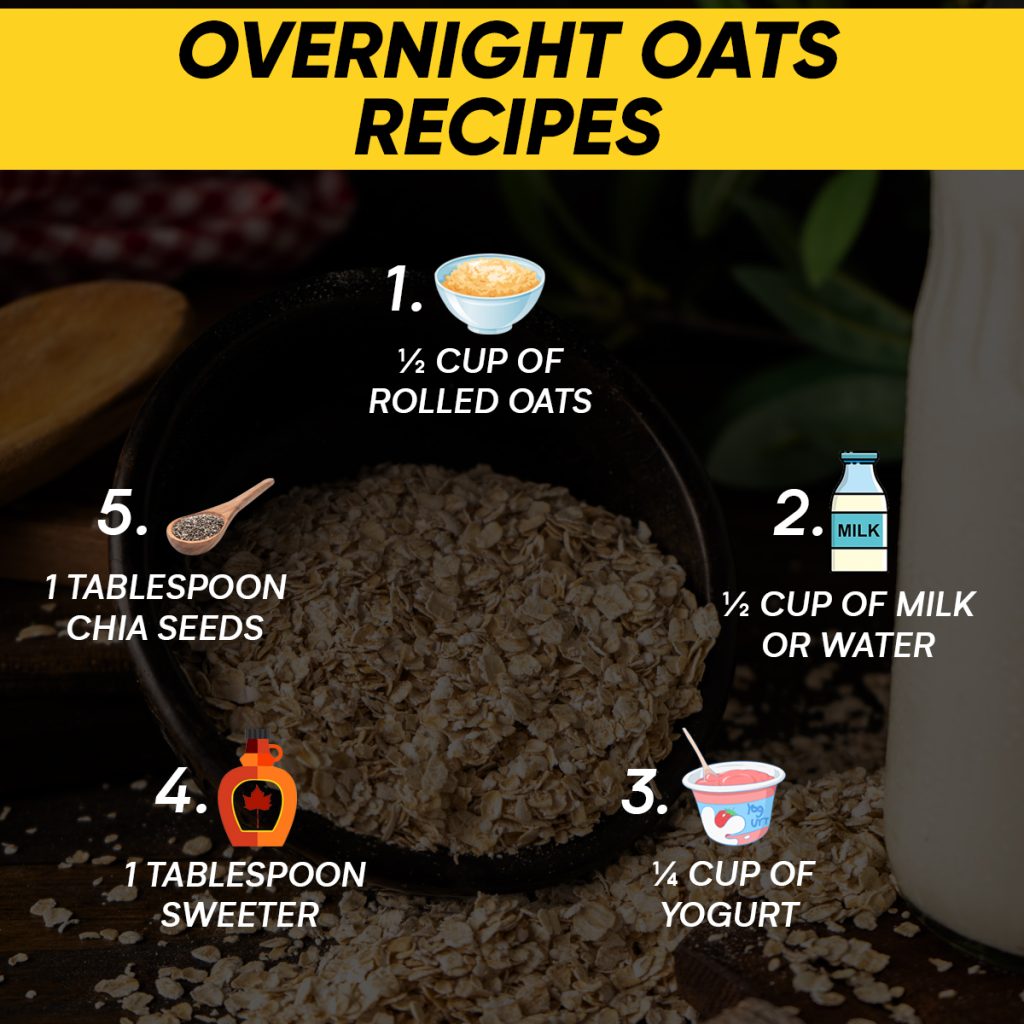 ½ cup of rolled oats
½ cup of the preferred choice of milk or water
¼ cup of the preferred choice of yogurt
1 tablespoon of the preferred choice of sweeter (we love maple syrup!)
1 tablespoon of chia seeds (for additional fiber and omega-3 fatty acids!)
Overnight Oats with Toppings / Special Recipes
Below are some of our favorite toppings/recipes for overnight oats:-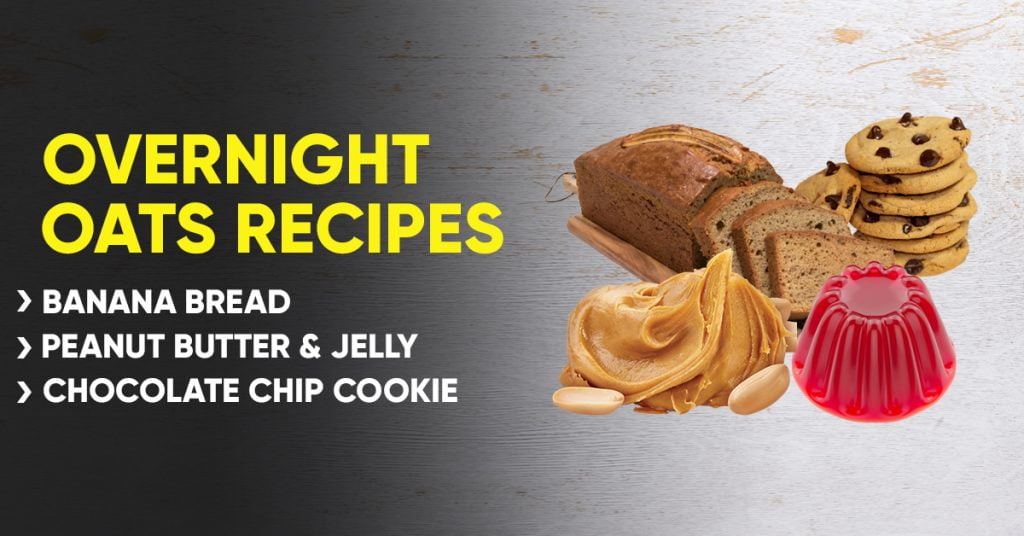 Banana Bread
½ a banana, mashed
Chopped walnuts
½ teaspoon of cinnamon
½ teaspoon of vanilla extract
Peanut Butter & Jelly
2 tablespoons of the preferred choice of jam
1 tablespoon of peanut butter of any other preferred choice of butter
Chopped pistachios
Chocolate Chip Cookie
⅛ teaspoon of vanilla extract
3 or 4 teaspoons of chocolate chips
Crushed walnuts
Dash of cinnamon
These recipes are definitely a game-changer for your breakfast meals.
How To Make Overnight Oats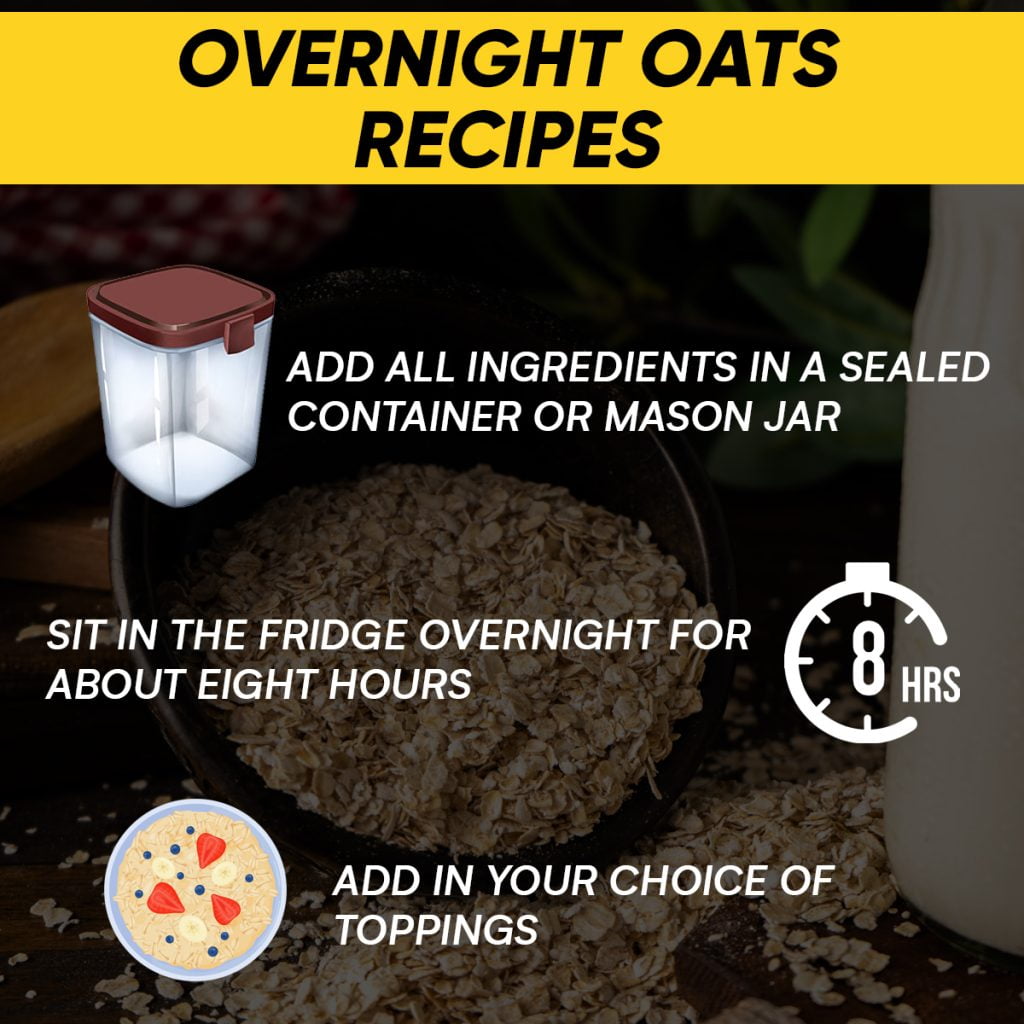 Add all of the ingredients above should be sealed in a container or preferably in a mason jar, stir everything until all of the ingredients are evenly combined.
Let it sit in the fridge overnight for about eight hours as it will result in a creamier consistency.
From here onwards, feel free to add in your choice of toppings and you can now enjoy a healthy and yummy dessert for breakfast!
---
---
That's All Folks!
There you have it, three super quick and yummy Overnight Oats recipes that are beginner-friendly. If you have always wondered what Overnight Oats taste like and when to eat them, this is your call to try. The best thing about them is that you can basically add anything you would like to add and personalize it to suit anyone's preference.
Moreover, the benefits of Overnight Oats as a breakfast meal are definitely a much healthier choice, among other popular breakfast options. There are tons of other Overnight Oats recipes that are all over the internet. Whether it is a sweet or savory Overnight Oats recipe, there sure is one for everyone's liking!
Get Overnight Oats Jar Now Prep Your Overnight Oats!
---
---
---
Read More: