Soup is a comfort food. Not only it is easy to prepare healthy & delicious soup but it also helps you lose weight fast in a matter of weeks.  Soups keep you feel full so a warm bowl of this energetic broth and tossed vegetables suppress your hunger pangs. If you are on an energy deficit diet plan, it is important you prepare soup in large batches & freeze it for the later use. But hey hang on, does not freezing affect the texture of the soup? Yes, it does but only if you freeze your broths in anything other than Tupperware soup mug.
Also Read: How to Freeze, Thaw & Reheat Soup?
How Soup Help you Lose Weight?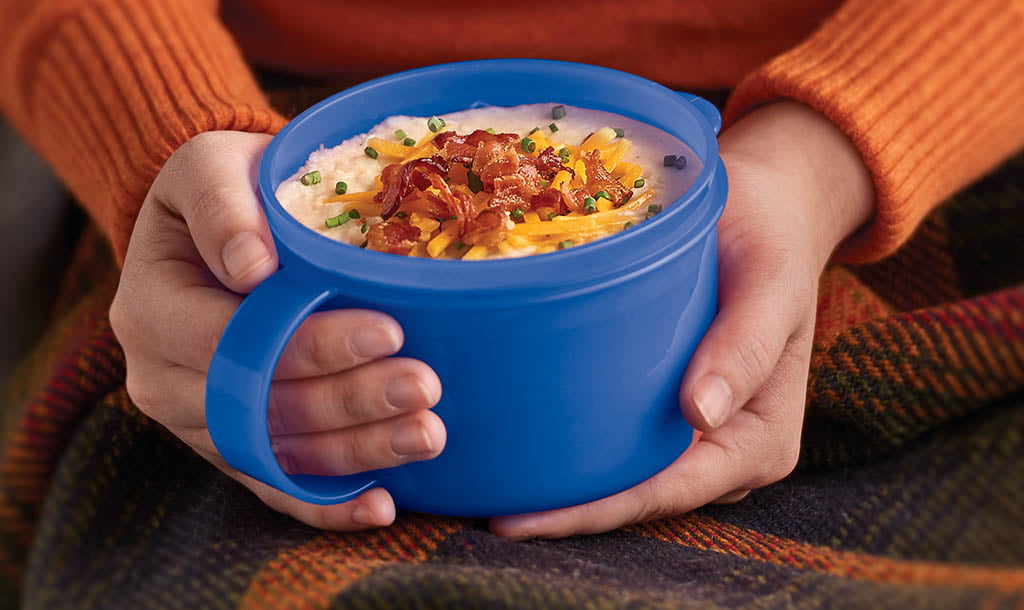 First things first. Eating soup vehemently everyday alone won't help you get slim overnight. Besides needing to consume fewer calories, you should also include exercise in your everyday routine. Eating soup keeps you hydrated & keeps you full. The sodium content in soup retains water in the body & thus helps keeping you hydrated. If you don't like eating vegetables, soup is a decent mode to incorporate your everyday vegetable intake. Tupperware Roza Lunch Set offers a soup mug with a liquid-tight seal & a divider dish. This perfect soup set is perfect to serve soup with its condiments for instance bread & crackers.
Eat Soup as a Starter
When taking soup to lose weight, avoid creamy thick noodles soup. Stick to clear broth or meat & vegetables stew since they don't go bulky on your digestive system. They keep you satiated & help you take a smaller portion from the main course that is actually very high in calories. Always have your soup about 25 mins before than the meal. Eating soup with spoon also makes you slow down & curb your appetite.
Soup is Affordable
Soup is easiest thing to make. Try different varieties of soups such as tomato & lentil soup. Broth based soups keep the calorie count low. Although they are innumerable varieties of canned soups available in your local grocery store, you would want to prepare one for yourself at home. If you are in mood of creamy soup, use fat-free evaporated milk in place of whole milk.
Vegetable Soup is the best Bet
Vegetables contain fiber, so they make the best weight loss soups. If your favourite soup does not contain vegetables; add in frozen chunks yourself! Vegetables add nutrition, flavor & fiber to just any soup. Most varieties of vegetable soups contain 100 calories or less.
Although soup is a comfort food and a highly nutritious meal replacement food, it may lose its texture and quality if stored improperly. Soup contains starch which ensures the ideal consistency of the soup. Stirring it more than usual & reheating soup unnecessarily may thin it out. When refrigerating the leftover, make sure you are using a liquid-tight container that is both fridge & microwave safe. Tupperware Soup mug has a vent opening seal that makes it easier to reheat the soup. It also has a large handle to hold the mug & move it on to the dining table.
When trying to lose weight, soup could be your best friend but remember not all soups are smart. Slim down using a soup diet but wisely!