Although Tupperware containers come with a limited life time warranty  improper handling may lead to voiding Tupperware warranty. Use your Tupperware containers with care to help them last you the longest without deteriorating the quality.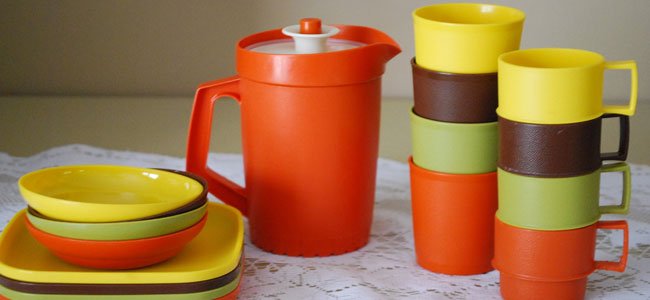 Washing/ Rinsing & Cleaning Tupperware Containers
Loading Dishwasher
Rinse Tupperware containers as soon as you empty them
Load Tupperware at the top shelf of the dishwasher so that heating elements do not come in contact.
Wash seals & containers together.
If you find your container stained, use baking soda.
Handwashing
Wash spatulas, spoons, knives, printed products, ice cream scoop & ClearMate range with hand
Use soft cloth and mild soapy water to prevent scratching
Do not scrub. Avoid abrasive cleaning cloths & sponges
Drying
Pat dry with a soft cloth or towel
Air drying is the best technique and that too away from the direct heating source.
Microwaving Tupperware Containers
Not all containers are safe to be used in oven
Do not cook in Tupperware containers that are safe only for reheating
Do not use on stove top, in convection microwave oven and conventional oven
Be careful when heating food high in sugar, fat and oil such as cheese & gravies
Do not reheat food on more wattage than recommended
Saucy food can stain your containers. Watch out
Also Read: How to Reheat Food while maintaining texture and freshness?
Storing Tupperware Containers
Always store without lids to keep them fresh and ventilated
Stack when storing food. Nestle when empty
Use gloves when dealing with hot utensils
Stains, discolouration or odours For persistent stains, use one of the following:
Non-scratch cleaner
Non-scratch pad
Strong solution of dishwasher detergent and water (¼ cup detergent to 1 cup warm water).
Chipping
Chipping may occur along the edges of a product.
Breaking
Breaking produces a hole in the product.
Peeling
Peeling can occur mainly in older products.
Cracking
Can be large or tiny, like this crazing (network of fine cracks).
Warping
Products manufactured after September 1979 are dishwasher safe and if warped, are eligible for replacement.
Q Warranty
Warranted to be free of manufacturing defects for up to one year after purchase.
G Warranty
Warranted to be free of manufacturing defects upon receipt. You have 30 days from purchase to request free replacement.